by Phyllis Larison, Family Travel Gurus Travel Consultant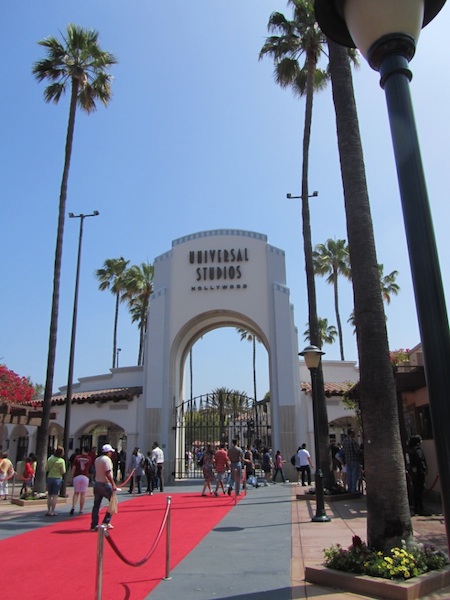 Universal Studios Hollywood is a great place to bring the family and enjoy a day surrounded by all of the action and fun of Hollywood movies.  On a recent visit I was impressed by the variety and quality of entertainment, the fast moving lines (in contrast to other theme parks) and the beautiful location of the park, overlooking Hollywood.
The Studio Tour is the biggest attraction at Universal Studios and it is uniquely entertaining and exciting.  Universal Studios is a working studio and the Studio Tour takes you behind the scenes to see sets that have been used in a number of movies and, if you are lucky, you may  see a movie or TV show being filmed on one of the sets (we saw the new Munsters movie in production).   As you travel on a tram with other passengers, you pass through the sets and sound stages where current movies and TV shows are being produced and you also experience a simulated flash flood, a robotic car chase with exploding vehicles, an attack by the shark from the movie Jaws, and a virtual encounter with King Kong and a group of hungry dinosaurs.  The Studio Tour has been enhanced in recent years with original sets from the film War of the Worlds and The Grinch Who Stole Christmas.  On the War of the Worlds set, wreckage from an actual 747 airliner is scattered among the other props used in the film.  The tram includes a high definition monitor that shows scenes from movies filmed at the various sets you visit during the tour.  For any movie-lover, this tour is a must!  Kids will enjoy the floods, explosions, racing cars and other action parts of the tour.
Throughout the park you may encounter actors and actresses portraying famous film stars; Lucille Ball and Marilyn Monroe were two that I spotted near the entrance to the Studios.  Among the other family attractions at Universal Studios is the new  3D Transformers ride, created by Transformers director Michael Bay—the 3D effects are incredibly real; Shrek 4D—a fun show that even very young children can enjoy; the Special Effects Stage Show—see how special effects are created using special chemicals, CGI and more; Adventures of Curious George—interactive play areas (includes geysers and water cannons!) for young children; Terminator 2:3D—a very popular and thrilling high-tech experience involving a battle with a cyborg; Universal Animal Actors—features animal film stars performing amusing stunts (kids love this show!); The Simpsons Ride—a mild simulator ride featuring all of the Simpsons' characters; and Jurassic Park—a water tour of Jurassic Park with a big flume ride at the end—be prepared to get wet.
There really is fun for everyone in the family at Universal Studios Hollywood!