Julie's Adventure of the Seas Southern Caribbean Cruise (July 2015)
Thanks to our client Julie for sharing this report on her family's Southern Caribbean Cruise.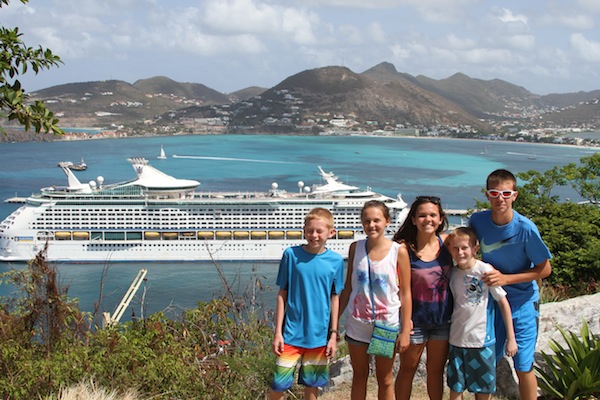 We just returned from Royal Caribbean's Adventure of the Seas Southern Caribbean Cruise.  The cruise departed out of Old San Juan, Puerto Rico and made stops in the ports of St. Croix, USVI, St. Maarten, Antigua, St. Lucia and Barbados.  We were three families with five adults, one tween and four teens that love adventure!  Our travel group had an amazing vacation together and were all sad when it came to an end!
All families in our group have traveled with Disney Cruise Line in previous cruises.  We chose RCCL this time because Disney's cruise in the Southern Caribbean are usually in the spring and fall and we wanted our kids to be able to cruise with us.  My family had previously cruised on RCCL's Oasis of the Seas, but we were not sure what to expect on this ship, and quickly found out that they offer something for everyone.  The entertainment and shows were really good and we liked the added feature of an ice show at sea!  We didn't have to line up early for the shows like we do on Disney, so it was nice to catch some other activities between dinner and the main show.
Our tween and teens traveling with us enjoyed ice skating, inline skating, rock climbing, basketball, ping pong and kids clubs, all on the ship.  Our daughter said that she likes the teen Vibe club on Disney better but had a lot of fun with all the other activities that were offered as well as being able to hang out with our group of friends and family.  They also all liked the ability to get shakes at Johnny Rockets at sea!
The adult entertainment included comedians and audience participation game shows and there was also a casino onboard.   There was always something fun to do.
On our at sea day there were some really fun audience participation shows around the pool.  We had a 72 year old woman that won the belly flop contest on our ship!  We liked the main pool and pool area which was very big with room for everyone.  Pool chairs weren't hard to come by because RCCL cruise staff watch for the saving of chairs and don't allow anyone to go beyond the 30 minutes of being away from their chairs.
There were a lot of fun shopping opportunities on the ship in the evenings.  Every night there were specials to fit everyone's budget.
We usually have outside cabins or verandahs on Disney and we chose outside rooms with RCCL.  We had rooms in the front of the ship, because they were larger and they did seem comparable to Disney.
Ports
Our group was most excited about the five ports we visited.  We lined up an excursion/plans every day in order to see the island, as it was the reason we chose this ship and cruise line.
The Adventure of the Seas port was in Puerto Rico.  We spent two days touring Old San Juan, Puerto Rico which we found to be a beautiful old city full of history.  We walked most of the city and took in the old architecture, brick roads, and historic forts.  One of the most interesting places we visited was Castillo San Felipe del Morro.  The fort was amazing and we could have spent so much more time learning about its history.  There were a lot of neat places to check out including small winding staircases and rooms.  We loved the authentic Puerto Rican foods that we tried at the food trucks around the city and in the cafes and restaurants.
Our first port of call was St. Croix, US Virgin Islands.  We rented a car and went to the Cruzan Rum factory.  The tour was fun and was even interesting for our kids.  At the end there were lots of samples and rum punch.  They even made non-alcoholic punch for the kiddos.  We drove over to Christiansted where we had booked a half day excursion to Buck Island.  We chose Big Beards Adventure Tours to take us to Buck Island.   It was wonderful being on the island as barely anyone was there.  Turtle beach was beautiful and the water was a brilliant blue.  After a little time there the catamaran took us over to the 4,554 acre long barrier reef where we snorkeled in the underwater trail.  The reef and fish were amazing.  We could have stayed there for hours.  It's definitely some place we would like to go back to.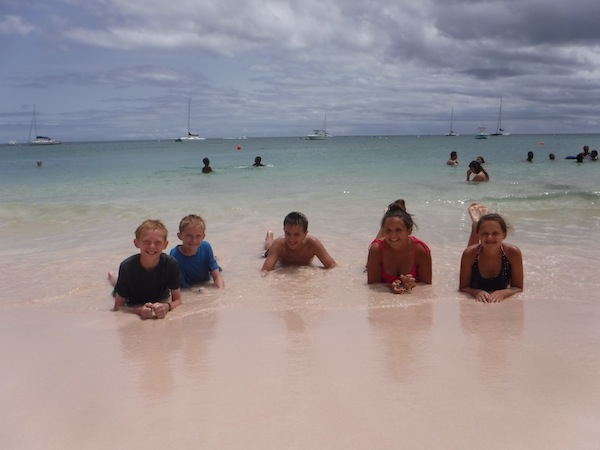 Our next port of call was St. Maarten.  My family has visited St. Maarten before so our group decided that we'd show everyone around.  We rented a van and toured the island.  We drove up the steep winding road to the overlook of the cruise port for a quick photo op.  Then we went on to tour the Dutch and French sides of the island.  We stopped at the beautiful Orient Beach and stayed away from the clothing optional side!  The kids had a fun time surfing in the waves.  After the beach we went back over to the Dutch side and went to Maho Beach to see the big jets come in.  The airport strip is right past the beach and the jets get very close and fly right over everyone on the beach!  It's a neat experience to see.  We made a final stop for shopping in Philipsburg.
We took an RCCL excursion that was a 4 x 4 safari tour of Antigua.  The tour took us through villages and then out to the rural parts of the island for some off-roading.  We were able to see worse roads then those we find in Michigan with all of our potholes!  It was a lot of fun.  We stopped at a scenic ocean view and had rum punch, juice and water.  Then it was onto a beach for a few hours of relaxation.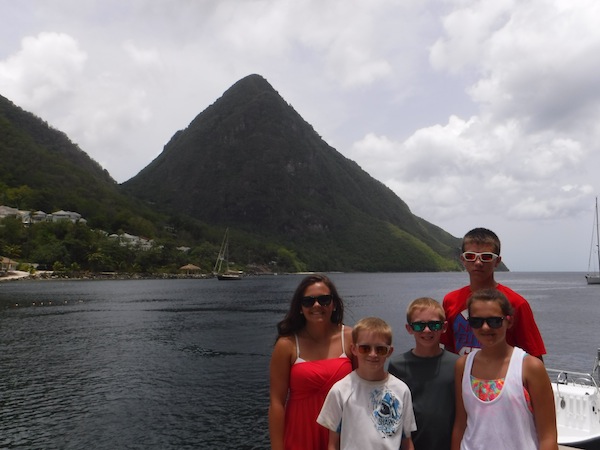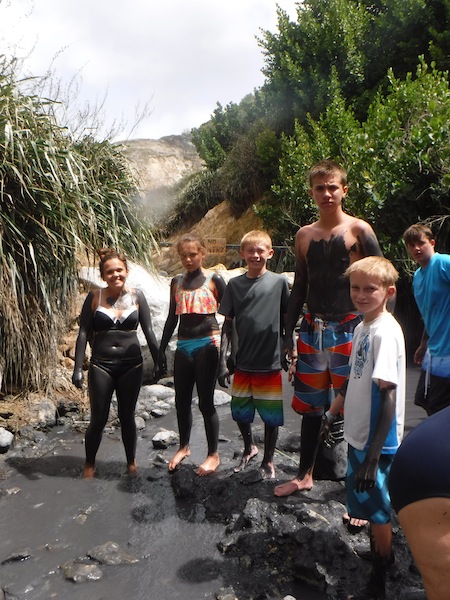 Our tour of St. Lucia was everyone's favorite tour of the trip.  It was through Cosol Tours.  St. Lucia was the greenest of the islands we visited, so it was very lush and beautiful and it was also a little cooler than the other islands.  The tour took us on winding roads through fishing villages.  We stopped at a banana plantation where we tasted fresh bananas from the plants and learned about how they grow.  We went onto to a beautiful overlook of the ocean where we stopped for breakfast and sampled the local fish cakes, johnny cakes, coconut cakes, and a variety of local fruits from the Island – there must have been 30 different foods for us to try!  It was amazing and we were stuffed by the time we left.  There was a mobile bar with rum punch, water, local beer, locally made spice rum and sodas.  All eats and drinks were complimentary!  After breakfast we continued touring through scenic villages along the coast and had a stop of an amazing overlook of the Pitons.  We stopped at a beach where we took a water taxi to Sugar Beach that is in between the Pitons for swimming and snorkeling.  The views were amazing.  After the beach stop we went to a drive through volcano where we all bathed in a mud bath!  We stopped at Toraille Waterfall and stood under the cascading water.  We drove back to our cruise ship with a stop for local hot bread and cheese, which was amazing, and then a final stop at a overlook of the cruise ship port.  The tour was supposed to be 5-6 hours long and ended up being 6.5 hours!  Thank you so much Tim for this suggestion!  We would love to go back and visit St. Lucia again!
In Barbados we took another private tour.  We stopped at St. James Parish Church which was built in the 1690's from coral and limestone. It was absolutely beautiful.  We toured the island making stops along the way, seeing homes of celebrities, and many scenic overlooks.  At the end of the day we stopped at a pink sand beach which was amazing, for a few hours of beach time.
On the day we disembarked the ship, my family rented a car and went to El Yungee Rainforest.  It was worth the 35 minute drive and small hikes we did.  The views were breathtaking and were glad we were able to fit it in before our flight back home.
We enjoyed all of our tours as they had a good balance of island history, scenic views, beach and snorkeling time.  It was nice to visit so many ports and experience so many different cultures on the islands.  We had a wonderful time together on our cruise adventure with RCCL and would like to cruise again with them on one of the larger ships.  Disney still remains our whole group's favorite and we can't wait to plan another one with our large group of friends for Spring Break 2017 on the Disney Dream!  Cruising the high seas is our favorite way to vacation!