Julie's Disney Bahamas Cruise from Miami (April 2013)
(thanks to our client Julie from Michigan for sharing this trip report on her family's Disney cruise from the port of Miami)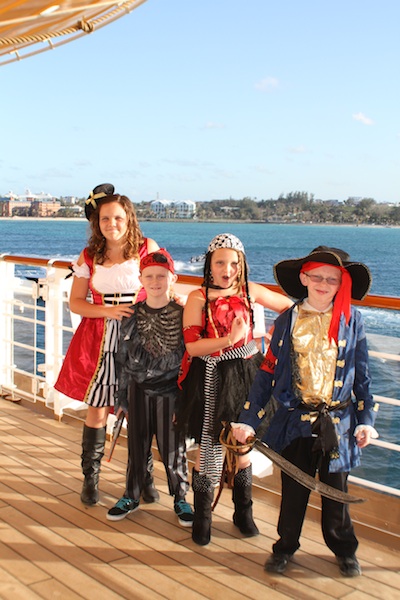 We enjoyed all of our shore excursions.  We went on a bike tour of Key West, and it rained all day! We still managed to have a great time and the guide was so knowledgeable.
We also did the stingray exursion on Castaway Cay as well as rode bikes and we highly enjoyed them all. We had no idea the island was as big as it was until out bike ride.
We took a duck tour of Miami the day before our cruise and had alot of fun on that.  Miami is certainly a huge city and it was a little bit harder to get around because of the traffic when I compare it to the cruises we have taken out of Port Canaveral.  As always though we love to see different places so we enjoyed cruising out of a new port.
The stateroom was smaller than we usually have (category 11 inside room) and it didn't have the split bathroom.  We did miss that but made it work as we never spend much time in our stateroom.
Our travel party was 9 people.  Dinner seemed to take longer for us and the night we all dressed up for the pirate party we missed Jack Sparrow because we didn't get to him in time from the hold up at dinner.  Later in the cruise the kids wanted to go to a  cooking school at their kids club after dinner and before the show so we made sure to tell the waiters that they needed to be out by 7 and they were able to get it done.  The dining room staff was excellent and we loved our interactions with them and how they were with our children.
We celebrated my father-in-law's 70th birthday on this cruise.  It was so nice to have us all together.  We are all from different states so we don't see each other much.  It was nice to see the kids enjoying one another and just being silly.  We hope to take trips every other year to keep this up.
I also want to thank you for the wonderful advice and answers to all of my questions.  You are always so prompt and helpful!