Karen's Review of Disney World's Old Key West Resort
Thanks to our travel consultant Karen Waldman for this review of Disney World's Old Key West Resort.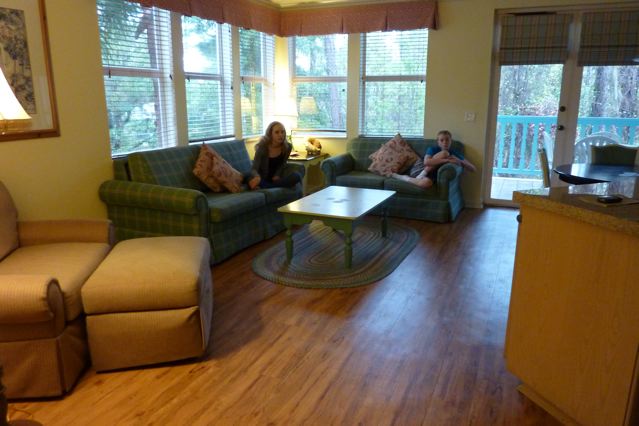 We like to try out new Disney resorts each time we go, and this time it was Old Key West. We stayed a wonderful week in one of the 2-bedroom units and loved it. A 2-bedroom is a splurge for a family of four, but is a great economical choice for larger groups who want to stay on the Disney property. Of the places we've stayed at Disney World, my husband and older teen rated this one at the top.
Our first thought when we walked in: "Wow, this is huge!" It was bigger than most two-bedroom apartments. There were lots of windows, which gave it an airy feel. Each of the bedrooms is larger than most hotel rooms, plus each has its own large bathroom. The kids (two of them) were excited to have their own double beds, their own closets, and their own bathroom sinks. The master bedroom had two separate bathroom areas: one with a sink, closet, and Jacuzzi tub, and one with a shower, sink, and toilet. If you've stayed at one of the other Villa locations (e.g., Beach Club Villas, Wilderness Lodge Villas), you will recognize the master bathroom configuration.
The kitchen / living room area was quite roomy as well, with a balcony off the kitchen, connecting it with the master bedroom. The kitchen had everything we needed, with plenty of storage space for food. The pantry/desk area by the dining table had ample storage room for anyone who may be sleeping in the living room pull-out beds.
The resort itself is sprawling. There are several long loops of buildings, amidst canals and a golf course. There are bus stops mingled throughout; I doubt you would have to walk more than 5 minutes to get to the closest one from your condo. We happened to be right next to a bus stop, which was convenient. My son heard the busses going by at all hours, but it didn't bother the rest of us. The busses run regularly; we never waited more than about 5-7 minutes for the one we needed.
If you want to be close to the main hospitality areas, you will want to request a building nearby. Otherwise, you'll need to wait for a bus or walk a brisk 15-20 minutes to get from your unit to the main buildings. The main pool was there, plus the watercraft and bike rentals. The gift shop had a good selection of souvenir items, and also had basic grocery items and beverages, including alcohol. The prices were resort prices, but not as bad as I was expecting. There was a restaurant (we didn't try it – no time!), a kids club, a game room, a playground, a nice sitting area in the lobby. We had planned to rent a couple surrey bikes, but we happened to be there during a cold and rainy spell, and they were not renting them to anyone on the day we had hoped. If you want to rent bikes, know that you may only use them within the resort; we had hoped to ride them over to Downtown Disney and learned that we could not.
For groceries, we stopped at Winn-Dixie, north of Crossroads Mall. It was quiet, with good prices, and had everything we needed. Ask for the "courtesy card" to get the "rewards card" prices. There is a closer grocery store at Crossroads Mall, but prices are touristy (higher).
In addition to the main pool, there were a few small pools scattered throughout the property. We were in a building right next to one of those small pools. There were rarely any other people in the pool area, except for the occasional person grilling some supper. The cold weather may have been the reason, but it didn't stop my kids, who said the pool was warm (felt chilly to me!).
There were only two things that were disappointing for me about our stay, and they were very minor. One, with such a big space, we didn't hang out as a family as much as we have at other resorts. It was too easy for the kids (teens!) to go to their room. Second, the weather was so cold and rainy that I didn't get to spend time on the balcony. Our balcony looked out over a forested area and I had really been looking forward to spending some quiet time out there. But sitting out there in a blanket in the cold didn't appeal to me at the end of the day when I was exhausted anyway.
All in all, this is one of our favorite Disney resorts. If you are looking for a Disney resort where you feel the Disney theming and bustle at all times, this may not be the resort for you. Since you have to walk a fair distance to get to the main hospitality area, you may not go there much. If you like vibrant resort theming, it isn't as obvious as at other resorts. Since this resort is essentially a condo community, it is quiet and not as Disney-immersive. And that was just fine with us, since the parks can get overwhelming to our introverted family.
Karen Waldman