Legoland Deutschland Review, June 2013
Thanks to Family Travel Gurus Travel Consultant Karen Waldman for submitting this review of her family's visit to Legoland Deutschland. – Tim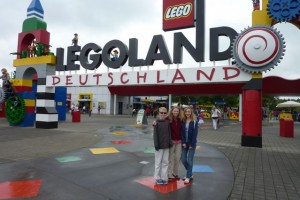 As I was planning our road trip through Germany, I happened to notice that we would be within 10 miles of a Legoland on one of our short travel days. Upon first thought, it seemed a waste to not stop and check it out. Upon second thought, it seemed like a waste to go all the way to Europe and spend a day at a theme park that we've been to many times in the States. Further, the last time we went, the kids decided that they had been there enough and were growing out of it. In the end, we decided to play it by ear and see how we felt on the day we were driving by.
The day came that we were driving in Germany between Schwangau and Rothenburg. It was only a 2.5 hour drive, and the thought of comparing Legoland Deutschland to the Legoland by San Diego was intriguing. We stopped.
Our kids have mostly outgrown the rides, but we had fun on them anyway. The layout of the park was a bit different, but the rides and "lands" of the park were very similar to that in San Diego. The waits and general crowds were similar to other theme parks. We noticed that there seemed to more line-cutting, and I had read somewhere beforehand that Germans in general aren't fond of queuing (sorry, I'm sure that's a big over-generalization, but I did read it, and we did experience it).
The food and snacks were different – they had dessert crepes, dessert waffles, schnitzel, stew bread bowls, and other items that aren't typical in the parks in the US. We enjoyed looking at the pictures and trying to figure out what they might be. I could read a little of the menu, but my German isn't what it used to be. What we ended up with for our entrees was great. The kids weren't happy with their dessert selection, though. They each picked what looked like a yummy  yogurt/fruit parfait. It turns out that their yogurt is very sour, not sweet, so I ended up getting more dessert than I had intended (no worries!).
The dessert crepes seem to be very popular in Europe. They had all sorts of different fillings. For the chocolate, Nutella is commonly used.  I had a cinnamon-sugar crepe and it was delicious. The kids and Brent found popcorn, their favorite theme park snack.
Mini Land was totally different as well, with mostly European creations. My favorites were the Neuschwanstein Castle and Venice, both of which we had just visited. They also had Berlin, Hamburg, Amsterdam, Schwabian village, Allianz stadium (big soccer stadium). They had a long row of busts of famous (I presume) soccer players. We had only heard of one or two of the players, but the locals were enjoying looking at them.  The Lego replication of the Munich airport was amazing. It even had a cut-away of an Airbus , showing the 3 levels inside the jet.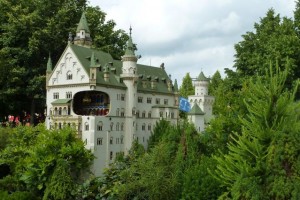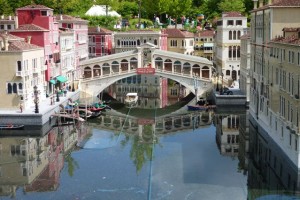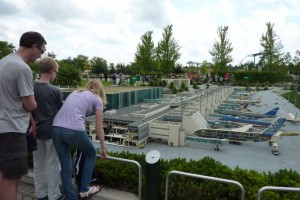 I didn't hear any other people talking English while we were in the park. Given that we are of German heritage, I felt like we looked just like everyone else. I wonder if people looked at us, without hearing us speak, and knew that we were not German.  Probably.
Jackson seemed to really enjoy the day at Legoland, even after visiting many times. He is our big Lego fanatic, and has been since he was very young. We have a picture of our kids with the same Legoland blacksmith, at various ages and heights. It's fun to go back and compare. Jackson found that the Lego sets cost more than they do in the states, mostly because of the Euro conversion. We asked about any sets that were found only in Europe, but they didn't know of any. Jackson knows the catalogs backward and forward, and didn't see any Europe-exclusive sets. The most crowded store, shoulder-to-shoulder kids and adults, was the create-your-own-minifigure store. It had zillions (I'm sure!) of piece-parts to make the perfect little figure.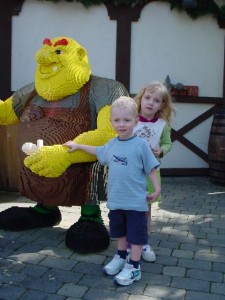 Our afternoon at Legoland Deutschland was fun and we're glad we stopped. But…I would only recommend it if you really love Legos and/or Legoland and/or theme parks, AND you have an extra day in your European itinerary. There is so much to see in Germany without giving up a day to Legoland unless you really want to.