Luxury Travel Expo In Las Vegas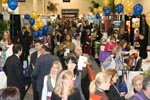 by Tim Larison
For the past three years I have attended the Luxury Travel Expo at the Mandalay Bay Conference Center in Las Vegas.  This event, held in early December, is one of the biggest travel "trade" shows around.  Every year I marvel at how many different travel suppliers and destinations are represented on the huge trade show floor.  It is a challenge to manuever around the many travel agents in attendance, too (the photo above is of the trade show floor).
No travel agent has been everywhere and that is certainly true for me.  That's why I feel a trade show like this is very important to attend.  I enjoy talking to many different suppliers represented to see if their business philosophy and passion for travel matches ours.  At this year's conference one of the many suppliers I connected with was Moo Bishop from Thomson Family Adventures – we will now work with this company to plan "adventure" travel trips for our clients (click here to read an interview we did with Moo about their adventure trips)
In the travel business, like many other businesses, I often find "who you know" is just as important as "what you know".  Attending an event like the Luxury Travel Expo increases  the number and quality of relationships we have with others in the travel community.  And it is always fun to visit Las Vegas, too!