Michele and Paul's Disney cruise with kids (Disney Dream – Oct 2016)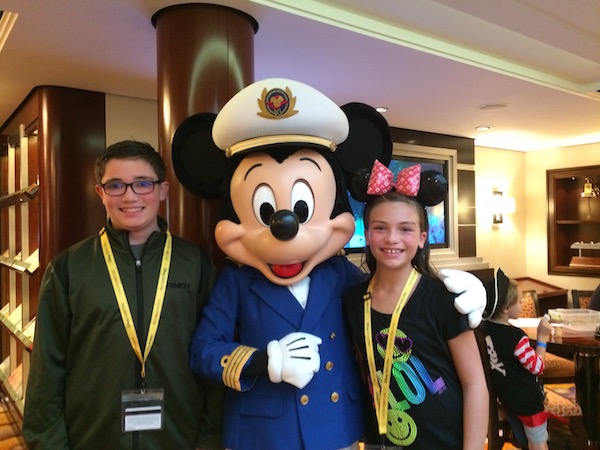 You've sailed on the Disney cruise a number of times as adults – what would it be like to treat your niece and nephew to their first Disney cruise?  Thanks to our client Michele from Illinois for sharing her experience in doing exactly that! – Tim
Our cruise was spectacular.  This was Logan's and Jordan's first cruise and our first vacation where we were responsible for children so it was an experience for all of us.  We signed the kids up for the kids clubs, but they were so preoccupied with all of the other stuff going on that they never went other than during the open house.  We played three games of the Midship Detective Agency (girls against boys, girls won … of course), Jordan went to the Bibbidi Bobbidie Boutique, they went on the Aqua Duck, we played Bingo, and we totally forgot (more like ran out of time) to play a round or two of miniature golf.
The kids really loved being on the concierge level and being able to go to the lounge for food, drinks, popcorn for the shows, and hot chocolate at any time.  One of the concierge team, Daniel (whose real name is Iordan), was so great.  He met with us on embarkation and really made the kids, as well as Paul and I, really comfortable.  We explained it was their first cruise and it was our first time traveling with them without their parents and he sat down with the kids explaining to them if they needed anything or if they had any questions, problems, etc., they just had to come back to the lounge and speak with any of the three concierge hosts and they would help them in any way.  I had brought blank photo mats to get the character autographs but was unaware that DCL had discontinued the autograph service, but Iordan took the mats, saying he would try his best to see what he could do.  He really came through for us … we got both mats signed without having to wait in lines for character meets.  We were all thankful for the concierge sun deck as well.  The hot tubs are always so crowded at the family pool but there is a large hot tub on the concierge sun deck that Logan went to every day.
It was really windy and I had prepped the kids, telling them our parasailing excursion at Castaway Cay might be cancelled.  Sure enough, it was so I ran up to the concierge lounge and they were able to sign us up for the stingray encounter.  That was a hoot!  This was the first time Logan and Jordan had been swimming in the ocean and I explained that we were going to feed the stingrays.  Logan was very wary and asked if we were going to be swimming with them, too.  I told him, "No, we're just going to learn about stingrays and have a chance to feed them."  When we arrived and were instructed to pick up snorkel equipment the first thing I heard was, "I thought you said we weren't going to swim with them!"  A little tricky on my part, but it was a wonderful experience for all of us.  We spent about 15 minutes feeding them and about 45 minutes swimming with them.  We also reserved a cabana on the family beach which was a great idea as it rained several times during the day.  While Uncle Paul took a nap in the cabana the kids and I went to seek out the sunken Minnie and Mickey statues.  We spent another hour snorkeling and decided to head in because the wind really picked up, making it difficult for the kids to swim in to shore, and the rain really started to come down and wasn't stopping.  We were still one of the last families back on the ship because the kids were having so much fun.  Needless to say, they were so tired from the day that they fell asleep before the fireworks and opted to keep sleeping rather than get up and watch them from our verandah.
The stateroom was perfect … Logan and Jordan were happy they could have their own beds as well as their own bathroom.  Our stateroom door was right across the hall from the lounge as well as the stairway to the concierge sun deck.
All in all, the cruise was enjoyable for all of us.  Castaway Cay was the favorite among the two of them and they said they wished they could go back again.  I let it slip that they do have "double-dip" cruises and I think we created a couple of cruise junkies … they were ready to book again right then and there if a "double-dip" was included.  They also loved the Rice Krispie treats you had sent to our stateroom … thank you.
And, thanks again for all of your help.  We really do appreciate everything that you have done for us.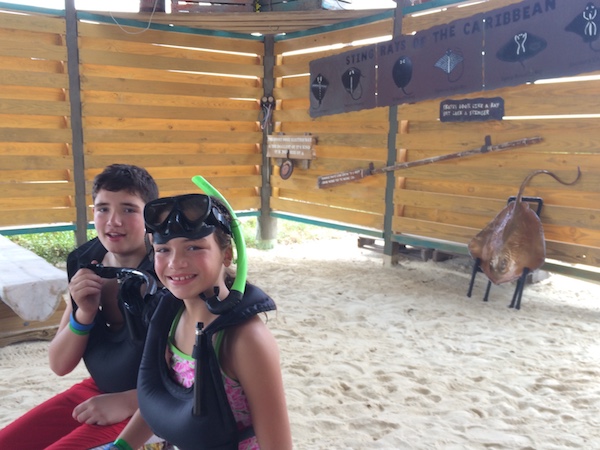 We booked Michele, Paul, Logan and Jordan in a category T suite on the Disney Dream – we can book your Disney cruise, too!  Contact us for more details.