Pride of America 7 Night Hawaii Cruise (Tim and Anne's Report)
Pride of America 7 Night Hawaii Cruise
June 2014
by Tim Larison, CLIA Certified Master Cruise Counselor (MCC)
with contributions from Travel Agent Anne Larison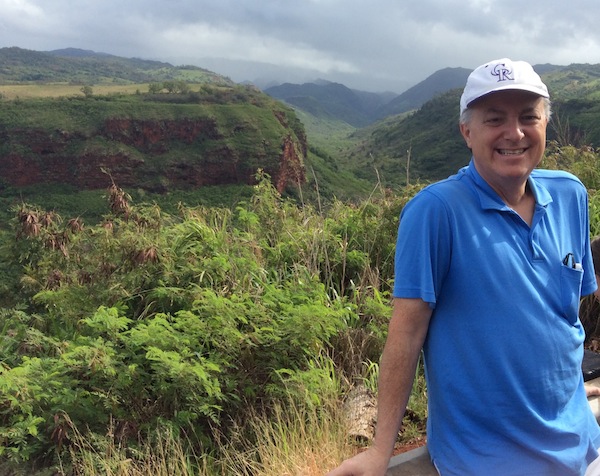 As a travel agent specializing in cruises, I've been selling 7 night Norwegian Cruise Line Hawaii sailings on the Pride of America since the ship debuted in 2005.  "It's a wonderful way to see the Hawaiian Islands in a week, but don't expect the ship to the same quality as other ones you've been on," I would tell clients, tempering expectations.  When I finally had the opportunity to sail on the Pride of America myself, I was pleasantly surprised!  Not only is the NCL cruise a great way to sample the sights of four major Hawaiian Islands, it measures up quite well to other cruise lines with its onboard programming, food, and service.  In this review we'll start with a summary of the shore excursions we took, and then discuss the onboard features of the Pride of America.
Shore Excursions
A Pride of America cruise IS different than other cruises in that there are no "at sea" days and more time is spent in port, including overnight 1 1/2 to 2 day stays at the islands of Maui and Kauai.
Rather than book excursions through NCL we chose Roberts Hawaii as our tour operator.  Overall the Roberts excursions were excellent.  We found there were more options for independent excursions in Hawaii than on other cruises we took.  That's not to slight the NCL excursions, though.  We talked to other passengers who enjoyed their NCL excursions (in particular the Luau in Kauai)
Heavenly Hana Adventure (Maui)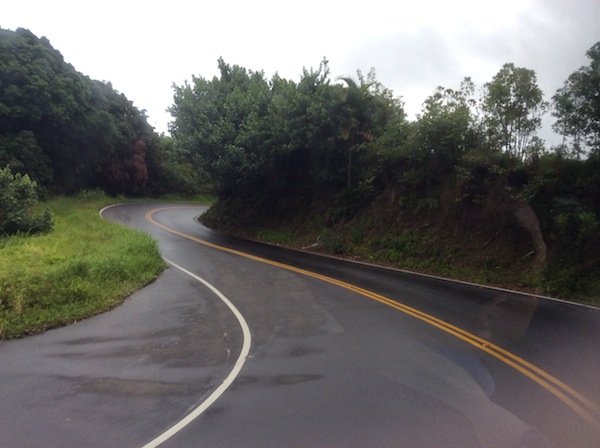 Our first excursion, the Road To Hana, featured winding roads through some amazing scenery.  At 9 1/2 hours, this was one of our longest excursions on the cruise.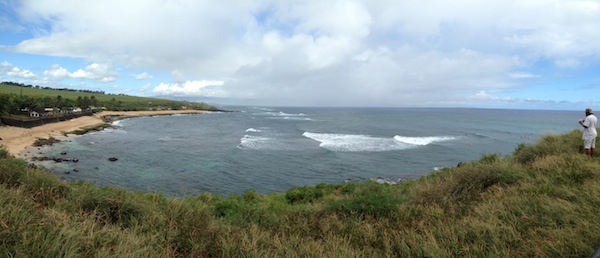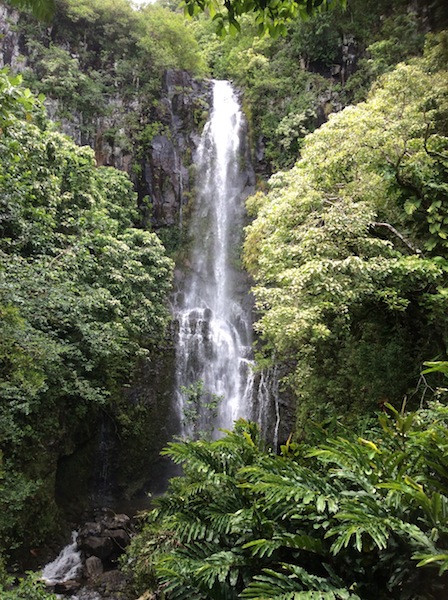 Along the drive, expertly navigated by our Roberts Tour Guide, we were treated to beautiful coastline and waterfall views like the ones above.  Though there were some short hiking opportunities, this was not an active excursion.  Be prepared for lots of time in the van!  I liked the box lunch Roberts provided at a scenic picnic spot, rather than stopping at a restaurant, to maximize our time out on the road.  We also found the Roberts excursion less in cost to comparable Road to Hana excursions from NCL and other tour operators.  Seeing the diverse geography of Maui, from the lush east side to the dry west side, is an experience I will always remember.
Anne says:
Driving the Road To Hana is no easy task.  There are approximately 600 curves and 54 bridges (many if not most of which are single vehicle bridges).  We were more than happy to sit back and enjoy the scenery and let someone else do the driving.  It is likely that you will run into rain, so don't forget a rain jacket.
Haleakala Crater Tour (Maui)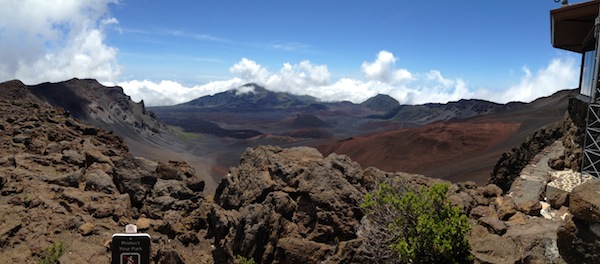 Our second day in Maui featured more spectacular scenery – very different from the Road to Hana.  On this day we took a morning excursion to the top of the Haleakala Volcano.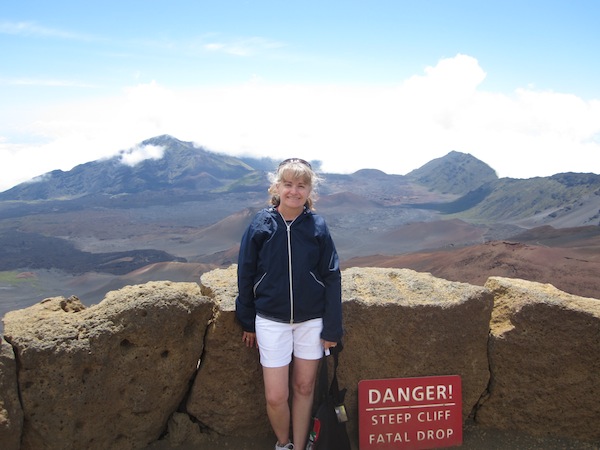 It was cool at the summit where we overlooked the crater.  On the way up we saw many bicyclists who had signed up for the early morning tour (they were transported by van to a high point on the mountain, and then they rode their bikes down to bottom).  Though I am an avid bike rider I preferred to sleep in and take a more leisurely tour to the top by bus.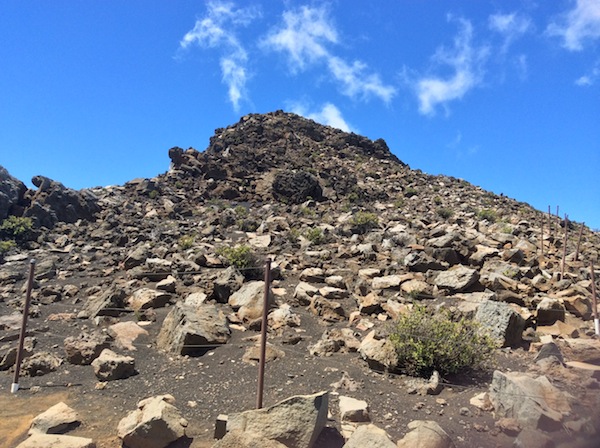 Once at the summit there were hiking trails if you wished to explore further.
Anne says:
We were fortunate that the sky was clear the day we visited this amazing volcano crater.  Our driver indicated that it is common for the area to be cloudy with limited visibility for part of the day.  I enjoyed the short hike around the crater.  There was a higher peak that is not accessible on foot and large tourist vans are also not allowed.  Individual cars can go up to get an even higher view of the beautiful landscape.
Volcanoes National Park & Rainbow Falls (Hilo)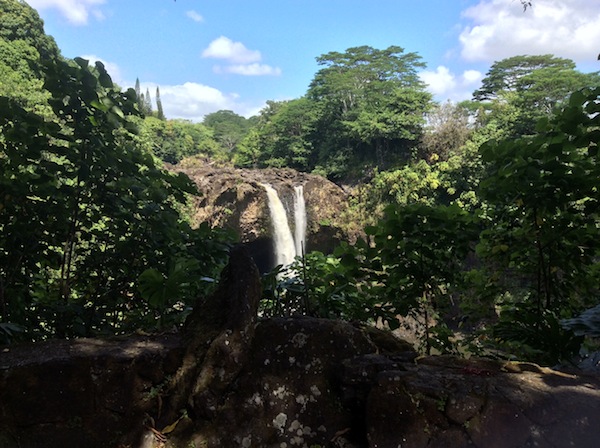 Our second all day tour of the trip started with a visit to Rainbow Falls where we were surrounded by more lush scenery.
From the Falls we toured Mauna Loa Macadamia Nut Factory where we sampled tasty treats.  They were so good we bought a couple of cans to bring home with us!

The highlight of the day was a visit to Volcanoes National Park where we saw Kīlauea and Mauna Loa, two of the world's most active volcanoes.  We learned Mauna Loa is the most massive mountain on Earth occupying an estimated volume of 19,999 cubic miles. The summit of Mauna Loa stands 56,000 feet above the depressed sea floor, making it more than 27,000 feet higher than Mount Everest.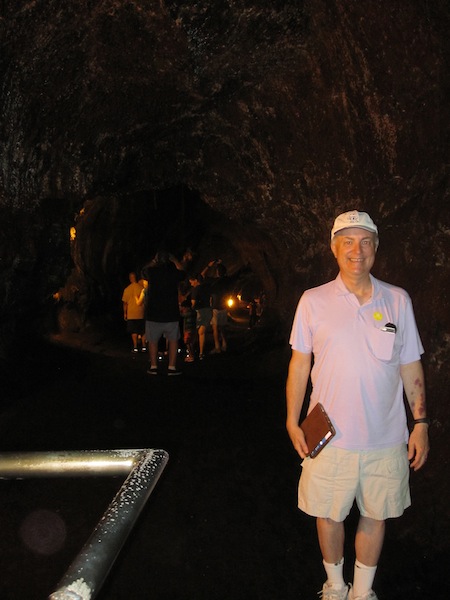 The most memorable part of the tour was when we walked through a lava tube.   Our Roberts bus driver and guide was wonderful in providing commentary throughout the day and taking us to the best spots to see active lava flows.
Anne says:
The tour was an excellent overview of Hilo and Volcanoes National Park.  When we stopped at the visitor center we found an abundance of information to see and read; there were also opportunities to interact with Park Rangers.  
Beach Day (Kona)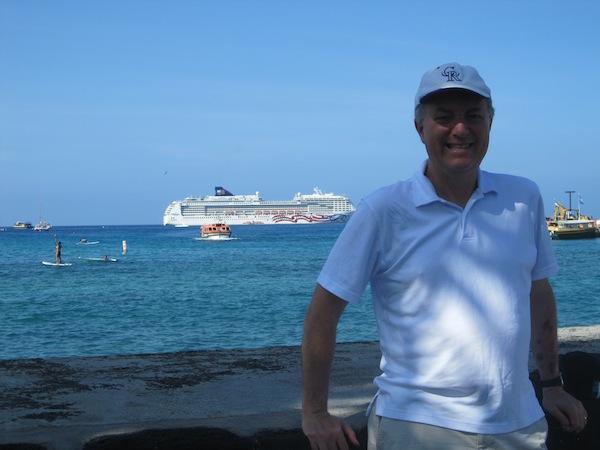 After a few long tours on the previous days of our cruise, we welcomed a relaxing beach day at the port of Kona.  This was the only stop where we took a tender boat to shore.  Here I am in the harbor area with our Pride of America ship in the background.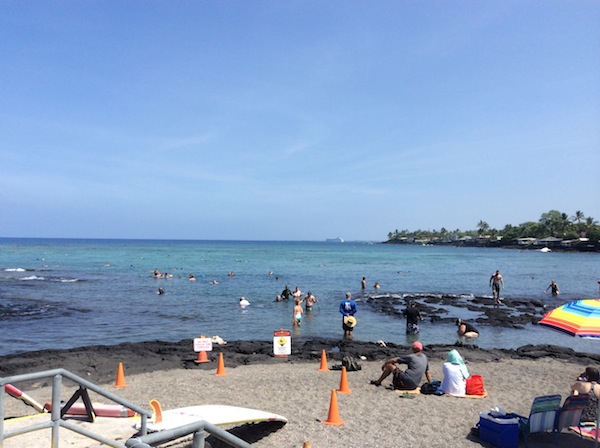 We took a Roberts tour van to Kahalu'u Beach park for 3 hours of water fun.  Anne writes about her snorkeling experience here:
I enjoyed my time snorkeling.  There was a variety of beautiful fish and you didn't even have to swim very far to see some of the sea life.  In addition to the fish and other sea creatures, this area is home to large sea turtles.  There were volunteer conservationists in the area to watch over and educate the swimmers and beach goers about the large sea turtles that periodically would gather in the area.  
Just a few words of caution about snorkeling on the Big Island: this is not an island with white sandy beaches.  This particular beach was mostly rocks.  Beach shoes were needed, without a doubt.  The coast is rocky so getting in and out of the water can be tricky and the lava rocks in the water can be very slippery.  Once in the water though, it was worth the effort to see the fish and experience the amazing Hawaii waters.
Waimea Canyon, Wailua River & Grotto (Kauai)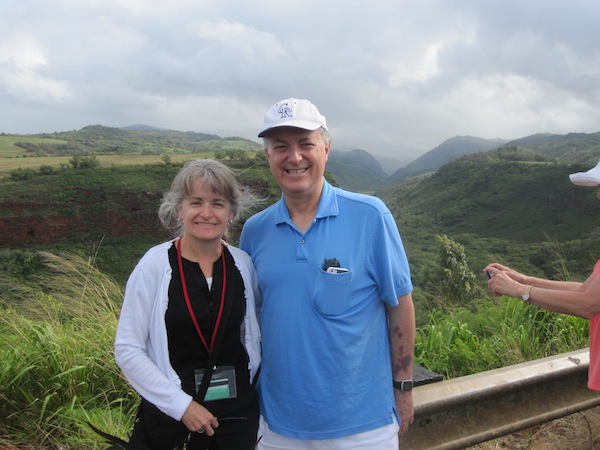 We took another all day Roberts tour on the Garden Isle of Kauai.  I enjoyed our stops along the way to admire the spectacular scenery.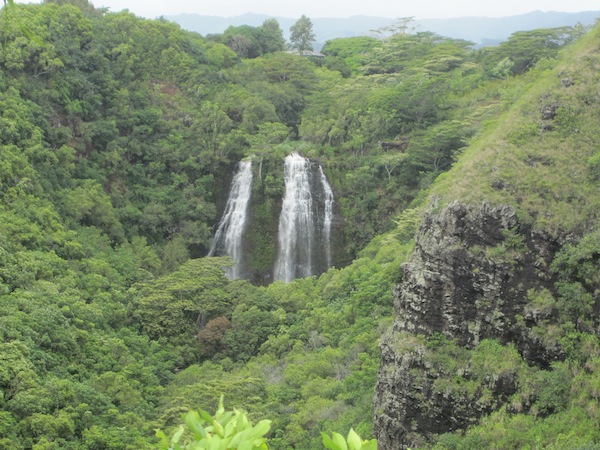 Opaekaa Falls.

The most amazing view of the whole trip for me was at the Waimea Canyon Lookout.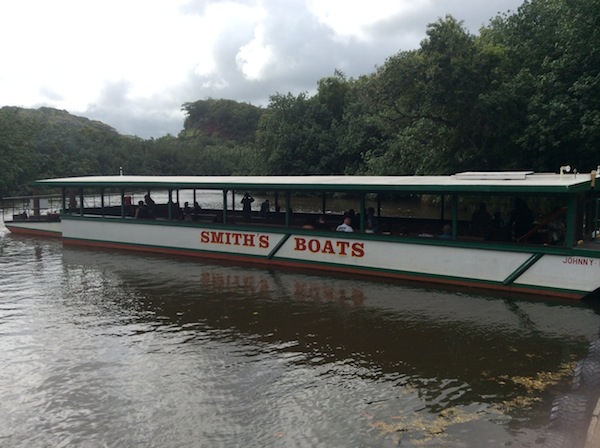 After a quick lunch back at the ship we took a boat ride down the Wailua river to Fern Grotto.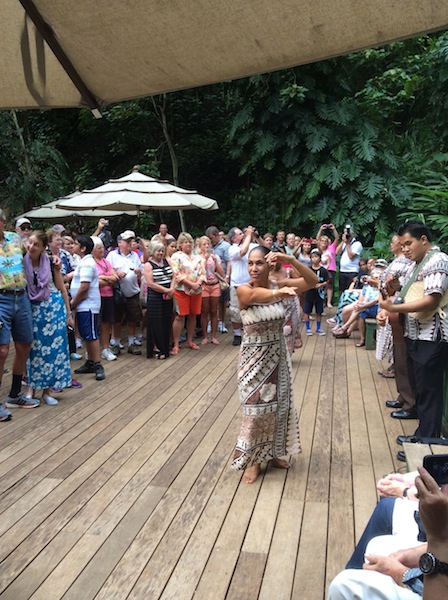 At Fern Grotto we saw a Hula demonstration.  While the scenery here was beautiful I would rate it below the other sights we saw elsewhere on the cruise.  The brief Hula demonstration was fine but if we were to do it again we'd skip this part of the tour and instead attend the Smith Family Luau in the evening.  We heard good things about the Luau from other passengers.
Anne says:
We had an experienced guide on this day and she knew that the other tour buses would be stopping at a souvenir shop first for a "bathroom break" (opportunity to spend more money), so she took us directly to the canyon.  This was a great benefit to our group since there were not many other tourists there.  We had the opportunity for some great picture taking before the crowd arrived. 
Sailing Past the Napali Coast (Kauai)
Our Pride of America cruise was very port intensive with less time at sea than other cruises we have been on.  We did have one spectacular "at sea" sight, though, when we sailed away from Kauai along the Napali Coast.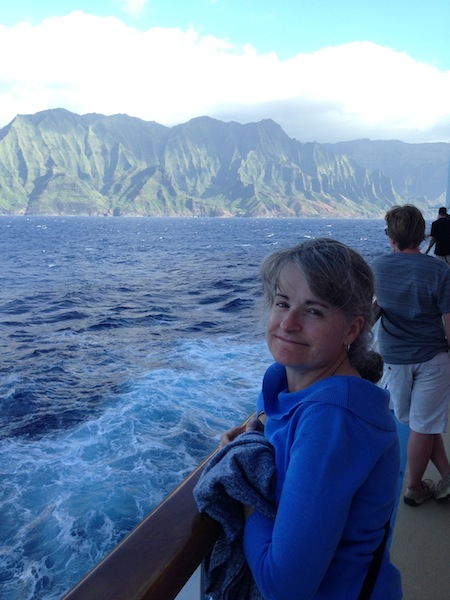 Anne says:
As we sailed along the Napali Coast, the ship had a local resident onboard to give commentary on the history and current day facts about this amazing part of Kauai.  The ship actually sailed the coast going both directions so that guests could participate from their stateroom balcony or other parts of the ship and not have everyone crowding one side of the ship.
On Board the Pride Of America
Dining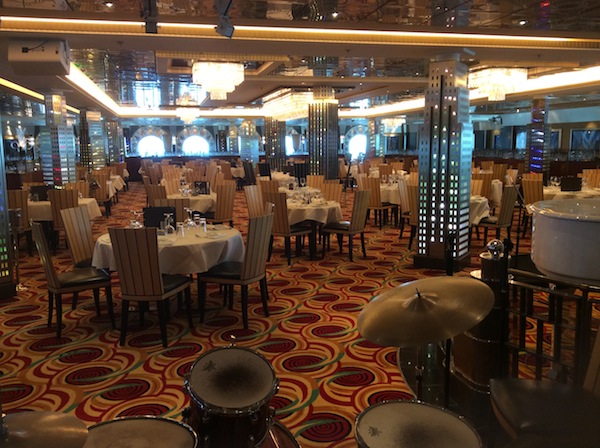 The Pride of America has a wide variety of restaurants to choose from.  There are two main dining rooms at no extra cost – the Liberty and the less formal Skyline.  We ate at the Liberty Dining Room for a couple of dinners.  I found my shrimp and chicken dishes to be fine, though the portion size was on the small side with fewer courses when compared to my non-NCL cruises.  Our American waiters were eager to please – I saw no evidence of inferior service I had heard rumors about.
Of the "free" dining options, though, I liked the Cadillac diner the best.  Cadillac reminded me of Johnny Rockets on the Royal Caribbean ships, except with more menu choices and no extra cover charge.  One night I had a delicious hamburger here (of better quality than what is offered elsewhere on the ship).  On another night I enjoyed my meat loaf dish.  A chocolate shake, for an additional $5, was more than enough for Anne and I to split (we ordered shakes at two different meals here).
I found the Aloha buffet very good for breakfast and lunch.  I especially liked the cooked to order omelettes that I could order in the morning.  The buffet did get very crowded at peak times – we learned to eat an early breakfast and lunch to reduce our wait times.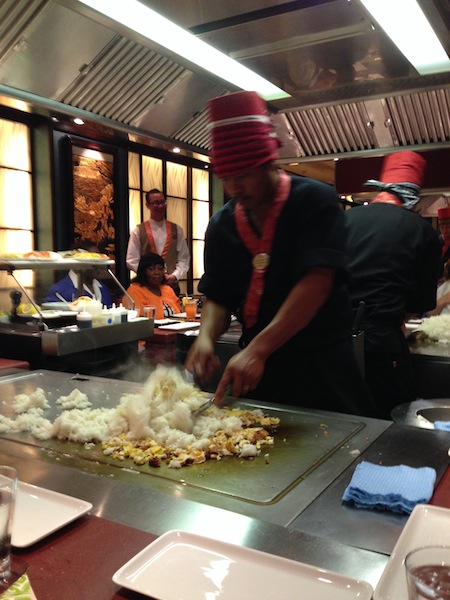 The Pride of America also has a number of specialty restaurants available for an extra fee.  Of these we tried one – the Teppenyaki restaurant – featuring a chef cooking your meal right at your table hibachi style.  This was excellent – one of the best cruise ship restaurants I have ever eaten at.  The portions were huge and our chef was very entertaining.  I really enjoyed my shrimp dish.  We noticed Teppenyaki was booked for most of the week – book early for the best selection of dinner times.  We also heard good reports about Cagney's steakhouse from other passengers.
Anne says:
I spoke with another guest who had purchased NCL's Ultimate Dining Package.  Guests who purchase this option are able to dine each night at almost any specialty restaurant for a set price.  She was loving it and felt that it was a good deal since it provides about a 20 percent discount off the price of the specialty restaurants' cover charge.  The cost of package varies by length of cruise.
Entertainment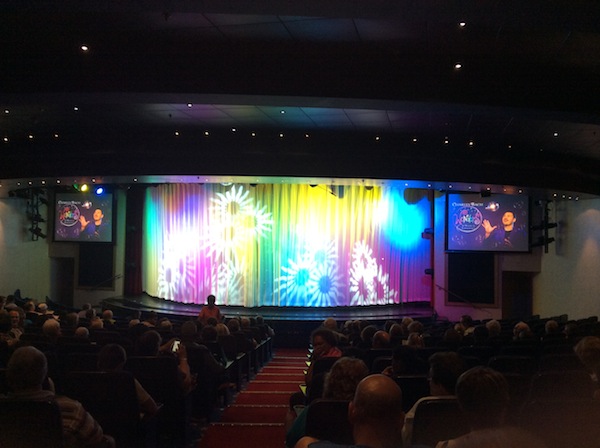 The Pride of America featured a number of production shows with a cast of singers and dancers.  These shows were comparable to production shows we have seen on other cruise lines – no better or worse.
Where the Pride of America really shined was in its specialty entertainment:
Toby Beau featuring Balde Silva and Rennetta Dennett.  This rockin' couple had a few stellar performances.  Their Beatles tribute featured excellent guitar work and vocals.  Silva and Dennett gave background stories on how the Beatles wrote their songs.  "We Can Work It Out", for example, was co-written by John Lennon and Paul McCartney.  Silva explained the McCartney parts of the song were upbeat, while the Lennon segments were more somber.  We attended the Beatles Tribute show in the Mardi Gras Lounge, a smaller venue that reminded us of the showroom on our Azamara cruise.  Toby Beau also performed in the main theatre one night, singing their signature hit "Angel Baby" and other rock songs.  We regretted missing their Eagles tribute show later in the cruise, as we had dinner reservations at a specialty restaurant that night.  I really enjoyed the Toby Beau performances we did attend.
Oh What A Night! Tribute to Frankie Valli & The Four Seasons.  The four guys who impersonated Frankie Valli's group were superb, singing many memorable songs from this classic pop group.  This show was especially timely with the recent release of the Jersey Boys film and the hit Broadway show.  I had a chance to chat with cruise director Marky Mark one afternoon and he said "Oh What A Night" was the best show on the Pride of America.  We were sure to attend the show after this recommendation and we were glad we did.
Rex Havens Comedian.  We've seen countless comedians on our cruises over the years, and Havens was one of the best!  He had a very funny and creative "Everything I needed to Know I Learned from My Wife" sketch.  We learned later Havens had appeared on HBO, Showtime, and Comedy Central in the past.  We met Havens in the airport after the cruise while checking in for our flight, and he told us he performs on cruise ships 5 or 6 times a year.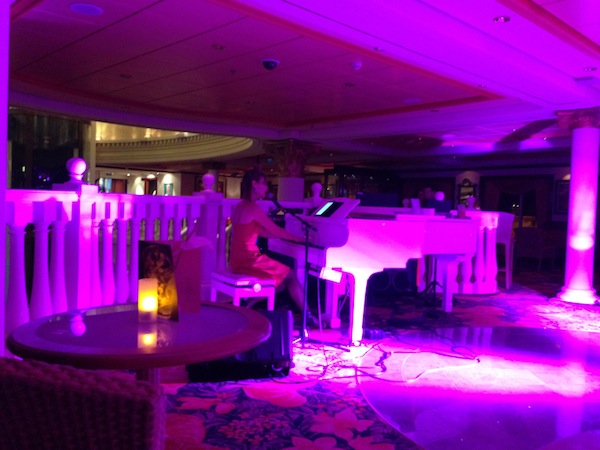 Clara Oman on the Piano.  Ms Oman performed for over 3 hours in the Pink Lounge each night.  We discovered her on one of our last nights of the cruise and she was amazing!  She had a wonderful repertoire of songs she played from Barbra Streisand, Celine Dion, Billy Joel, and more.  She also took requests from the audience.  I asked her to play "Let It Go" from the movie Frozen and it was one of the best renditions of this hit song I have heard.  In addition to her work on the keyboard she also had a wonderful voice.
Your Pride of America cruise may feature different entertainers.  I could tell based on these shows that NCL makes every effort to bring high quality performers to each voyage.
We also love to play trivia on our cruises, and NCL had a number of trivia contests throughout the day and early evening on the Pride of America.  We enjoyed the variety of trivia presented, from a "Brady Bunch Trivia" that Anne excelled at, to "Sports Trivia" that was my specialty.
Anne says;
Since the ship sails in American waters there is no gambling – so no casino and no cash Bingo.  This is very different than most cruises, but if people know this in advance it isn't a big deal.
Our Stateroom
At 151 square feet our inside stateroom was on the small side (on other cruises our rooms were closer to 200 square feet).  We found the storage space to be more than adequate for our needs.  Our stateroom attendant was prompt in cleaning our room in the morning and early evening.
Anne says:
The ship provides shampoo and body wash in dispensers attached to the shower wall.  We had brought our own hair conditioner and we were glad we had remembered to bring it since the shampoo is very generic and similar to the body wash.  If you have special preferences for shampoo and conditioner, I suggest bringing your own.
Summary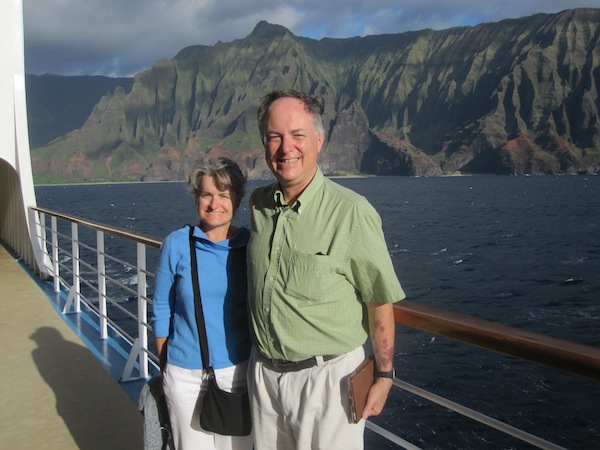 Our 7 night Pride of America Hawaii cruise was a wonderful vacation!  Not only did we get to see amazing scenery on the Islands, we were treated to excellent food, service, and entertainment on the cruise itself.  A great way to see Hawaii in a week!
Anne says:
Like Tim, I was pleasantly surprised by the ship and our experience.  The food was good, the staff was very friendly and we enjoyed all of our activities on and off the ship.  All in all an excellent way to travel the Hawaiian islands.
Are you interested in a Hawaii cruise?  We can help!  Not only can we book the cruise, we can arrange airfare, a pre-cruise stay, excursions, and more.  Contact us for more information or a no obligation price quote.