Royal Caribbean Splendour Greek Isle Cruise (2011)
Of all of the cruises we've now done, this is one of the top ones I think.  Warm weather, interesting variety of ports, and something for everyone. They said multiple times that the Splendour was the smallest ship in the RCCL fleet, but had the best weather.  It was the perfect ship for this cruise with 8 ports days and only 2 sea days, as we didn't miss the other activities found on larger ships (we did see the Navigator in Athens and the Voyager, on which we sailed in 2008, parked next to us yesterday in Venice as we left).  The public areas were in good shape.
By Bryan Richardson (Family Travel Gurus client)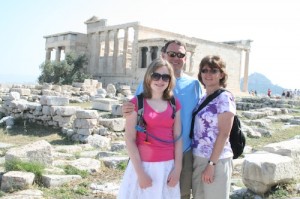 Our aft junior suite was very nice.  The cabin itself was only microscopically larger than the D1s we've often sailed on in the past, but that microscopic difference was big–we could get from one side of the cabin to the other when the sofa bed was out.    The interior of the cabin was extremely worn–the carpet was shot, and there were lots of signs of wear on the drawers, shelving, and in the bathroom.  But the balcony more than made up for it–almost the size of the cabin interior.  Half exposed, half covered by a sunbathing deck above (nice and quiet at night and early mornings), we could always find a shady spot to read our book or watch where we'd been disappear into the distance.   I'd readily book another aft cabin again on a ship with nothing loud overhead.  You'll see all of our other trip pictures on Facebook, so I'll attach a couple of balcony shots here that didn't make that cut.
The rest of the ship looked to be in good shape.  I didn't see too many other signs of wear in the public areas (theater, lounge, dining room).  We found the food to be very good–better than our RCCL experience on the Jewel in 2009 or Voyager in 2008.  Maybe it was the smaller dining room and fewer meals getting cranked out.  Or maybe it just hit the spot more after hiking and touring every day

  I think the Splendour was originally scheduled to dry dock last spring but it was postponed.  Hopefully the dry dock work would be in updating the cabins.   Entertainment was, as always, a mixed bag.   Three acts were repeats from the Jewel cruise in 2009–I wonder if they don't fly back & forth between the ships in the Med & the Baltics.   The show on the next to the last night was one of the best live shows I've seen on a cruise ship–East Coast Boys, a Frankie Valli (sp?) tribute group–and I wasn't even a fan, but it was extremely high energy and they got a rare standing ovation at the end.
In terms of the itinerary and stops, here's what we did (no RCCL shore excursions, you'll note.  We're getting braver at coordinating our own thing):
Day 2:  Still in Venice.  Used the remaining hours of our 48 hour water bus pass to go back into town and see another art museum and collect our souvenirs.
Day 3:  Kotor.  Got off, wandered around the quaint and very clean old town.  Hiked up 1,000 feet to the fort in the 90 degree sun (we didn't arrive until noon).  Very pretty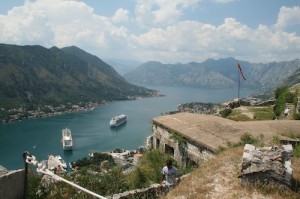 Day 4:  Sea Day
Day 5:  Athens.  Did a private tour Becky found somewhere from a Cruise Critic link.  Very sharp lady; says she generally has stopped taking cruise ship passengers because they aren't opinionated enough about what they want to see, but I think the fact that our daughter and hers were the same age caused her to make an exception.  Could have easily done it on our own but would have missed a lot of context.  The port is close to the Acropolis and old town (5-7 miles?).    There were (I think) 8 cruise ships in port that day–the port was a mob scene between day-trippers like ourselves and several ships starting/stopping their cruises.
Day 6:  Kusadasi/Ephesus.  Booked a tour through Ekol Travel (recommended again on Cruise Critic).  Wasn't as pricey as Athens.  Highly recommend this alternative as it got us into the Terrace Houses which the bus tours from the cruise ships cannot do in Ephesus.  And you can stop and take pictures and other private-tour stuff, including having an interesting cultural conversation over lunch with our guide (as in Athens, two days after some riots).   Really enjoyed Ephesus–I hadn't had the time to research and prepare like we did in the Baltics and so was pleasantly interested and surprised.
Day 7:  Bodrum.  Nice little town.  Great castle.  Hot–done in about three hours, including 30 minutes finding a Bellco-ATM card accepting ATM to get some Turkish Lira for the Castle.   Something of a rest day after the previous two.   Several nice beaches right in town for folks walking off the ship.
Day 8:  Santorini.  Took the cable car/tram up the hill.  Then the city bus to Oia for a few hours of walking around, and then the bus back to Fira.  Very scenic.   City busses were mobbed as the Star Princess beat us into port by 30 minutes, so we ended up standing up one way.   Kate wasn't feeling well, so we quit a bit early.   Otherwise, lots of nice shopping if that's your thing, but if not, once the scenery is done there's not much else to do but eat and shop.  Walked down the "donkey poop" trail to the tender.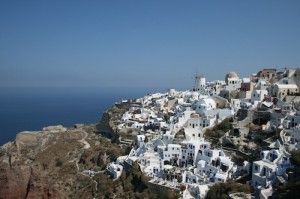 Day 9:  Mykonos.  And the ports keep coming!  Here, we took the Ferry to Delos, another archeological site.  I couldn't find much on line, but wish we'd researched a bit harder.  They were out of maps and everything by the time we got there (again, three big ships and another smaller one in port that day).    Signs were few and far between indicating what we were seeing, but we were able to explore and figure out a reasonable amount.   Then wandered around the pretty town a bit and were out of time for the day.
Day 10:  Sea Day (finally)
Day 11: Split, Croatia.  We really enjoyed Split.  Our plans for the museum and their walking tour were tossed quickly when we found it was a national holiday (on a Thursday) and lots of stuff was closed.  We took one of the two walking tours aggressively hawked by young ladies in T-shirts in town (I was a bit skeptical, but our guide turned out to be great–we did the blue shirt company, not the red one

).  Wandered around a bit, had a light lunch, and then got on the hop-on-hop-off bus tour.  Highly recommended (but our bus had four passengers–three of my family and one other lady from our ship).  Took us out to the big city park where the locals were playing on their day off, far from the madness of the cruise ship.  Had an ice cream, and then they dropped us right off at the ship.  So our day was saved!
Day 12:  Yesterday–long, long day.  First Lufthansa/Star Alliance flight for our free tickets was at 2 pm, and they won't check your bags until three hours prior to departure.   So we stood and chatted with the other waiting passengers in the business class line–one couple from our ship (enjoyed the cruise; said the food on Celebrity was much better), and another that had just gotten off some pricey Seaborne trip only to Croatia.   Got home at about 1:30 am this morning!
Conclusion:  I wouldn't take a Vision-class ship for anything except a port-intensive cruise like this one.   But it worked out well for us on this trip.