Snapshot Story: Mediterranean Cruise (October 2014)
Thanks to Georgianne Holland for sending us these photos and her feedback on a Royal Caribbean 7 night Mediterranean cruise she booked with us)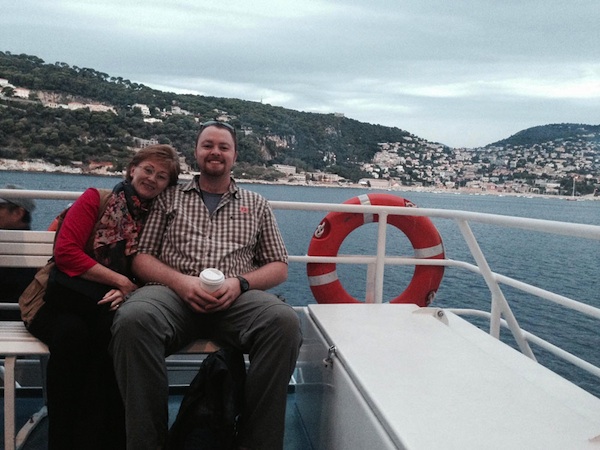 Here's a photo of my 25-year old son Eric Bender and me on a day that we had an excursion to Cinque Terre, Italy. That was our favorite part of the cruise…our excursions.
This photo was taken early in the morning when we were tendered to shore. It was very fulfilling to have my three adult children with me on this cruise. It was truly a great bonding experience in a busy life!
The hotel in Barcelona you arranged was great (Hotel Regina). They were very accommodating and all of the plans you made for us went very smoothly. We loved all of the tours you set up…Barcelona and Rome. Both of those companies I would recommend to others.
The food on the ship was tasty, but not as luxurious as I remember cruise food being. The sheer number of people they had to feed (over 4,000) probably added to the complexity. The food we ate during our excursions was outstanding!
I would say that one of the best parts of working with you Tim is that when things do go wrong, and with travel, they sometimes do, it was so great to know I could email or text you and I would get the kind assistance that I needed…even from half-way around the world!

Thanks again,

Georgianne Holland, Certified Holistic Health Coach
PS Here's a picture of the four of us: