Feast at Lele (Luau in Lahaina, Maui)
Thanks to familytravelgurus.com travel consultant Karen Waldman for contributing this report of her family's Hawaiian luau experience.
Feast at Lele
Luau in Lahaina, Maui
June 2012
As the sun set in an array of colors, we enjoyed Harore Kumara from New Zealand (roasted mushrooms with sweet potatoes) and reflected on how we got here. It was our last full day on Maui, and we had planned to stay at our resort and relax all day. In reminiscing about the fun things we had done while in Hawaii, my daughter Nicole mentioned that she wished we had gone to a luau during this trip.
I knew from past experience that the best luaus sell out weeks ahead. Not surprisingly, I checked into it and every luau nearby was sold out. One place, the Feast at Lele, said they'd put us on the waitlist. This is a fairly new luau, and quite upscale compared to most. We got a call around 3:30, while we were at the pool, indicating that a table had opened up. We took it.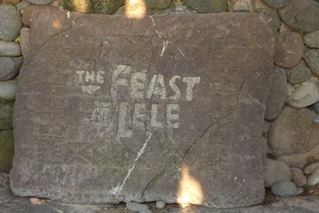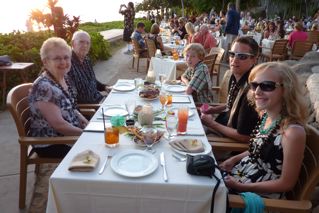 Upon arrival we were each given a drink and a Kukui Nut necklace as we were led to our table. For getting a last-minute spot, we sure were given an excellent location, up front in the far corner. I think they were especially good to us because my Dad is not very mobile. We had a perfect view of the beach and show. Each table is a private table, just for your own group, and has two servers who describe each course as it arrives. The luau is held on the beach toward the southern end of Lahaina, and we had a great view of the sunset. The weather was wonderful – calm and warm.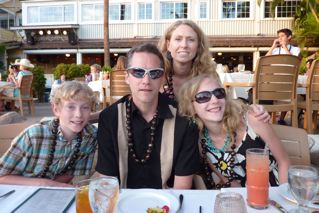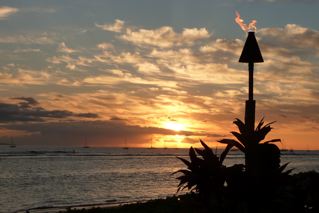 The show was excellent – they showed performances from four islands: Hawaii, New Zealand, Tahiti, Samoa. My favorite was Tahiti, with the fast dancing. I also liked Hawaii with their slow, graceful style. At the end they had a fire dancer. The whole evening is a slow-moving affair, allowing you to take it all in as we moved from island to island. And allowing our food to settle a bit between each course.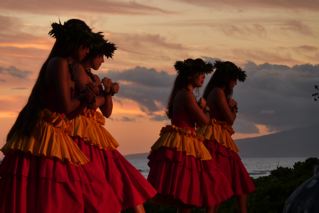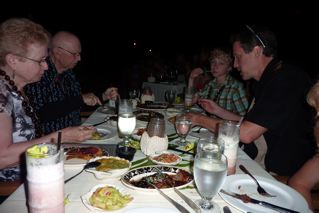 Throughout the show, they served meals to match each of the islands that we "traveled" to. The food was outstanding and served with wonderful service. Definitely not your typical luau buffet meal. The banana and sweet potato chips with mango-type salsa were a great beginning.
There were a lot of new and different foods for everyone to try. Brent and I were especially proud of the kids. They tried every single item that was put on our table, no matter how weird-looking. And they agreed that it was all tasty!  See our menu at the end of this posting.
The kids were also thrilled with the drink selection – so many fancy drinks to choose from!  Though they tried many (mai tai, pina colada, etc), they liked the lava flow the best – a pina colada with strawberries and banana. The adult drinks were especially potent. We learned quickly to order two drinks at a time, one with alcohol and one without. That way, we could mix them to tone them down a bit.
From Nicole (13 years) – I am so happy we fit in a luau at the last moment. I really wanted to go to one. The food was superb, the drinks were delicious, and the dancing and music was very enjoyable.
All in all, we were very happy with this luau. Compared to the other luaus I have been to, this was the best, but also the priciest.  If you are a foodie, or just enjoy a slower and more relaxed meal, you will enjoy the Feast at Lele. If you prefer all-you-can-eat buffets, communal tables, and a more exuberant atmosphere, you may be better suited to one of the other many luaus on any of the Hawaiian Islands.