Jamaican Paradise: Tim & Anne's Sandals Report (May 2014)
Jamaican Paradise: Tim & Anne's Sandals Report
May 2014
by Tim and Anne Larison, owners of Larison Travel LLP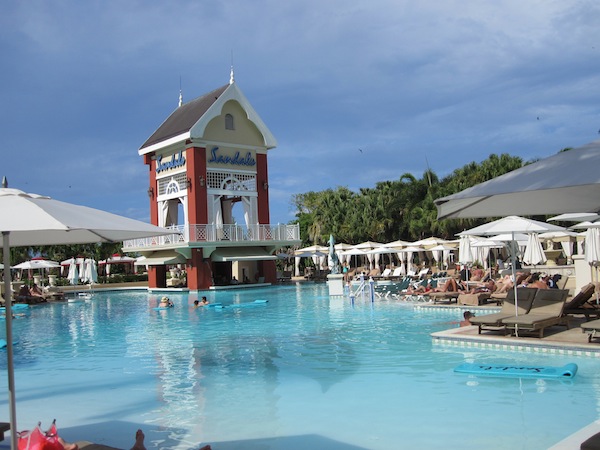 We love cruises, but we were to discover on our Jamaica trip In May 2014 that Sandals all inclusive adults only resorts are pretty cool, too!  Below we give a report on the main resort we stayed at (Sandals Grand Riviera near Ocho Rios).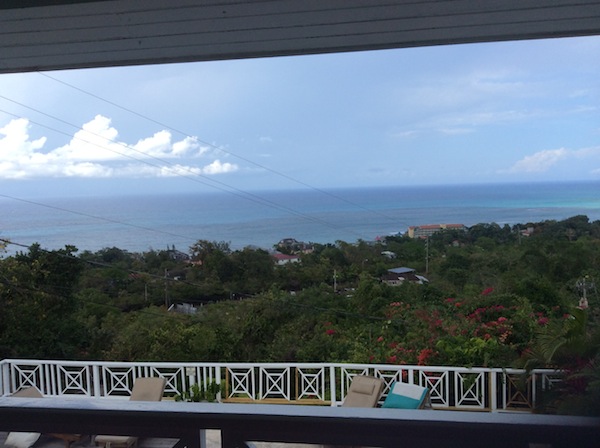 We had a room with our own butler high on a hillside at the resort.  The picture above shows the view from another building we toured – with trees below and the ocean in the distance.  We did not have a view of the ocean from our building, but still we enjoyed the hillside location with lots of greenery all around. Grand Riviera also offers rooms closer to the beach without butler service.
Anne says:
This beautiful resort is about one hour and 45 minutes from the Montego Bay airport.  Sandals Grand Riviera is the largest Sandals resort.  Since it is located on over 100 acres you will be walking a little or you can call you butler for a ride to and from the Great House, restaurants or beach.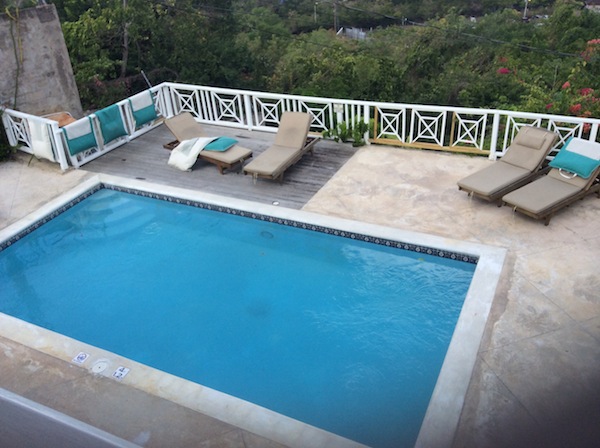 Our building had its own pool, like the one shown above.  We ended up going to the main pool (the top picture above) instead, but having a pool right outside our door was a nice extra benefit we would have taken advantage of if we had stayed more nights.
Anne says:
Believe it or not there are 105 pools and 22 hot tubs on the property.  Many of the pools, like Tim mentioned, are private pools that are shared among three rooms.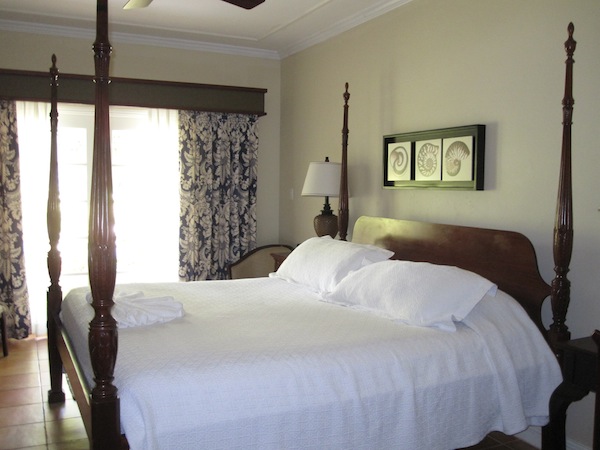 The resort rooms were medium sized (plenty of space for us) with a well stocked refrigerator.  Sandals includes all meals, most drinks, and tips in one price.
Anne says:
The resort completed a $60 million dollar renovation/refurbishment recently.  We were very happy with the room and shared pool.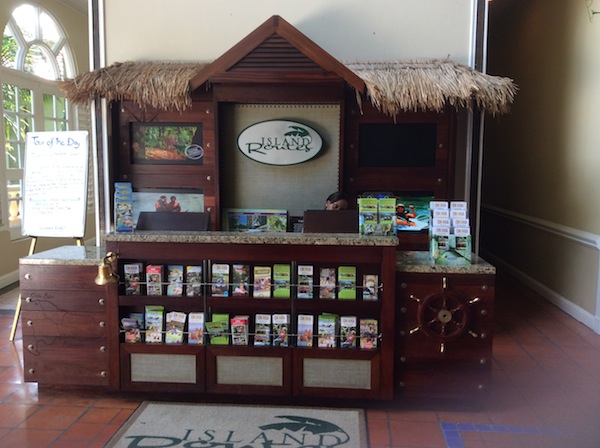 Back in the lobby an Island Routes guide helped guests book many tours available in the Ocho Rios region.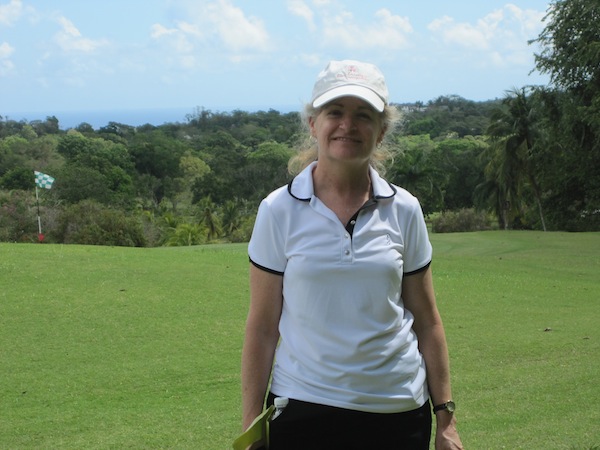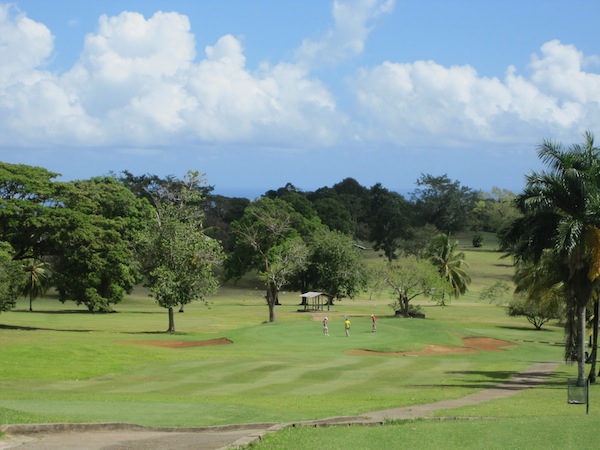 While I was co-chairing a meeting of chapter directors for the National Association of Career Travel Agents (NACTA), Anne toured the resort's nearby golf course:
The golf course was very nice and in addition to green fees, transportation to the course is provided by Sandals.  Sandals Golf & Country Club is a public course, so guests from resorts other than Sandals can play the course as well.  Although the green fees are included for Sandals and Beaches guests, caddy is mandatory for a fee.  You can also rent a golf cart and clubs for your 9 or 18 hole game.  The head golf professional who provided our tour explained that all of the caddy's are experienced golfers who will provide lessons as needed, in addition to their other caddy services.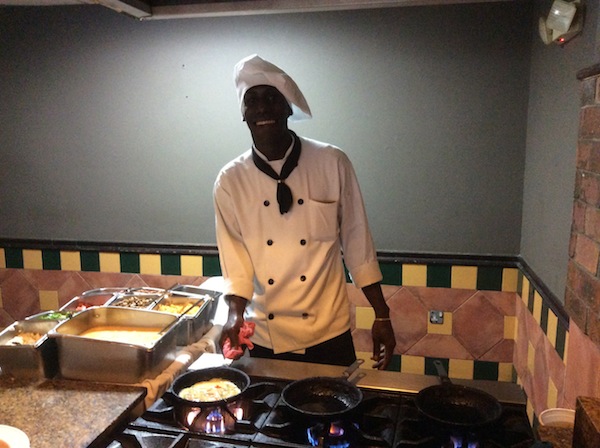 The Sandals staff was very friendly and eager to please.  Here is Dwayne who always had a smile as he made me an omelet each morning in the resort's buffet.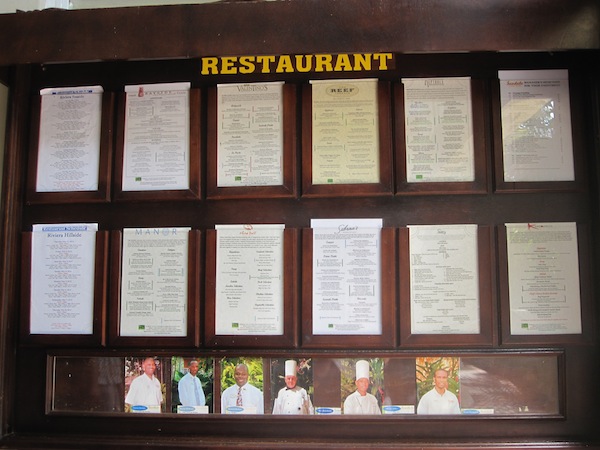 For dinner there were a wide variety of restaurants to choose from, all included in the price of the vacation.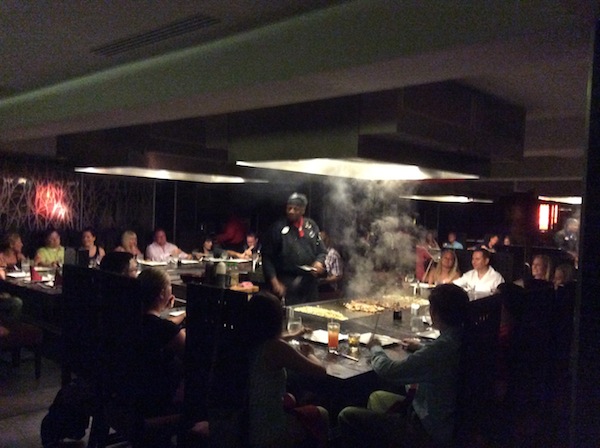 We enjoyed dining in the Teppenyaki restaurant one night.
Anne says:
The Teppenyaki restaurant was just one of 16 restaurants spread out over the three parts of Grand Riviera.  The night we dined in this restaurant there were three sets of honeymooners at our table.  It is a very popular resort for newlyweds and destination weddings.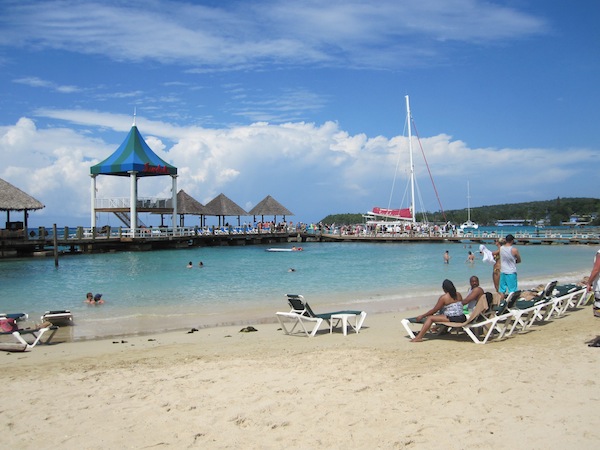 The property featured a nice beach area with a number of water sport options available for guests.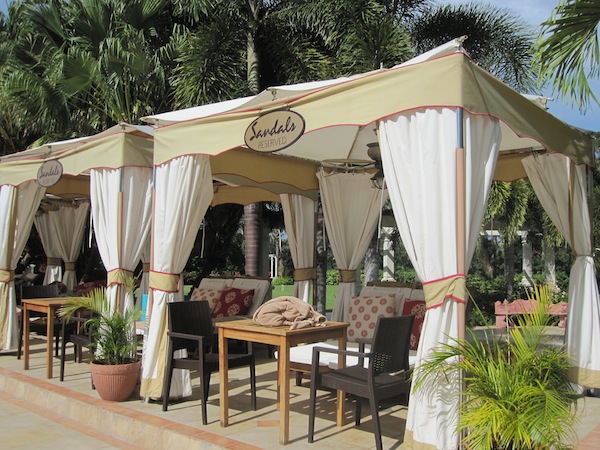 A pool side cabana was a good place to relax in the shade from the hot Jamaican sun.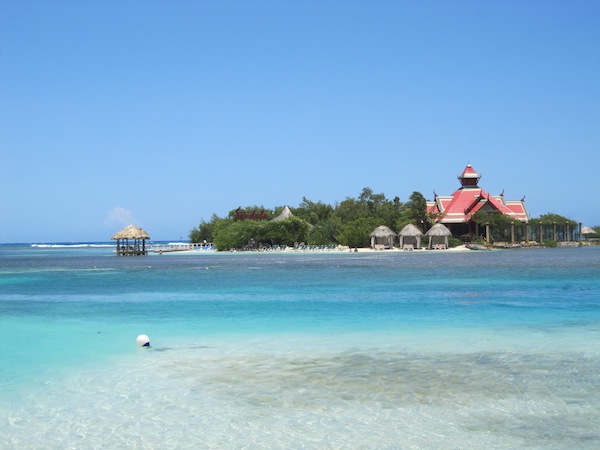 Sandals also treated us and the other NACTA travel agents we were with to tours of some of their other resorts in the area.  My favorite was Sandals Royal Caribbean near Montego Bay.  This resort had its own private island!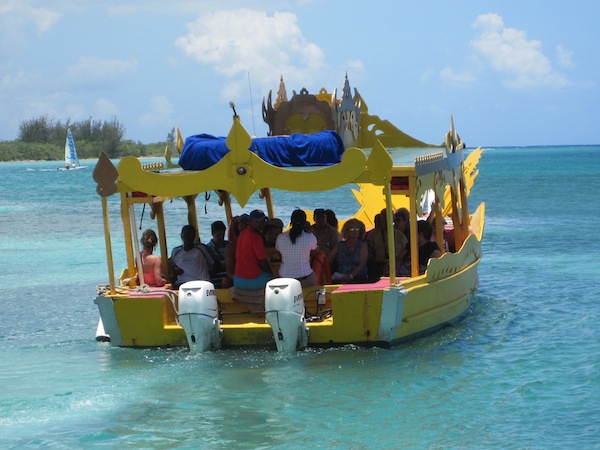 Guests were transported to and from Sandals Cay, the private island, by boat.
Anne says:
A yummy bar-b-q lunch is served everyday on the Sandals Cay private island.  Part of the private island is dedicated to a clothing optional beach.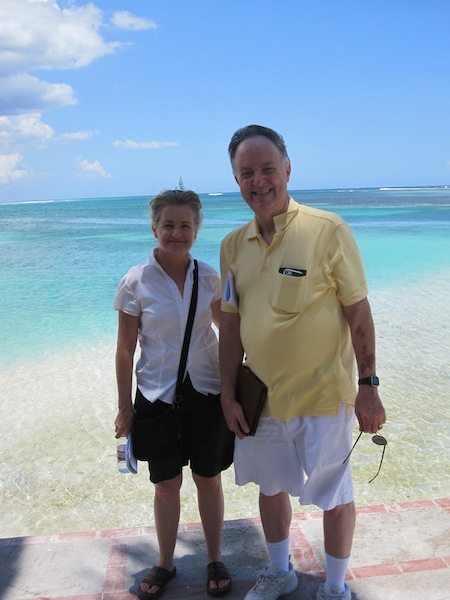 We really enjoyed our 4 day trip to Jamaica.  I gained a new appreciation for Sandals and the all inclusive resorts they offer on the island.  I would love to go back for a longer stay next time!
Anne says:
Jamaica is a beautiful island.  Prior to this visit we had only been to Jamaica on a cruise ship.  I do recommend spending time on the island and now I have personal experience as to the high quality of the Sandals resorts. 
If you would like to book a Sandals vacation of your own, we can help!  Contact us for more information.