Karen's Be Our Guest Breakfast Review
Be Our Guest Breakfast at Disney World

By Karen Waldman, Family Travel Gurus Travel Consultant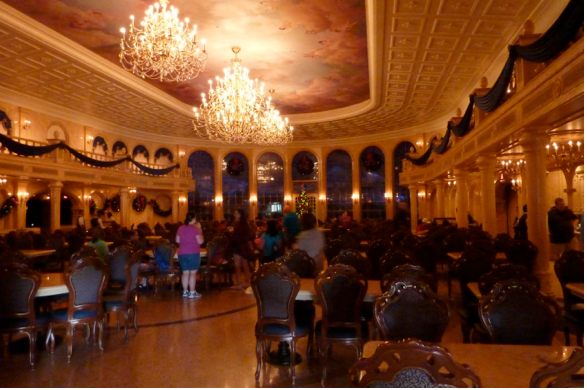 We enjoyed our breakfast dining experience at Be Our Guest, the Magic Kingdom restaurant designed to represent the castle from Beauty and the Beast. They had good food and the atmosphere was wonderful. There are three dining areas. The big main room is the ballroom. We ate in the more intimate West Wing (the room with the rose). The West Wing is quiet and dark, with a fireplace glowing. The third room, with lots of artwork and a rotating Beast/Belle dancing centerpiece, opened as we were leaving.
This is a quick-service restaurant. You order your food at a kiosk, then sit wherever you want. The servers push around carts with the orders, and use your receipt to identify your order. Each entrée comes with a plate of a variety of sweet rolls and a hot or cold beverage (refillable). I had the vegetable quiche and my daughter had an open-faced ham/egg/arugula sandwich. They both came with fruit, and they were both tasty. It was too much food for us – maybe we'll get something from the kids' menu next time!
We noticed that by 8:30 the dining rooms were starting to clear out. Then we noticed that many of the families around us were rushing through their breakfast, and some parents were even standing while they ate. One of the standers told us that many people use the pre-opening breakfast reservations as a way to get into the park and into attraction lines before the gates open to the general public. Personally, I wanted to savor the Be Our Guest experience, so we ate a leisurely breakfast and still walked right onto Seven Dwarves Mine Train next door, without a wait, by about 8:55.
Note that if you have a reservation before the park officially opens, you will need to add in extra travel time to get to the park. The full shuttle service doesn't start until about an hour before the park opens, so trying to get to the park before that will take longer, with fewer busses running. We were at the Disney World Dolphin's bus stop at about 6:50, and arrived at the restaurant at 8:02 for our 8 am reservation. It didn't seem to matter what time the reservations were for; they seemed to let everybody into the park as long as their reservations were prior to park opening. Several people checking into the restaurant when we did had reservations at 8:15 and 8:30.
Would you like to experience the Be Our Guest restaurant and all that Disney World has to offer?  We can help!  Contact us for a no obligation price quote.