Karen's Frozen Sing-Along Review
Frozen Sing-Along at Disney World

By Karen Waldman, Family Travel Gurus Travel Consultant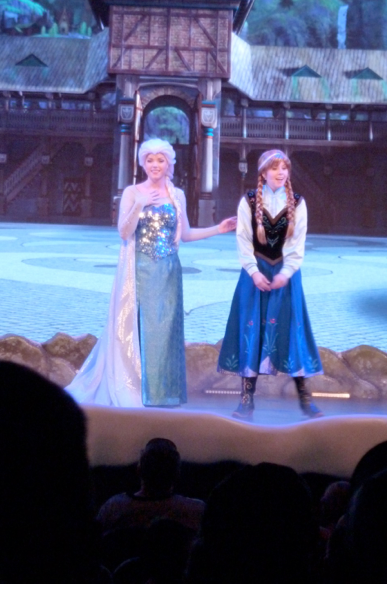 I wasn't sure what to expect with this relatively-new show, and was pleasantly surprised. The 35-minute show is at the Hyperion Theater at Disney's Hollywood Studios, and currently starts at the top of every hour.
I expected just singing with a roomful of little girls, but there was an entertaining, comical show wrapped around it, in true Disney fashion. The show was basically an overview of the story, with movie clips and singing (with subtitles), and holding it all together. Anna opened the show and introduced the "historians", who ran the whole show. The historians, especially the guy, were hilarious. There were lots of puns and humor that the older kids and adults would get. It was fun to watch all the girls sing along and know all the words and do the hand gestures. And it was equally fun to watch the dads – some seemed bored, and some were really fascinated watching their little girls. When it was time for "Let It Go", the man historian said, "And this one is for you, Dads" (who are sick of that song by now). For the final numbers, both Anna and Elsa came on stage, along with other key characters in the movie.
I think this is a must-see attraction, though I wouldn't burn a FastPass+ on it unless you have someone in your party that would be devastated to miss it. We were told that it fills up by 10 minutes before the hour, but it didn't seem that way when we were there. They can fit a lot of people in that theater. And it's inside, so a great way to beat the heat for ½ hour.