Michele's Norwegian Pearl Alaska Cruise (May 2015)
Last week we featured an amazing photo from our client Michele taken on her Alaska cruise.  Here is the rest of Michele's report on the cruise in response to our questions. 
Michele's Norwegian Pearl Alaska Cruise (May 2015)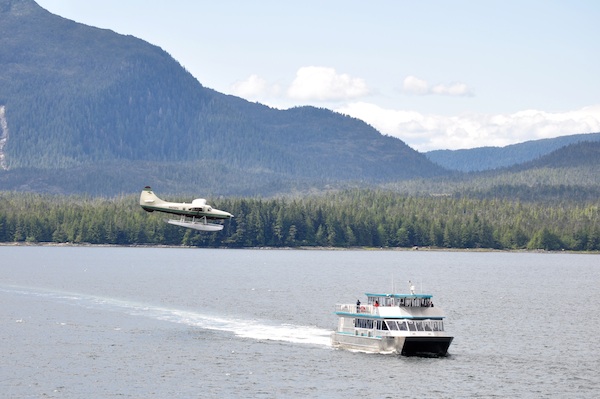 How did your stateroom work out?  The stateroom was a great size for the three of us and the balcony was very spacious.  There was plenty of storage for the three of us to put our clothes in and the closet was accessible from both the dressing area as well as from the hallway near the stateroom door.
Did you enjoy your shore excursions and would you recommend them?  Which one was your favorite?  I did the Whale Watching and Mendenhall Glacier Photo Safari in Juneau.  This, by far, was my favorite excursion of the trip (see Michele's picture and description of this excursion from last week's Snapshot Story)
In Skagway all three of us did the Gold Panning, Sled Dog & 40 Below excursion.  I have a new appreciation for the dogsled mushers and their dogs after taking this tour.  I was extremely impressed with how much they care for their dogs and watch out for their wellbeing during training and while on the Iditarod trail.  The gold panning was "eh", I could take it or leave it.  The 40 below experience was something that I could have done without.  I understand why they do it but when you've experienced those conditions personally it doesn't leave a very big impression (our past winter was brutal as far as low temperatures and deadly windchills).  The tour was PACKED.  While at port the guide that put us on the bus had said something to the affect that because we had a smallish group we would have a lot of time with the puppies … he couldn't have been more wrong.  When we pulled up to the facility there were at least three other groups there waiting and they put us all together.  Getting close to the dogs when they were let loose for us to pet was next to impossible and there were only four puppies to be passed around so the chances of getting your hands on one was even slimmer.  When I finally got my hands on a puppy it was quickly wrestled from my grasp by an overzealous tween from another group/ship.  The grounds and facilities were clean and you could tell that they took pride in it but the tour was just too crowded.
Ketchikan was a lazy day for me … just did some exploring by foot.  Went to Creek Street and along the pier.  My mom and Aunt Sue did the Lighthouse, Totems & Eagles excursion.  I didn't get much of a report from them but they did say that the audio was good, they could hear everything being said, and the audio of the pre-recorded tracks was also very good.  They also said that the length of the excursion was just fine but that they would have liked more time in port to visit the shops and Creek Street.
In Victoria I did the Ocean Wildlife & Orca Exploration and mom and Aunt Sue did the Enchanting Butchart Gardens Evening.  While I'm extremely happy to be out on the ocean (or any body of water for that matter) we only saw one seal during the 3-1/2 hour excursion.  The NCL staff member who was organizing the tours in the Starlight Theater had told us that the previous week's group on this tour was and hour late getting back to the ship because they were forced to cut the engines of the tour boat as the orcas were within 100 yards of the boat so I was optimistic that I would see something.  Even when we were boarding the crew was talking about seeing seals, sea birds, otters, and, perhaps orcas.  It just goes to show that nature is very fickle.  I thoroughly enjoyed being on the boat, in the open ocean air, with sea spray hitting me, and putting my photography lessons to use.  From the back of the boat in the open air there was no hearing the crew members when they spoke.  Their focus was on those who were under the covered portion of the boat and spoke with their backs to rear of the boat.  Mom and Aunt Sue had said that they wished they had an additional 45 minutes at the gardens to finish them up … they had only made it half-way through before they had to head back to the bus.
How did this Norwegian Pearl Alaska cruise compare to your past cruises (on Norwegian or other cruise lines)?  I don't remember having any negative experiences with NCL back in 2008 and, of course, our Disney cruise to Alaska was exceptional.  On this cruise I noticed that the passengers were rude, aggressive (verbally and bordering on physically), and the service received on board wasn't anything special.  I had expected that we would be contacted by the concierge prior to the cruise but we didn't hear a thing from them.  Once on board I sat down with our concierge, explained to her that I've had concierge services through another cruise company and asked what kinds of assistance she could provide and what "perks" were afforded us.  Her only response was that she could assist us with dinner reservations and the booking of shore excursions.  I asked about seating at the shows and was told by her that it is open seating at the shows.
By far the best perk was being able to have daily breakfast and lunch in Cagney's or Moderne.  Along the way I also found that there was indeed reserved seating at the evening shows, that instead of meeting in the Starlight Theater for excursions we could meet at Moderne and be escorted down to the deck we were debarking from (this is only offered for the first hour that we are in port and don't know if this applied to the evening in Victoria as all ashore was starting at 6PM), and express departure if we chose to walk off with our luggage (which we did).  We really did not utilize the services of the concierge, only booking one dinner and one excursion (for me).  We did also ask for her to help with an accounting issue we encountered as well as a problem with port/airport transfers but it seems like she would just hand off the information and there wasn't really any follow through from her.  We always had to call her back to ask her what she had found out.
Our butler was nice, we met her in the elevator when we first got on the ship and were whisked away to Cagney's for lunch.  After the initial meeting we neither saw nor heard from her for nearly 1-1/2 days.  Part of the butler service was unpacking/packing our luggage.  We had no intentions of asking her to do this but it wasn't even offered to us.  She was responsible for in-room dining, delivering the daily treats, and running paperwork to/from the concierge.  It was noted on the daily schedule that there was a surcharge of approximately $7.50 per order for room service so we never ordered it, and we rarely saw our butler but when we did we forgot to ask about the surcharge.  The quality of the daily treats was poor at best and we never finished the whole plate.
Being that we had booked the penthouse it was a disappointment to see that the flowers in our room were missing a vase for three days, a pen wasn't placed in the desk organizer until the second day we were on the ship and there was never any paper to write on (my notes are written on an envelope).  It was just small details that one would expect to see but were an oversight.
The evening shows were entertaining, especially the Cirque show!  We didn't go to much of the daily entertainment because it just didn't appeal to us.  We're not gamblers so we weren't interested in bingo or Deal or No Deal.  We did take advantage of the game room and the library though.  The public areas were constantly full of knitters from the Stitch and Sail (the original reason why we booked this cruise but didn't sign up because [a.] you had to book the cruise through their agent and [b.] it was an extra $200 per person).  You couldn't enjoy the lounges or the library on most days because they were everywhere.  In speaking with a few of the participants it was obvious that NCL did not set aside enough (or any) meeting spaces for them so they just took over the open spaces.  They made makeshift meeting areas out of any open space they could find.
Was there anything you wished you had known before your trip that you'll do differently next time when you take this type of trip? Make sure that you read the description of the excursions carefully.  On my excursion in Juneau we had an elderly lady who, while stating all along that she was fine, was obviously struggling.  She had a very unsteady gait and didn't know that we were going to be on a 3/4-mile trail as part of the excursion.  I really felt sorry for the tour guide because there had been a bear sighting (signs were posted and the groups were advised of this) and he had the majority of the group ahead of him while trailing behind to wait up for the elderly lady.  If something were to happen to any of the participants of the group he really was in a no-win situation.  And on the lighthouse excursion there were several people who did not know that they were getting on a boat.  So make sure to read the description as well as note the activity level.
Thanks Michele for sharing your comments.
Thanks again for all of your help, Tim!