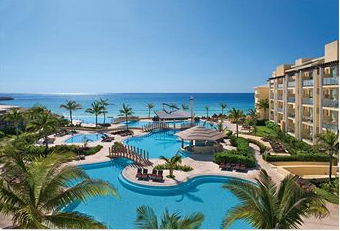 Now Jade, Riviera Cancun, Mexico
December 2012
Over the Holiday season, Karen's clients from Colorado spent a wonderfully relaxing 10 days at the Now Jade all-inclusive resort just outside Puerto Morelos, Mexico, on the Yucatan coast. Following is a review of the trip, from the perspectives of both the Mom and Dad. Also along for the trip were their kids, a girl (9) and a boy (12). I'll call them Daughter9 and Son12.
In Dad's Words
Thank you again for all your help (and concern) regarding our trip.  We had a very good time and the flight delay was really not a huge issue when the end-of-the-day came; luckily we were able to fly standby on the last flight out, but we barely made it on that flight :-).  We had no troubles on the flight home!
We really enjoyed Now Jade as a resort.  The staff was friendly, the location was remote (like we wanted) and the accommodations were clean and well-maintained.  The food was also good, we were able to eat at all the restaurants and they were all very nice; I'd say the French place was the best (there were also Asian, Italian and Mexican, along with the buffet and the snack restaurant during the day near one of the pools).  They had a no-reservation system for dinner which seemed to work most of the time…There are patterns, such as show up when they open or 90 minutes later, etc…If more people were engineers they'd figure that out :-).
The beachfront was very nice…There were rocks immediately off the beach so the activities in the water for the kids were less, but that didn't stop them from trying anyway.  They had several pools, all of which were nice and well-kept.
All-in-all, we'd definitely stay there again…Although I'd like to get the family room; the room we had was great but I would have liked more space away from the kids at times :-).
They are building another resort just south of Now Jade, which I think will take away from the location.  The construction was shut down until after the New Year and it really didn't bother us, but if someone were going there over the coming months. I would recommend that they may want to stay elsewhere depending on their level of acceptance of that activity nearby.  And as I mentioned, once built, I think it will distract from the location overall.
We did venture (briefly) into Puerto Morelos and for the little time we were there, we liked it.  Mom will comment that it's my fault we didn't explore more, and that's true.  The truth is that it took me a long time to fully disconnect and relax.
We also went to Chichen Itza which was great.  I couldn't have been happier with going there, except I could have stayed there for days rather than hours :-).  Otherwise, we did not get out and explore. Again I was coming off a long year and needed a lot of time to disconnect.
The one thing that I missed over the vacations on the west coast was the sun setting over the water.
In Mom's Words
We all had a blast in our own way.
Kids – old enough to play in water with only "keep an eye on" supervision!!
Pool was big enough for kids to have more than one section to be in.   4'6″ depth and deeper in the middle was a challenge at times (harder for the younger and/or shorter set).  There was a very nice shallow pool area for the itty bitty's, though.  Kids loved swim up bar to get Shirley Temples and smoothies.  Kids' club was geared toward younger kids, even though it said up to 12.  We sent them one night so we could go to the adult-only restaurant.  They hated it, but dealt with it since they were told to!!
However – during many of the planned entertainment activities offered throughout the day, efforts were made to include all ages and abilities of those wanting to participate.   They had dance lessons, volleyball, water volleyball, etc.  I didn't choose to participate, but observed this on my trips to the bar!!
Food – agree with Dad on the restaurants, although I liked Asian and Mexican best.  Once you figured out a system, it wasn't too difficult to plan.  For folks needing a "snack bar-ish" style food area that is open most of the time and has lots of kid friendly food and is pool/swim suit friendly, that was not available.  They had a snack area, but it was still sit down and be served.  So it could take quite a while.  Also it was wise to check the activity paper, as the Buffet was not open every night for dinner.  (Usually was replaced with a special activity/theme buffet in another area of the hotel).  It was open for breakfast and lunch daily.
Also – we had gone to dinner one night and Daughter9 started feeling sick.  So we left after ordering and Dad/Son12 stayed.  The waiter had my dinner sent up via room service.  (Son12 and my appetizers were mixed up, but still a wonderful thing)  Not everyone may have done that, so it was special to me. I'm sure I could easily have skipped dinner, though!!!
Room – Enough space, new looking, clean, we opted out of having linens/towels changed daily.  Also had to figure out system for how they did things in the room.  Often new towels came after we had showered for dinner.  So we learned to keep towels longer.  (Granted, we could have called and requested).  Had a large balcony also.  We did overlook the job site, but oddly it was interesting to look at too.  Especially for Son12.  If he was 2-3 years old I would have never seen the beach when the guys were working!!
Location – I actually liked being in our own little space.  Not many people invading the area.  Only 1 guy selling necklaces and 1 guy selling something else.  (They were also not pushy and insistent).  Also only 1-2 times did a brochure from random beach man get to us.  Also since we were out on our own, the tourist and extra traffic on the beach was not there!
The rocks were definitely there, but we are not too difficult to please and the kids found spots where there were not rocks.  The beaches at the hotel grounds were cleaned nightly, but that cleanliness did not extend beyond the hotel edges.  Lots of trash and junk up on the beach just past the hotel to the Playa Del Carmen side.  Yucky to look at, but for me a good reminder and reality check of the special things that go on behind the scenes on that type of vacation.
Excursions – yeah – Dad really wasn't interested, but neither were the kids.  I think I got the most restless – but jogs on the beach are helpful and can get a person in the mood to lay on it later!! Plus it is easy for me to switch to slug mode.
The hotel offered a free bike tour to Puerto Morelos – glad we went.  They had 1 speed adult bikes (one size) and kids sized bikes as well (1 speed – 1 size) and supplies helmets.  Had we done that earlier, I would have liked to taxi or walk back and spend more time hanging out in the little town.
Shopping – they did have vendors come the hotel on several nights for typical souvenir items.  Prices of course were a bit steeper than in town, but we didn't actually have to go to town did we?? They had some of their own stores as well – souvenirs, personal care items, snacks, etc.  We did not compare prices to town, but some things were very overpriced.
I did not clean much, never cooked, never taxied anyone, and got to read 3-4 books.  I did not grocery shop or run errands.  I had lots of fun drinks that were like grown-up slurpies.  I played in the sand without rushing to do something else, I took walks on the beach, I played with the kids.  I watched them have a blast.  I saw sunsets and a few sunrises.  I wondered if Dad was having a good time too.  He was also a major slug.   And my huge internal to-do list had suddenly shrunk to a manageable level with really hard agenda items like – watch kids, plan times to eat, maintain hydration, play, roast front and back.
Thanks for everything!!!!!