Teresa's Wonderful Disney Alaska Cruise (June 2012)
Thanks to our client Teresa from Missouri for sharing this trip report of her and her husband's 7 night Disney Wonder Alaska cruise in June 2012.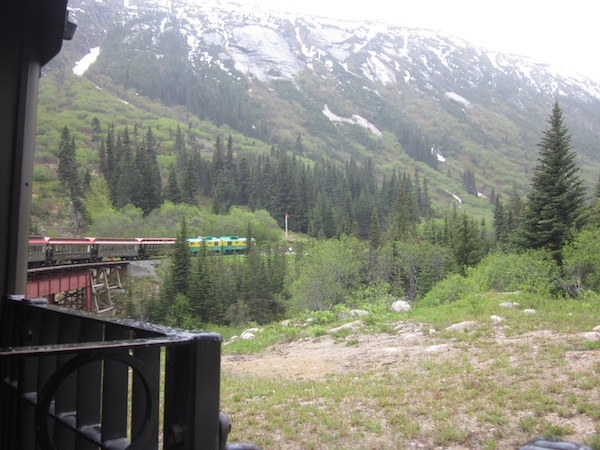 This was a wonderful cruise! Thank you so much for all the arrangements you made for us.  Everything worked out just like you said it would!!  We  are glad we had you book the Disney ground transportation for us.  That worked so well and was easy to locate at the airport.  We recommend doing that!
Our stateroom was in a great location.  Down two floors to dining and entertainment or up four floors to the pool deck.  We didn't use the pool, but we went up there a lot for viewing of the glacier and mountains.  Our room was not too far from the aft lifts and it seemed to be a handy location for us.  We used the stairs mostly, but had no problems getting a lift if we wanted one.  Our stateroom attendant and the dining room servers were excellent.
Tracy Arm was unbelievably beautiful.  We had never experienced anything like it.  The glacier ice was a beautiful blue color.  We were surprised at how close the Disney Wonder came to the glacier.  We were able to see ice calving off, the splash it made, and the waves from the splash.  The seals were fun to watch, too.
We only took one excursion through Disney:  The Best of Skagway.  We had been looking forward to that part of the trip.  It was so amazing to us that they were able to build the railroad in such adverse conditions.  Seeing that land today, still makes it seem impossible to navigate.  The scenery was beautiful.  We had hoped for blue skies, but didn't get them.  It was still very pretty.  The picture I attached is of White Pass & Yukon Route Railway on our excursion from Fraser, B.C. to Skagway, Alaska.  You do need your passports.
Ketchikan has quite a reputation for rain, but we were prepared.  Before we left home, we purchased waterproof jackets and pants and were so glad we did.  We tromped around in the rain up the famous Creek Street and happened upon the Discovery Center (admission fee $5.00 each!!) which was  a great find.  The park rangers in the Discovery Center were so informative and welcoming.  Great people!!
In Juneau, we took the Mt. Roberts Tramway up the mountain to the overlook.  We weren't able to hike on the mountain due to the  dangerous melting snow conditions, but enjoyed the movie and the scenery.  We also shopped in the downtown area.
We definitely will check with you the next time we plan to travel.  You took care of everything perfectly.  Thank you!