The Best of Las Vegas Dining: Tim's Lip Smacking Foodie Tour (June 2016)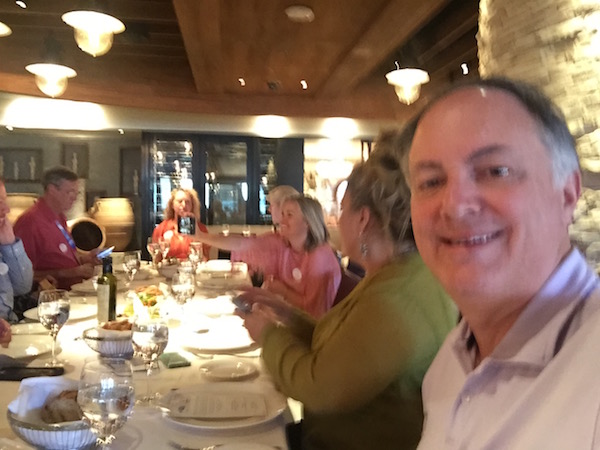 by Tim Larison, CLIA Certified Master Cruise Counselor (MCC)
I have visited Las Vegas many times in the past.  I have eaten at the buffets and some excellent restaurants, but nothing compares to the feast I experienced on my Lip Smacking Foodie Tour in June 2016!
"Las Vegas is known to have some of the best culinary options in the world, which can be overwhelming for visitors," says Don Contursi, President of Lip Smacking Foodie Tours. I asked Don what gave him the idea to start his company. "I figured in order to have the best meal in Vegas you have to experience a meal of only the most memorable signature dishes from the absolute best restaurants in Las Vegas," he said.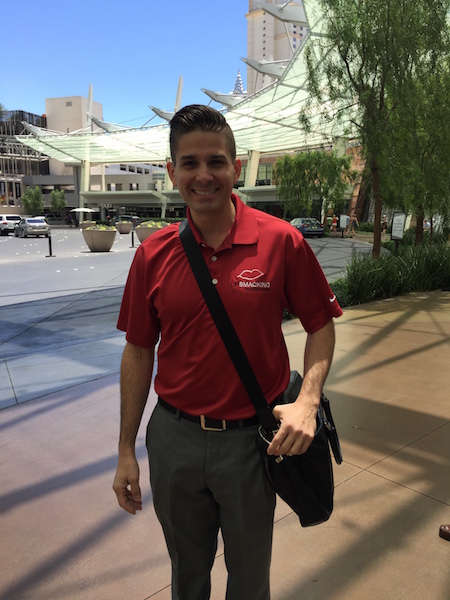 We met Don in the CityCenter area for our tour.  Don was excellent in telling us some interesting stories of the Las Vegas Strip has he escorted us to four of the city's best restaurants on his company's Afternoon Culinary Adventure tour.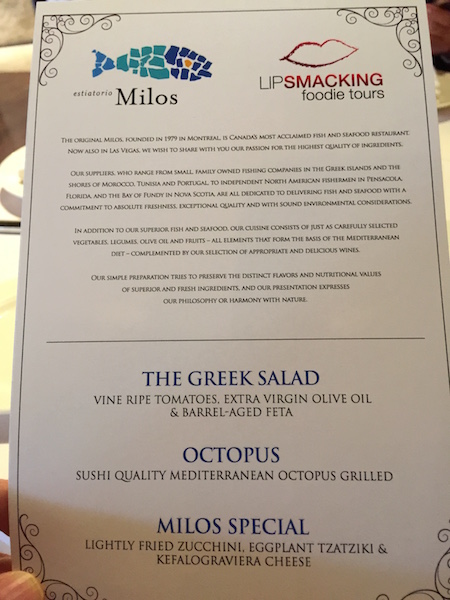 At each restaurant we were given a sample of the establishment's top menu choices.  Here at Milos, a seafood restaurant, I tasted grilled Octopus for the first time.  It was delicious!
I asked Don for an example of another unique dish can people experience on one of his tours.  "Aceitunas, also known as 'liquid olives', is a dish that we serve on our visit to Jose Andres restaurant Jaleo," he said.  "It is a liquidfied olive that actually bursts in your mouth and is nothing like anything anyone has experienced before."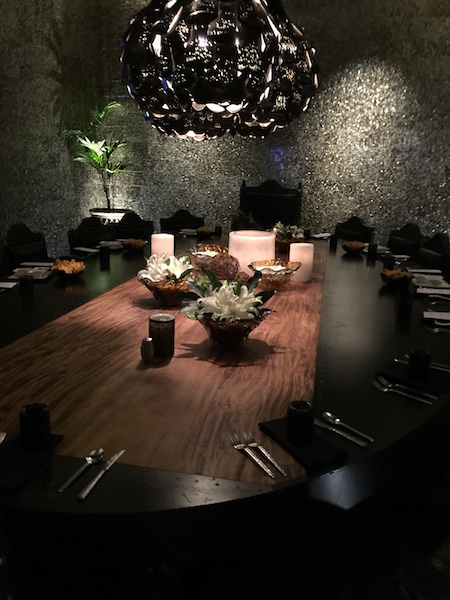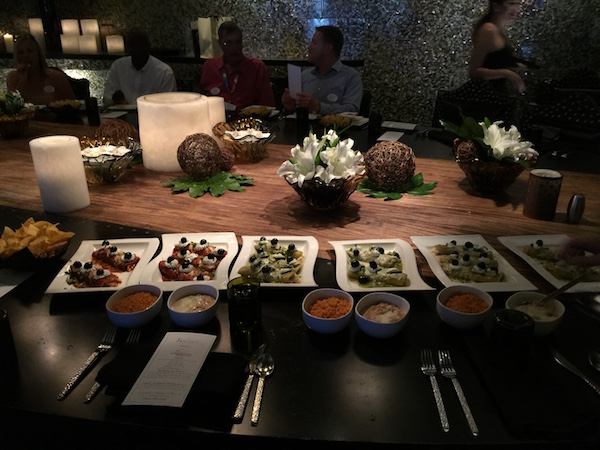 I was impressed with how well organized the tour was.  Here at Javier's we were seated in their private dining room, with an array of Mexican specialties to choose from.  "How do you select the restaurants to be included in the tours?" I asked Don.  "I keep my eyes and stomach on the restaurant scene in Las Vegas and like to highlight restaurants that have delicious signature dishes that are unique to these restaurants," he replied.  "We focus on highly rated award winning restaurants with not just great food but also great character. We share the story of our restaurants and it is important that these stories can be felt with amongst our guests when we visit. Many of our restaurants feature table-side presentations with interactive experiences, this allows us to not only serve great food but to also provide dinner-and-a-show."

We were given a tour of the kitchen at Hexx Chocolate and Confexxions on our final stop to experience the process of how they make their chocolate.  Afterwards we sampled a variety of their desserts.  I couldn't decide which one I wanted, so I had a taste of all of them!
"We have some of the best restaurants in the world with a wide variety of different cuisines all within walking distance," Don said.   "This provides visitors with many amazing options however this can become overwhelming when trying to decide which cuisine to enjoy and which restaurant to visit."
I appreciated Don's expertise in picking the very best restaurants to sample.  The tour gave me options to consider when I want to go back for a full meal at one or more of these establishments.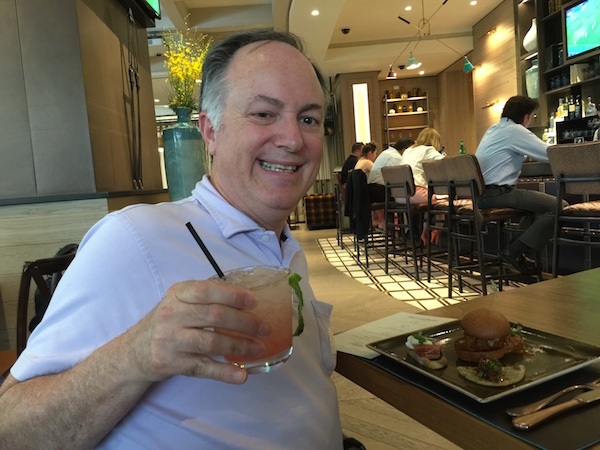 I also enjoyed a cocktail on our tour.  Contact us for a special promo code to add a complementary cocktail to your Lip Smacking Foodie Tour.
I liked my tour so much I am anxious to try the other Lip Smacking Foodie Tours on a future Vegas visit.  They currently offer a longer evening tour of Strip restaurants, and a Downtown tour.  "In recent years Downtown has been revitalized in many ways," Don told me.  "We share this story and experience it first hand by showcasing newly opened farm-to-table restaurants with a casual neighborhood feel where visitors can enjoy a more relaxed evening out. We highlight a completely different side to Las Vegas that resonates with visitors who enjoy an off-the-beaten path experience interested in going where the locals go."
This video gives a good overview of what you can experience on your own Lip Smacking Foodie Tour:
Contact us for more information (and that special promo code to add a complimentary pre-selected cocktail on your tour!)