Tim's Grand Canyon Helicopter Tour (June 2016)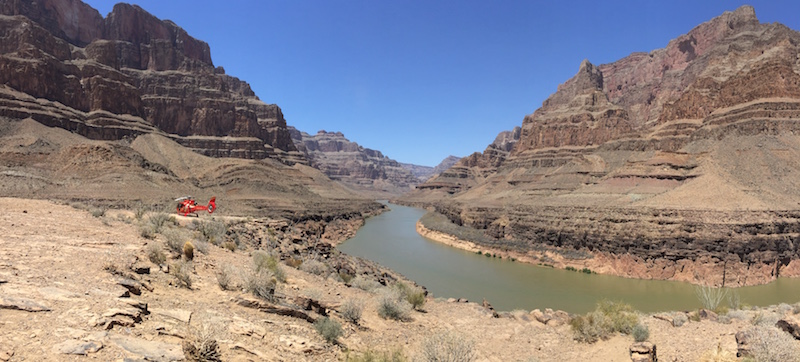 by Tim Larison, CLIA Certified Master Cruise Counselor (MCC)
A bucket list item for me was to see the Grand Canyon once in my lifetime.  My dream came true with an amazing 3 1/2 hour helicopter tour from Las Vegas thanks to Grand Canyon Helicopters.
"As originators of this industry we've been very lucky to access some of the most exclusive and coveted locations in Grand Canyon," says Sherwin Mercado, senior sales manager of Grand Canyon Helicopters.  I was to find out first hand how true this statement was!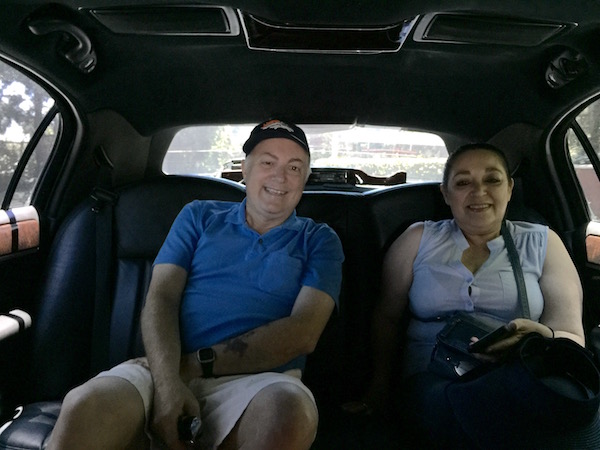 My tour started in style as myself and a group of travel agents were picked up at our Las Vegas Strip hotel by limo and transported to the Grand Canyon Helicopters office at McCarran International Airport.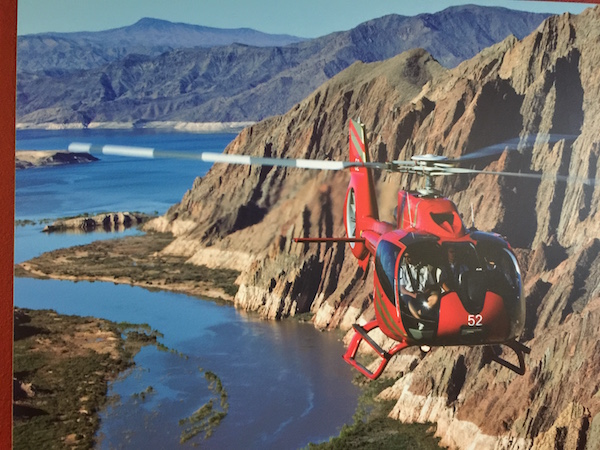 This picture on the office wall gave me a preview of the adventure that l was to experience this day.  I was excited!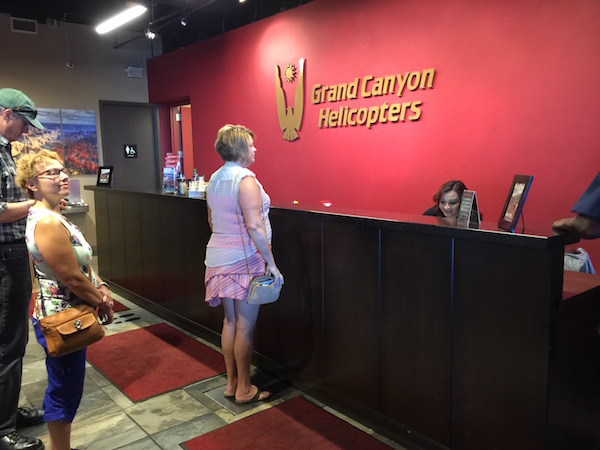 Before the tour we were asked to give our body weights, and then at the Grand Canyon Helicopters office we each weighed in to verify our current weights.  All this is done with safety in mind, so the Grand Canyon Helicopters staff can properly load balance each helicopter.
I was impressed with the company's emphasis on safety.  "Everyday on average Grand Canyon Helicopters has been flying three to five thousand passengers safely to the Grand Canyon since 1965 (well over a half million annually)," Sherwin told me.   "Our owners are the founding fathers of the organization TOPS (Tour Operators Program of Safety). TOPS is a collection of helicopter companies around the world that adhere to the highest standards in aviation going well above and beyond FAA standards."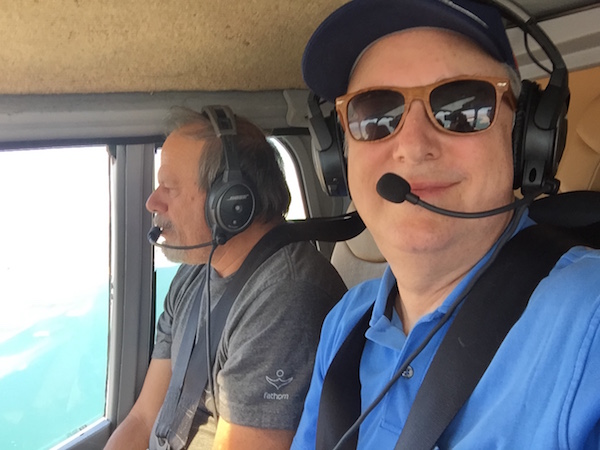 After a preflight briefing our group was transported by van to our helicopter.  My helicopter seated two passengers in the front (along with the pilot) and four across the back seats.  I had one of the middle back seats but the large windows still gave me excellent views.  We each were given a headset to hear the pilot's narration during our flight, equipped with a mike so we could ask questions, too.
"The Airbus H130 formerly known as the EC130 Eurocopter is the first helicopter of it's kind," Sherwin said.  "Our owners were invited to a meeting in France with the owners of Eurocopter and asked if we could build an aircraft for our sightseeing operation what would you need…   increased cabin space, maximized window viewing, luxurious theatre-styled seating, reduced noise production and reduced emissions.   3 million dollars later you have the ultimate sightseeing aircraft created."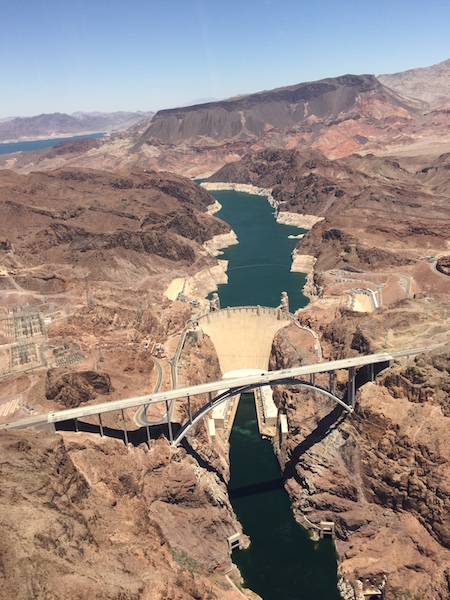 We're off!  The takeoff was very smooth, and soon we were flying over Hoover Dam and Lake Mead on our 45 minute journey to the Grand Canyon.  I found this part of our journey fascinating, as our pilot Ryan told us interesting facts about the lake.  I had a much different perspective of Lake Mead from the air compared to a Hoover Dam bus tour I had taken a few years earlier.   I didn't know, for example, that Lake Mead is divided into three basins, which we could see from above.  We saw that the water levels were near historic lows.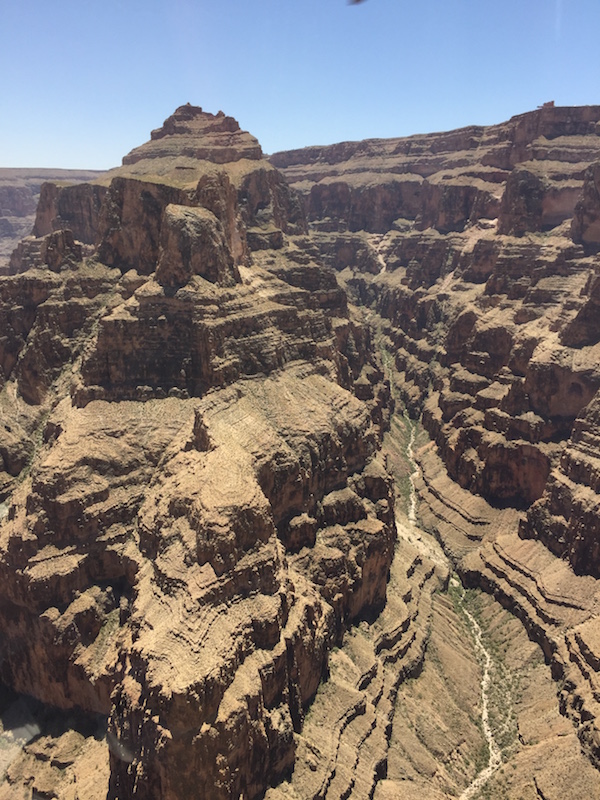 As we approached the Canyon all of our cameras were clicking – taking pictures of the amazing scenery that surrounded us.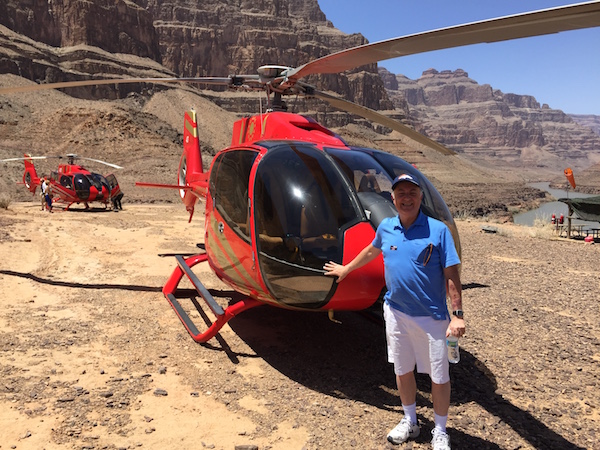 Our helicopter softly touched down on the canyon floor where we found a covered area waiting for us.  Here we were served a box lunch and had the opportunity for more picture taking.
"Many have seen the Grand Canyon from the rim or above however to be on the canyon floor gives you a whole new perspective on Grand Canyon," Sherwin said.  "Standing next to the canyon wall has never made you feel so small and standing by the Colorado River gives you an idea how the river has literally carved out one of the 7 natural wonders of the world. Being at the bottom also allows you to have that intimate and for some a religious experience of Grand Canyon."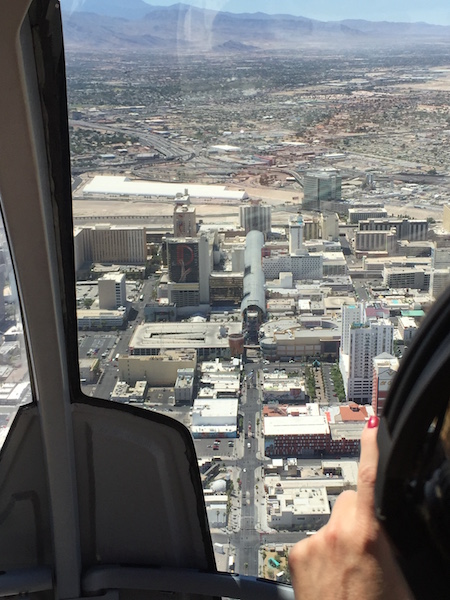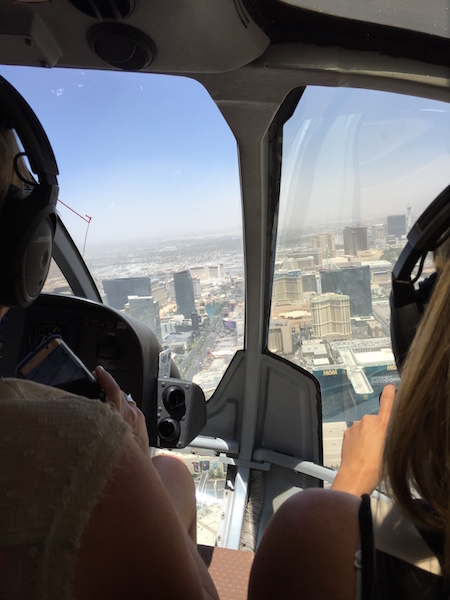 After our lunch stop on the Canyon floor we were back in the air, with more spectacular views.  I enjoyed the flyover of the downtown area and Las Vegas strip as we returned to the airport.  Grand Canyon Helicopters offers several different tours – my tour was the King of the Canyons.  "That's my personal favorite," said Sherwin.  "Who wouldn't want to get whisked away in a limousine and then hop on a helicopter to the bottom of the canyon and then fly over the Las Vegas strip.   Yes it is our most popular option but it's definitely the best way to see the Grand Canyon in style while being able to be back in your hotel room in under 4 hours."
I asked Sherwin what other tours his company offers.  "Airplane tours might not have the same sizzle as a helicopter but they do offer a lot of value.   Helicopters are all about convenience and luxury… seeing the Grand Canyon in style under 4 hours within a $400 – $500 budget.   Airplanes offer a slightly longer day at 7 hours but you're getting a lot more ground time at Grand Canyon (about 3 hours at the top of the rim) and you're at a $199 – $350 budget.  Much like our helicopters our airplanes have also been built for sightseeing with windows 5 times larger than a normal window, giving that panoramic experience.   Coach tours are great options for the budget conscious traveler or perhaps the scared flier.  Normally starting around $100 – $250 and requires a minimum 10 hour day when visiting Grand Canyon."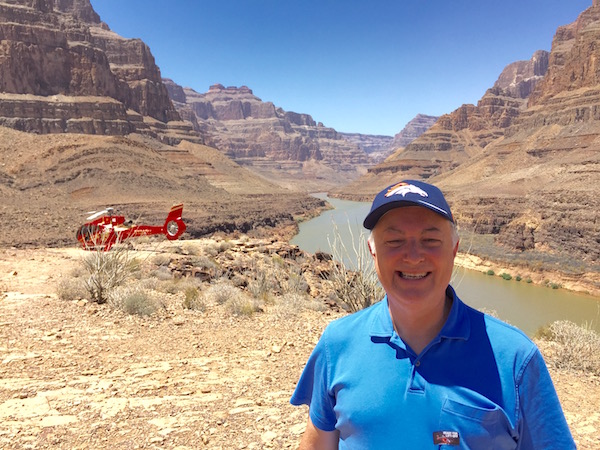 Check one off my bucket list!  I can't imagine a better way to see the Grand Canyon for a first time visitor like myself than with a tour from Grand Canyon Helicopters.  It was an awesome experience that I will always remember.
We can book your own helicopter, airplane, or bus tour of the Grand Canyon, too!  Contact us for more details or a no obligation price quote.