Tim's Desert Getaway at the Hacienda del Sol Guest Ranch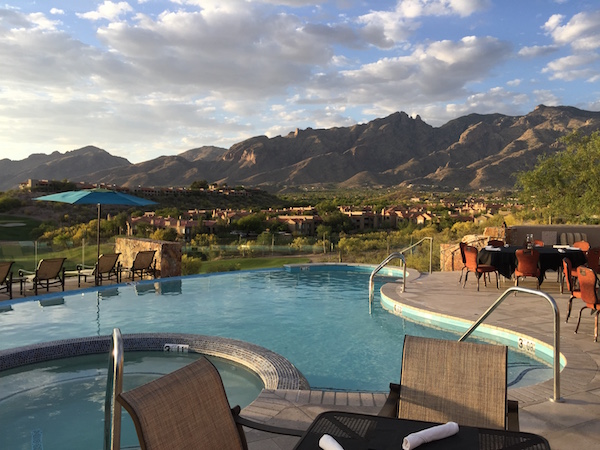 Tim's Desert Getaway at the Hacienda del Sol Guest Ranch

by Tim Larison, CLIA Certified Master Cruise Counselor (MCC)
As part of the Global Travel Marketplace West travel conference in Tucson I was fortunate to stay at a wonderful guest ranch for one night – the Hacienda del Sol.  Though my stay was brief I grew to love this amazing property.
I liked the remote location of the resort with spectacular views of the surrounding Catalina Mountains.  Yet it is close to all Tucson has to offer – the downtown nightlife, hiking trails, museums and galleries, golf, shopping, and the University of Tucson – are nearby.  "Most of our guests rent a car at the airport or drive in from Texas, New Mexico, Colorado, California, Nevada," says Susan Kowalcek, the resort's director of marketing. "They like to have a car with them to explore Tucson. Of course, our property is a destination unto itself and if they choose to stay several days without a car, we can help them arrange airport transportation. The airport is 30 minutes away."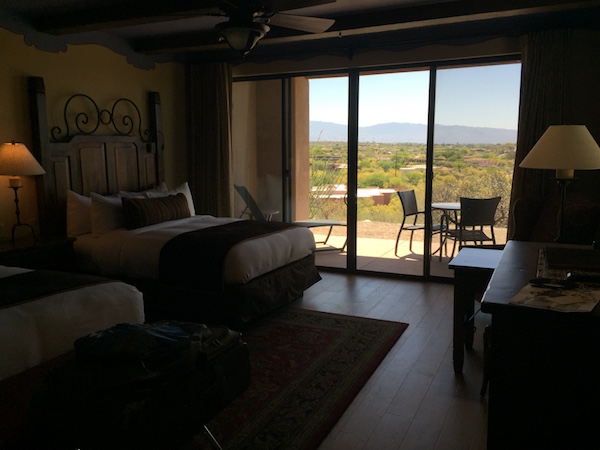 My room had ample space.  After a very early morning flight I enjoyed relaxing on my private patio, taking in the surroundings, while I ate my yummy room service lunch.    The resort's 59 rooms are well laid out – I didn't even notice the neighbors next door.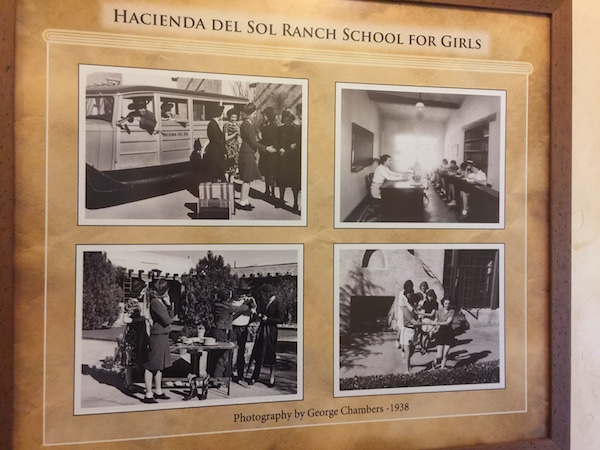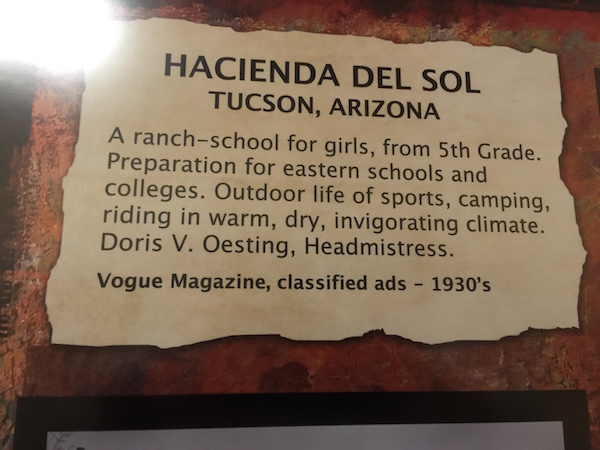 Back in the main building, I discovered this place had an interesting back story.  In the 1930's the property served as a ranch school for the daughters of society's elite families. I learned that World War II caused the school to go out of business due to a shortage of teachers.  But the resort lived on to become a popular guest ranch, drawing some of the Hollywood stars of the 50's.  Spencer Tracy, Katharine Hepburn, and John Wayne were regulars here.  I always like to learn the history of the places I visit, and Hacienda del Sol had a fascinating story indeed.  "This summer, we will offer a Friday night managers reception at the pool with complimentary beverages and brief talk about our rich history," Susan told me.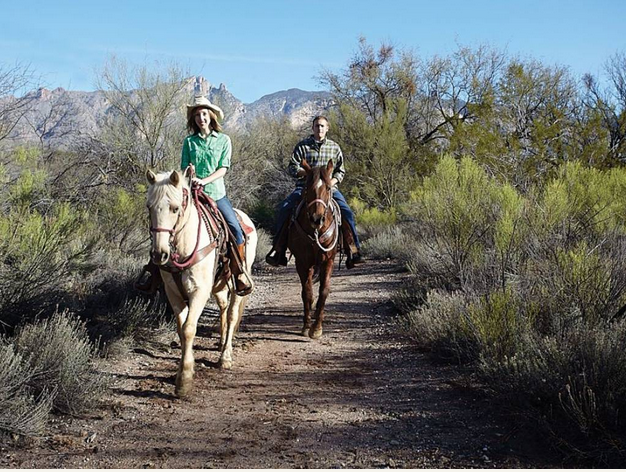 Do you want an active vacation?  The Hacienda del Sol offers that with horse back rides and hiking trails.  If you prefer relaxation the resort has an excellent spa and pool on property.  Guests can dine at "The Grill" restaurant (a Tucson Lifestyle Magazine "Top Five Restaurant").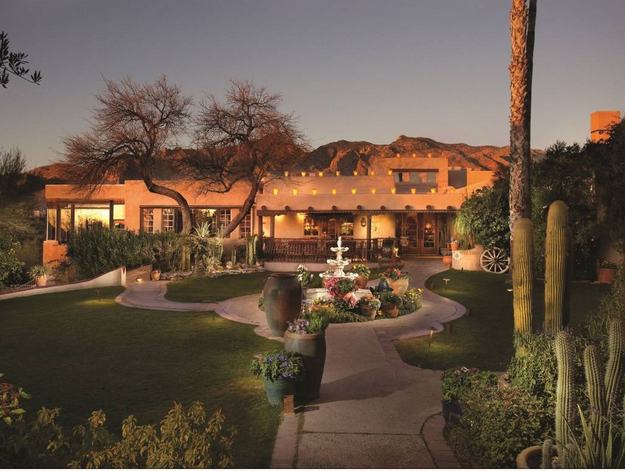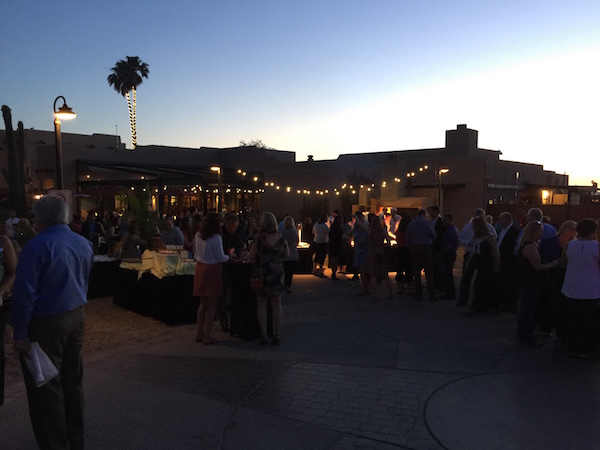 During my stay we were treated to a reception in the resort's courtyard area.  Though the daytime temperatures were in the 90's during my early May visit the cool of the nighttime air was very refreshing.  It reminded me of the low humidity summer nights back home in Colorado.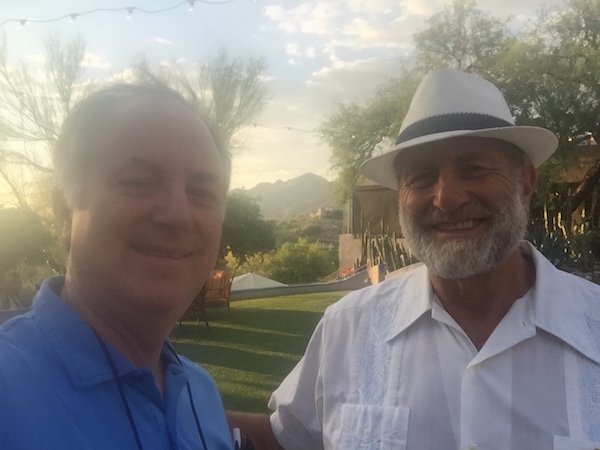 The staff at the Hacienda del Sol were very friendly.  Here I am chatting with co-owner Jeff Timan at the start of our reception.  "The owners and staff are top notch," Susan says.  "Everyone that works here is proud of what they do and who they represent. We each feel as though we are welcoming each guest into our very own homes."
I came to realize this would be an excellent place to hold a destination wedding or family reunion.  Susan agrees. "Our boutique property is perfect for a destination wedding because groups can often 'buy out' the resort. With just 59 rooms and 6000+ square feet of function space, families do not have to compete with several other groups or weddings for attention – as they might at a larger, convention resort.  The Hacienda quickly becomes a home-away-from-home for the bride, groom and their families. We treat them as if they own the place!"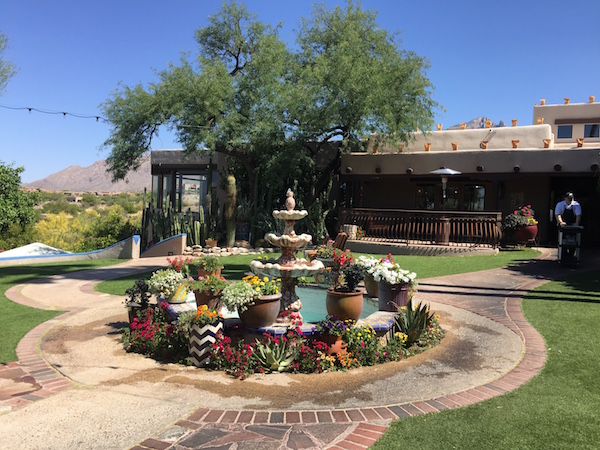 I asked Susan how she came to work here.  "Ten years ago, I retired from the hotel business," she said. "When the opportunity came up to work at 'The Hacienda' I jumped at it!  Working here is like being on vacation every day. The gardens and historic buildings are breathtaking. The history is such an interesting part of the uniqueness and charm of The Hacienda."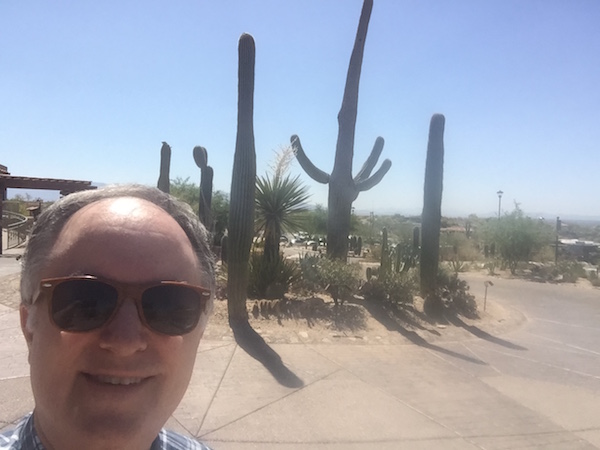 My own one night stay at the Hacienda del Sol was far too short!  I would like to come back with my wife for a few nights so I can experience all this resort has to offer.
If you would like to book your own desert getaway or group gathering at the Hacienda del Sol, we can help!  Contact us for more information and a no obligation price quote.