Tim at Global Travel Marketplace West – The Sequel
Tim at Global Travel Marketplace West – The Sequel

by Tim Larison, CLIA Certified Master Cruise Counselor (MCC)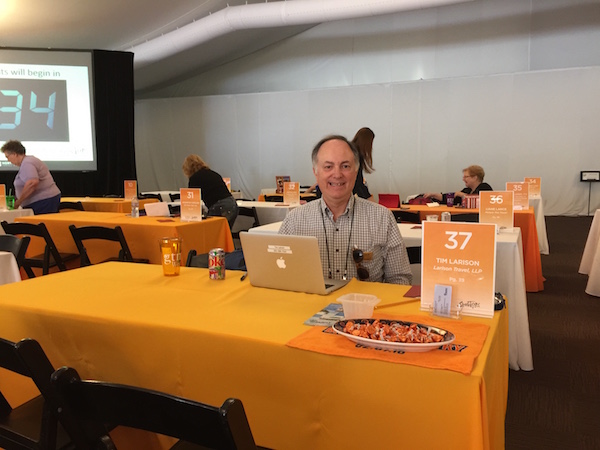 "It was the best travel agent conference I've ever been to," I wrote in this blog one year ago, describing my experience at Global Travel Marketplace West.  I felt honored to be invited back to this prestigious event, having been selected as one of only 80 travel professionals to attend out of hundreds of applicants.  Would GTM West 2016 be as good as last year's?  Yes!  In this report I'll give you a behind the scenes look at how I stay current with my industry's top travel providers and the exciting destinations they offer.
That's me in the picture above.  At GTM West I was given my own table for over 50 one to one meetings with travel companies from all over the world.  In a schedule arranged days before, I knew who I would be meeting with.  On my laptop I had prepared questions for each, and took detailed notes as our conversations proceeded.  From last year I knew this could be quite the grind for the travel representatives I would be meeting with, as they travel from table to table to interact with different agents.  So I brought some chocolate kisses treats to give them a refreshment break.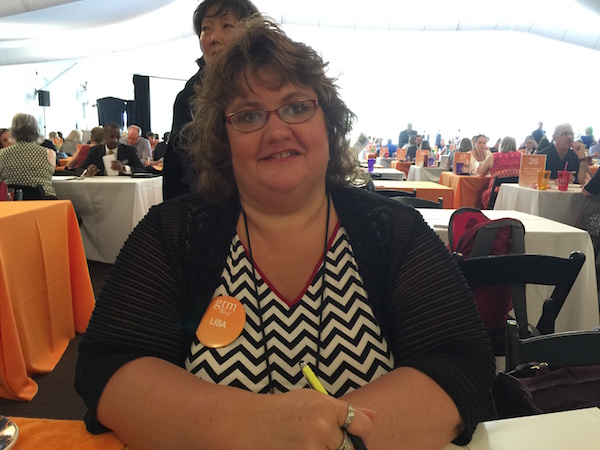 Meet Lisa Minton from RoamRight Travel Insurance.  Lisa is an example of the power of the GTM West conference.  I did not know Lisa, and I had not heard of RoamRight insurance, before the 2015 conference.  In a one to one meeting at GTM West 2015 I learned about the wonderful products RoamRight offers.  Fast forward one year and I have sold thousands of dollars in RoamRight insurance policies for our clients, at better prices and with better coverages than what I was previously offering.  Who will be the "Lisa's" of 2016?  At GTM West I met with a number of new travel suppliers who I will be using for our clients in the coming year.  In the rapidly changing travel business I like staying current with the best products out there, and GTM West gives me the opportunity to do that.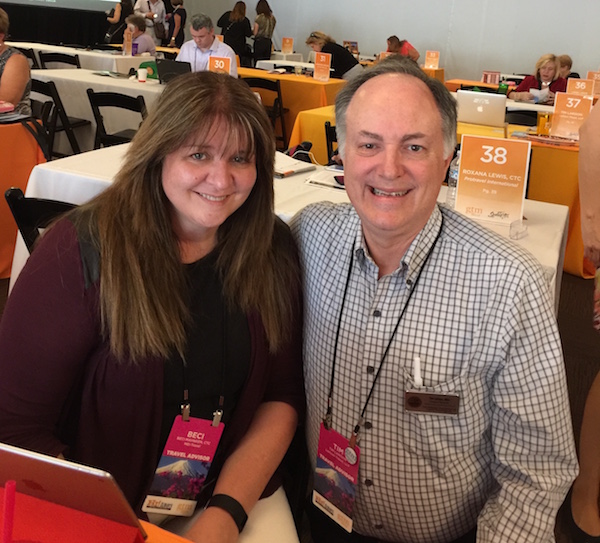 In addition to the many excellent travel suppliers I met at GTM West, the event also gives me a chance to interact with other travel agents – the best of the best!  This year I connected again Beci, who recruited me to the industry way back in 2001.  I find other travel professionals like Beci are always very open to sharing their own tips and suggestions on how to succeed in this business.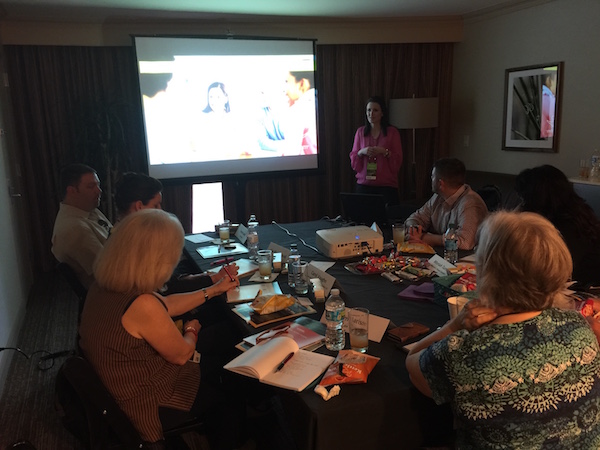 Another valuable feature of GTM West are the boardroom presentations.  Here a small group of agents listen to in depth presentations on travel products.  Pictured above we listen to a talk about Fathom Impact Travel – offering cruises to Cuba and the Dominican Republic where passengers volunteer their time to help the locals in a variety of projects.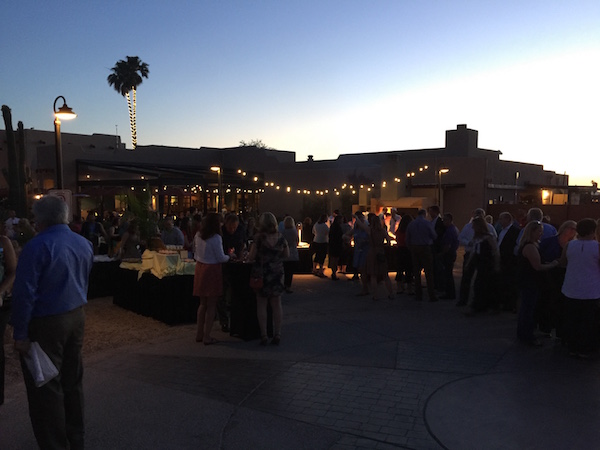 As beneficial as the one to one meetings and boardroom presentations are, I have found sometimes the best connections I've made have been at the GTM West social functions.  Pictured above is a reception the first night at the beautiful Hacienda del Sol resort where conference participants chatted informally in the cool of a desert evening.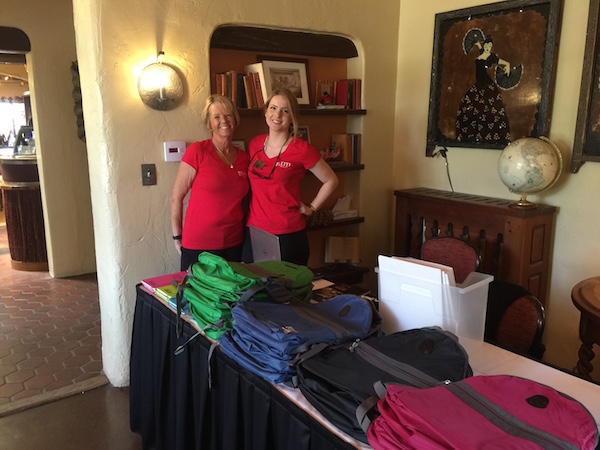 I can't say enough about how well the GTM West event is run by the hard working Travel Weekly staff.  All the details are taking care of – flight arrangements, private transfers from the airport to the event venue, meal functions, meeting schedules, and more.  Here Joanie and Jen from Travel Weekly greet me at checkin on day one.  I was the first to arrive so I had my choice of backpack colors!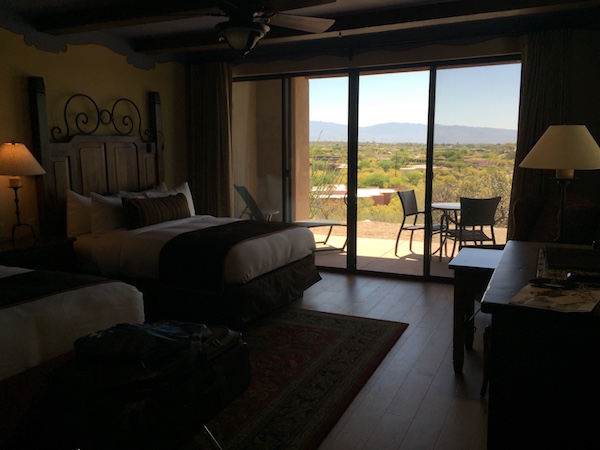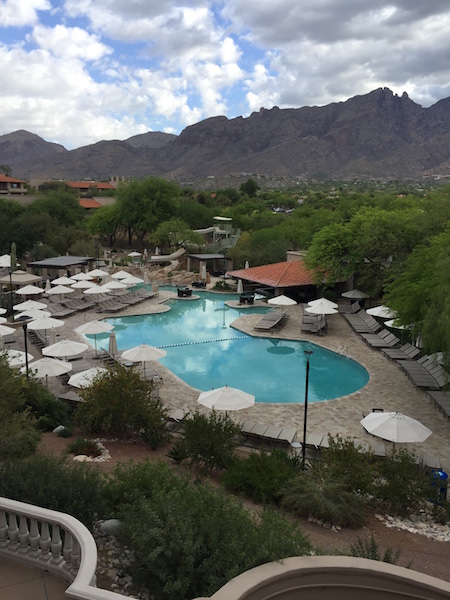 I must admit the all of the social interactions at GTM West can be a bit overwhelming for an introvert like myself.  But I found there were plenty of opportunities for alone time where I could recharge my internal batteries from the busy activities of each day.  The beautiful resort settings helped – pictured above is my room at Hacienda Del Sol the first night, and the Westin La Paloma Resort where I stayed the other two nights and where most of the conference activities were held.
In a business full of extroverts I found there was a place for introverts at GTM West.  "(Introverts) listen more than they talk, think before they speak, and often feel as if they express themselves better in writing than in conversation. … Many have a horror of small talk, but enjoy deep discussions," writes Susan Cain in her best selling book Quiet.  GTM West gave me the opportunity to have those in depth discussions in the one to one meetings and at the social functions (recently I was featured on Susan Cain's Quiet Revolution website – read my story of an introvert succeeding in the travel business here)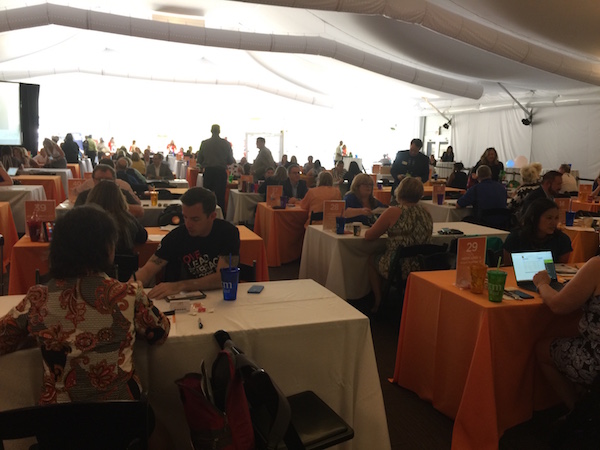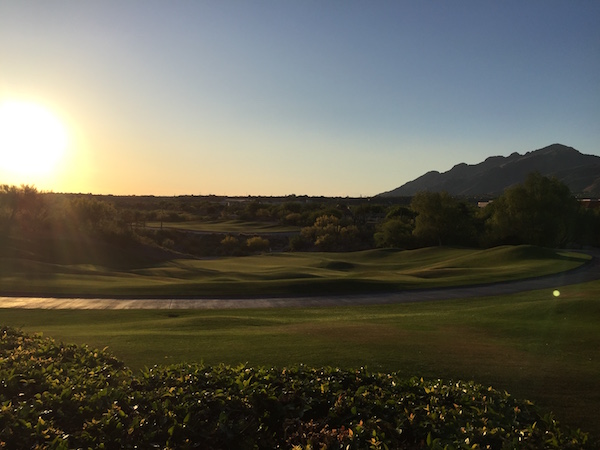 As the sun set on my second GTM West conference I thought back to all the wonderful connections I made over the past three days.  You'll be reading more about some of the new travel experiences we'll be offering as a result of the conference in upcoming blog posts.
We can plan your next dream vacation thanks to the many connections we have in the travel business.  Let us do the work!  Contact us for a no obligation consultation today.