Tim's Weekend at Global Travel Marketplace West
Tim's Weekend at Global Travel Marketplace West
by Tim Larison, CLIA Certified Master Cruise Counselor (MCC)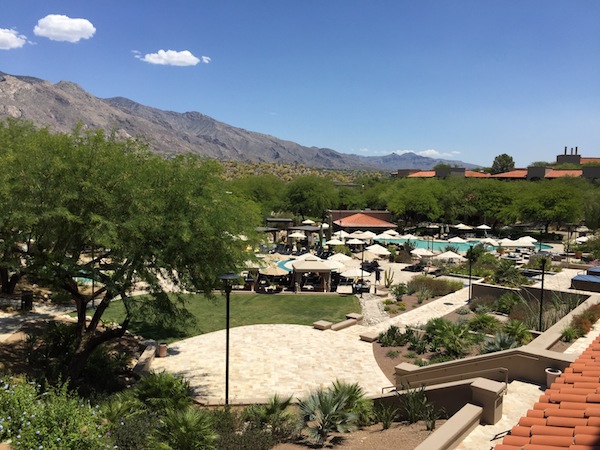 "Have you been there?"
This is a question I have been asked often in my 13 years as a travel agent.  Since 2002 I have traveled all over the World with my family.  Many of you have read of our adventures on our familytravelgurus.com website.  I find most people like to work with a travel agent who has taken the same type of trip they are planning.  I've done that often, sharing our experiences with clients from our Disney trips, cruises, and more.
But no travel agent has been everywhere.  How do I deal with requests to travel destinations I have not visited myself?  That's where the value of networking comes in.  I attend four or five conferences a year where I meet with travel suppliers and hear their pitches on why I should book my clients with them.  This past weekend I attended such a conference – the Global Travel Marketplace (GTM) West at The Westin La Paloma Resort & Spa.  It was the best travel agent conference I've ever been to.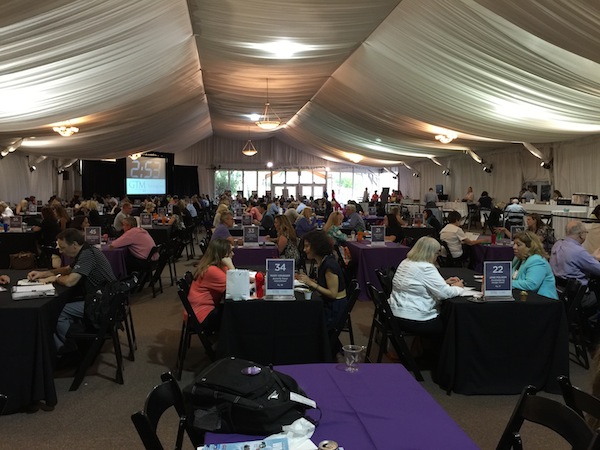 What made GTM West different was the multitude of opportunities I was given to talk to travel suppliers on a one to one basis.  I felt honored to be invited.  Of the nearly 700 applicants who applied only 75 travel agents were selected to participate in this prestigious event.  The agents were each given their own table in a large air conditioned tent.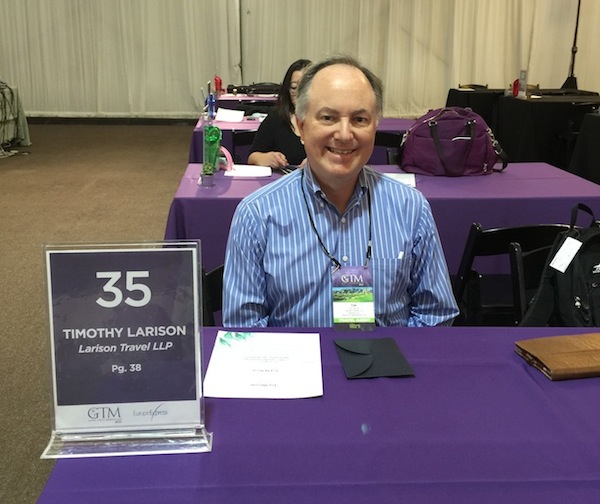 That's me at my table where over two days I met with 50 different companies offering all sorts of travel adventures.  I had six minutes appointments with each one.  Was that enough time?  Yes – at other events like this I often only have one or two minutes to talk to suppliers.  I came prepared, with a list of questions for every company I met with.  I found my six minute time slots went by quickly – I was so engrossed in conversation as I learned of fascinating travel experiences I could offer my clients.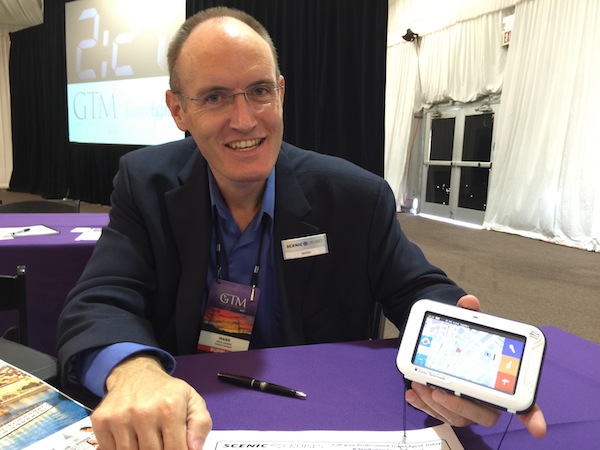 I welcomed the opportunity to talk to companies I had not worked with before.  Pictured above is Mark from Scenic Cruises showing me a GPS device they give to passengers on their river cruise journeys who like to explore on their own.  River cruising is a growing segment of our business and the cruise business in general.  I'm glad to have Scenic Cruises as another option I can offer my clients now – their product sounded great!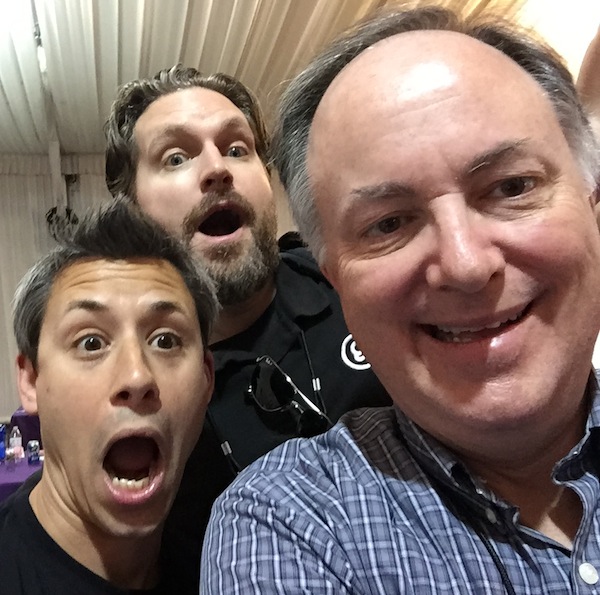 I had fun at the one to one meetings. too!  Here are Steve and Lucas from G Adventures adding color to my amateur "selfie" picture (got to work on getting those selfie angles right!)  Afterwards Steve and Lucas told me of the creative adventures their company offer all over the World.  G Adventures was another outfit I had little experience with – after meeting with Steve and Lucas I'm sure to recommend their trips to clients in the future.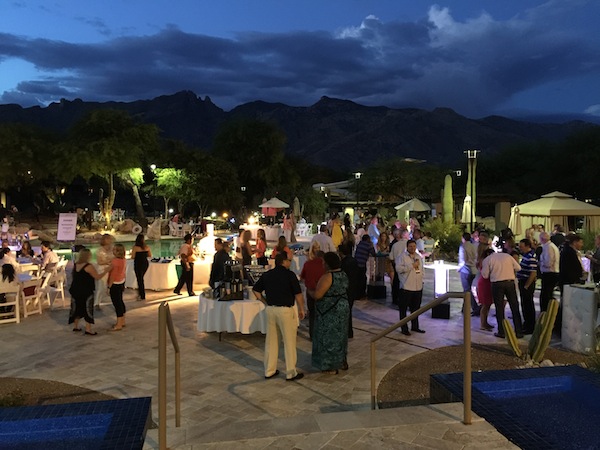 Besides my one to one meetings there was ample time to socialize at the event's meal functions.  Pictured above was a wonderful reception at the resort's pool deck in the cool of a Tucson evening.  Among other conversations I talked to a representative from Universal Orlando Resort – a company we had booked trips with in the past.  Our talk motivated me to stay at Universal Orlando again to see all the enhancements they've made since my last visit.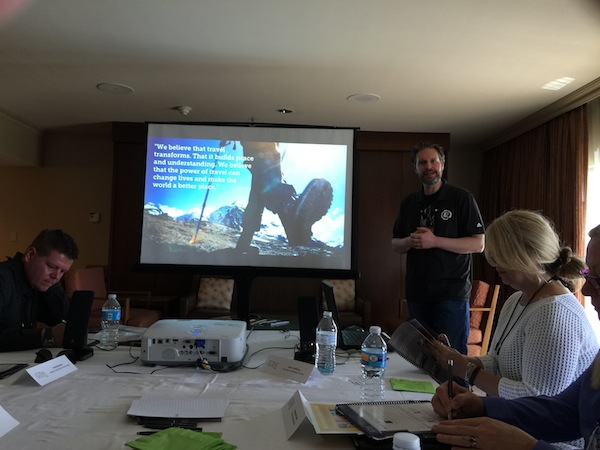 When I wasn't in my one to one meetings, or eating, I also sat in on small group "board room" presentations where select suppliers had another chance to pitch their brands.  Here Lucas from G Adventures shows a slide to our group telling of his company's philosophy:
"We believe that travel transforms. That it builds peace and understanding. We believe that the power of travel can change lives and make the world a better place."
Now that's a company I want to work with!  Their beliefs are similar to my own.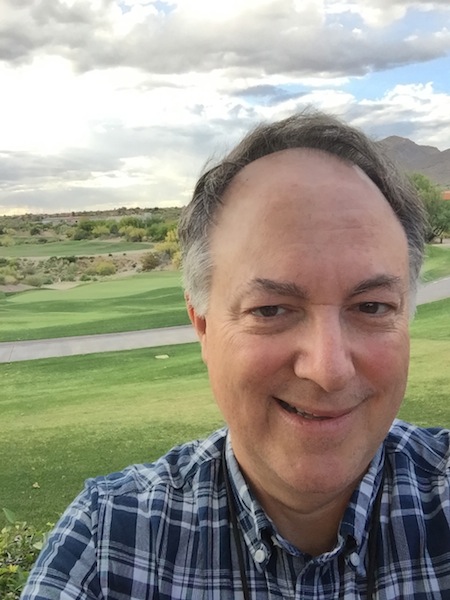 I left the conference with loads of new ideas to help plan my clients' future vacations.  The next time I'm asked "have you been there?" I am confident I'll have a trip I can recommend thanks to the contacts I made at GTM West.
My only regret?  "I've got to  come back to play that golf course!" I thought to myself as I waited for my ride back to the Tucson airport.
Need assistance in planning your next vacation?  We'll be glad to help!  Contact us for a no obligation consultation.