Tim's Weekend in Mexico City (July/August 2015)
Tim's Weekend in Mexico City (July/August 2015)

by Tim Larison, CLIA Certified Master Cruise Counselor (MCC)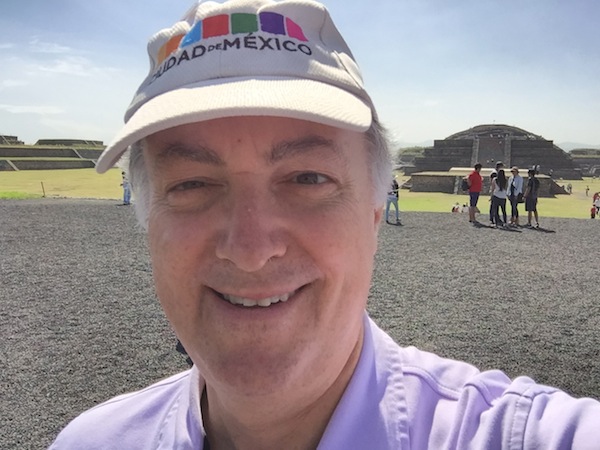 Travel Weekly selected me along with 24 other agents for a weekend "familiarization (fam)" trip to Mexico City .  I had been to Mexico many times before – each visit was at a coastal destination (Cozumel, Cancun, Cabo, Puerto Vallarta, Acapulco, etc).  On this trip I learned that Mexico City has its own treasures – you don't have to go to a beach to enjoy Mexico!
My anticipation grew in chatting with a honeymoon couple as I was waiting in line at the United Airlines counter to change my flight arrangements.  "Mexico City is one of my favorite cities in the World," said the young bride.  "You'll have a wonderful time."  The United agent at the gate did a great job in finding me alternate flights, and soon I was on my way.  Over my four day trip (Thursday night through Sunday afternoon) I experienced a sampling of the best Mexico City has to offer:
Activities
The highlight of my trip was a hot air balloon ride over the Teotihuacán Pyramids just north of the city.  I describe this amazing experience in detail in my earlier blog post.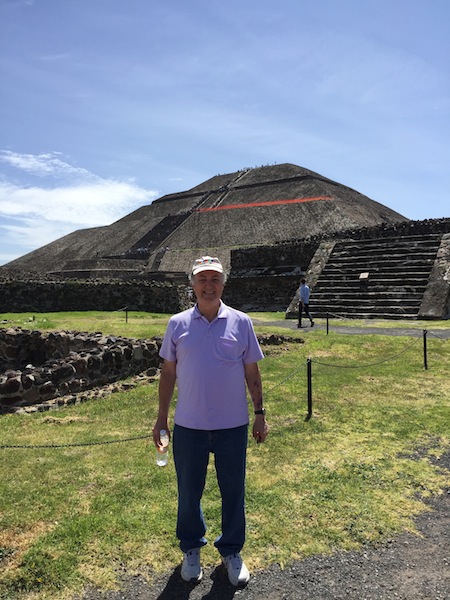 Later that day our travel agent group were escorted by our guide Jacob to see the pyramids close up.  I was familiar with the Kukulkan Pyramid at Chichen Itza and the Tulum ruins elsewhere in Mexico, but somehow in my many years of schooling I missed the fact that Mexico City had ancient Mayan pyramids nearby, too.  I learned that the massive Pyramid of the Sun at this site is the third largest ancient pyramid in the World!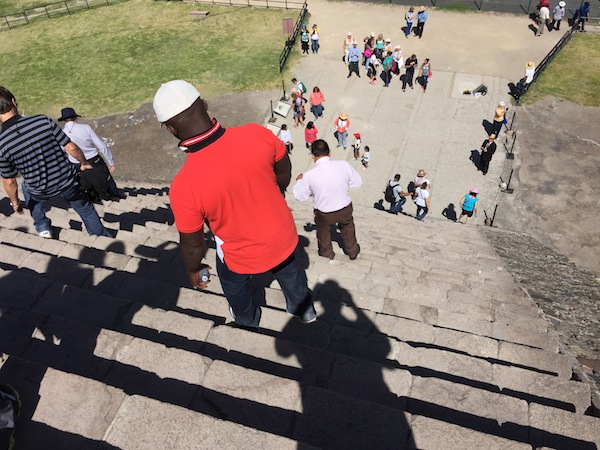 We were given the opportunity to climb the Pyramid of the Sun and the Pyramid of the Moon with our guide.  I made the first climb to a ceremonial platform for a better view (about 48 steps).  The climb was very steep, as the above picture show, and I wondered how the ancient Mayans were able to traverse these structures (the Mayans were short – males averaged 5'2″ tall).  My knee started to act up so I skipped climbing the taller two pyramids – the more hearty in our group did make the climb to the top of the Pyramid of the Sun (over 240 steps)
I found the whole Teotihuacán Pyramid complex fascinating – a glimpse into a great civilization of the past.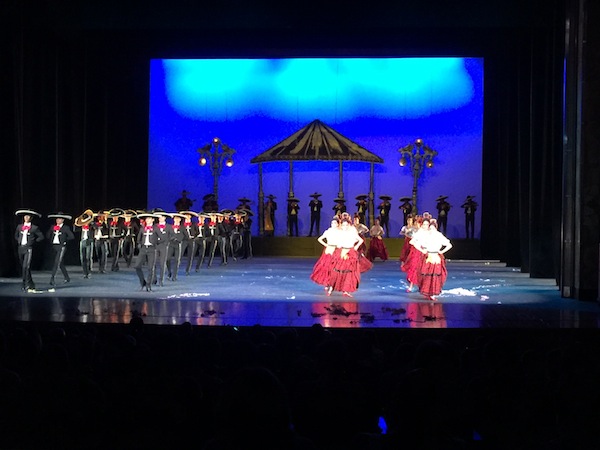 My second favorite activity of the weekend was a visit to the Palacio De Bellas Artes (Palace of Fine Arts) theatre to see the Ballet Folklorico.  Now going to a ballet on a Sunday is not the norm for me (you will more likely find me watching NFL football or Major League baseball back home on a typical Sunday).  But I enjoyed this performance very much – a shining example of Mexican culture.  The dancers and musicians were highly skilled in a two hour show – with a variety of traditional Mexican dance and music.  This is a must see during any visit to Mexico City.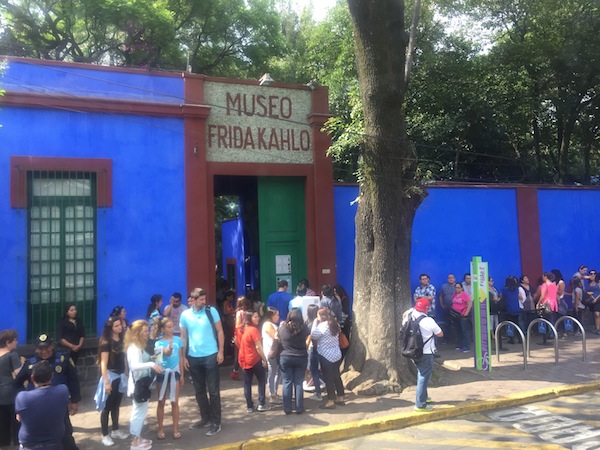 If you like museums, Mexico City is the place to be!  We could have spent weeks exploring the 150+ museums in the city.  For our short weekend trip we only had time to visit one – the Museo Frida Kahlo – displaying the work of this well known Mexican self-portrait artist.  On a return trip to Mexico City I for sure will allow for more museum time (others in our group visited an Archaeology museum on their free time with good reports).
On Saturday morning we visited the Saturday Bazaar and Art Fair in the San Angel area.  Here local vendors were selling their wares.  I have visited open air markets in other parts of the World and I thought this one was one of the best.  The vendors called out to us as we passed by but they weren't overly aggressive.  Many in our group bought local crafts and artwork here.
These are just a few of the activities you can experience on a trip to Mexico City.  There's more than enough to fill your days.
Restaurants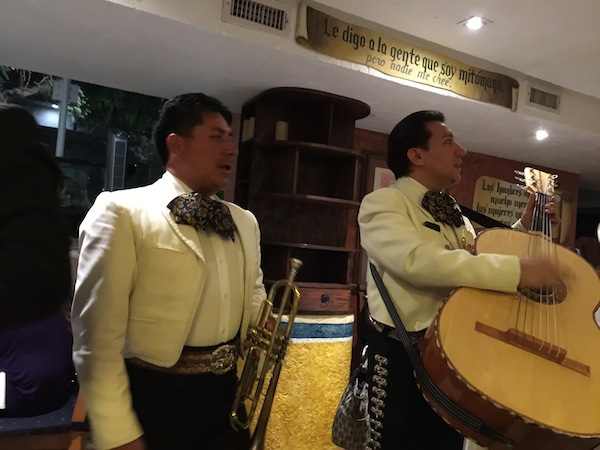 We were treated to some wonderful restaurants during our trip.  My favorite was the Villa Maria restaurant.  Outside the restaurant was posted a review by New York Times critic William Grimes:
"You think you love Mexican food?  You ain't seen nothin!  There is a mexican restaurant by the name of Villa Maria.  It not only serves the best and most outrageous mexican food in the world but it also happens to be quite inexpensive.  They feature live mariachi music.  We guarantee you'll have lots of fun."
Mr Grimes was right!  I found the food to be superb and the mariachi singers were excellent.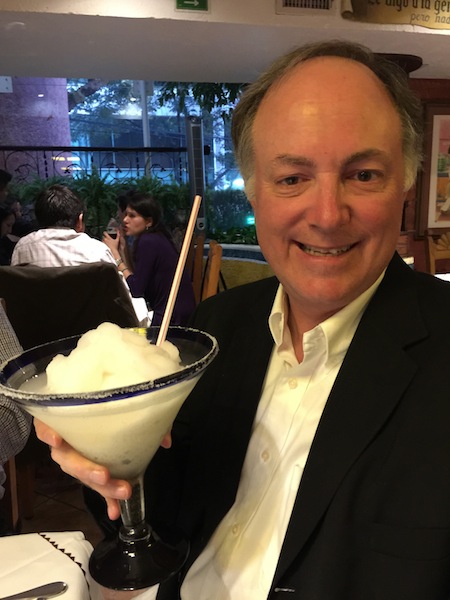 Villa Maria featured the largest margarita I have had anywhere (and it was quite good!)
The women I dined with were charmed by the lead mariachi singer, Sergio, who took turns dancing with some in our group.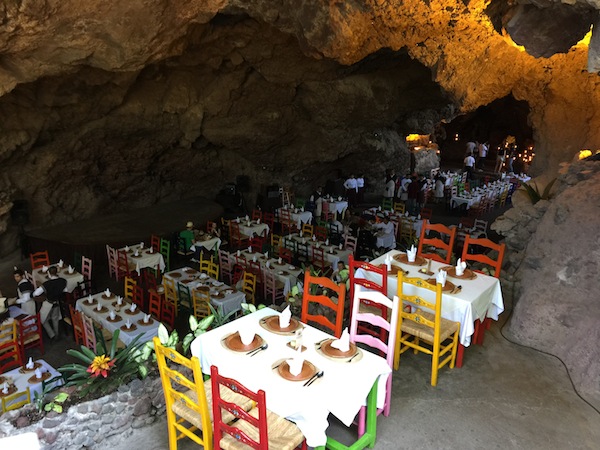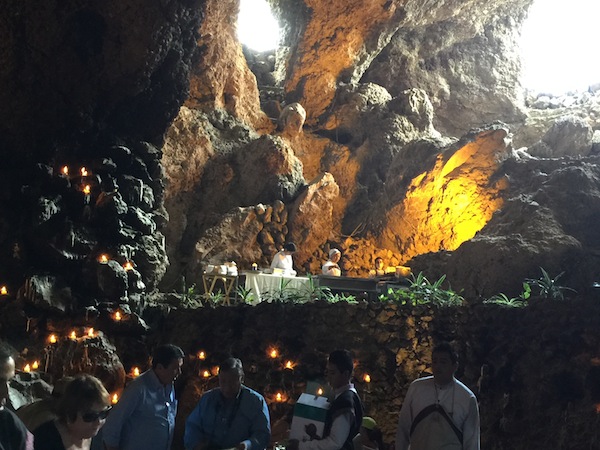 My other favorite place we dined at was "La Gruta" near the Teotihuacán Pyramids.  This restaurant, open only for lunch, is located in a cave!  I enjoyed the unusual setting and the food here.
We had a number of good breakfasts, lunches, and dinners at different restaurants throughout the city.  A visit to Mexico City is sure to satisfy your palette!
Hotels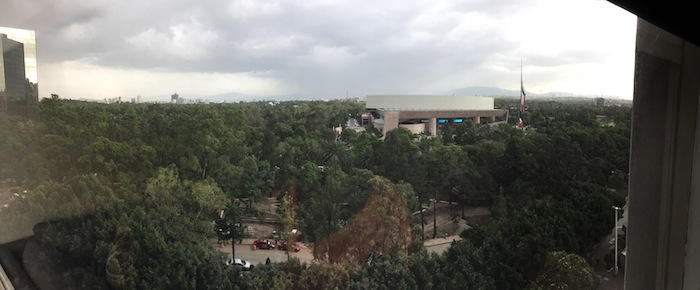 Our base hotel for our 4 day trip was the Presidente InterContinental Hotel.  I enjoyed my stay here very much.  My room was large with a good sized shower and a great view (above).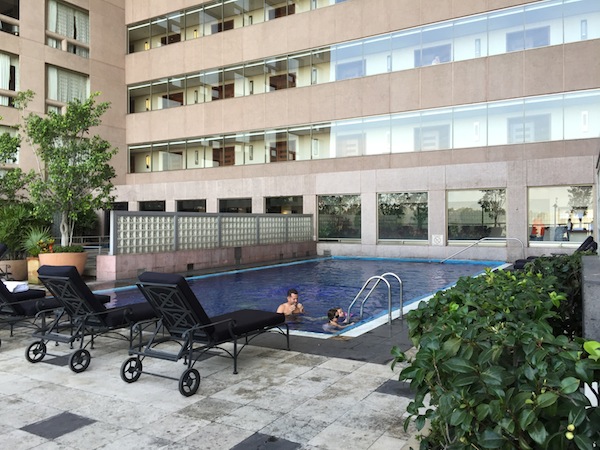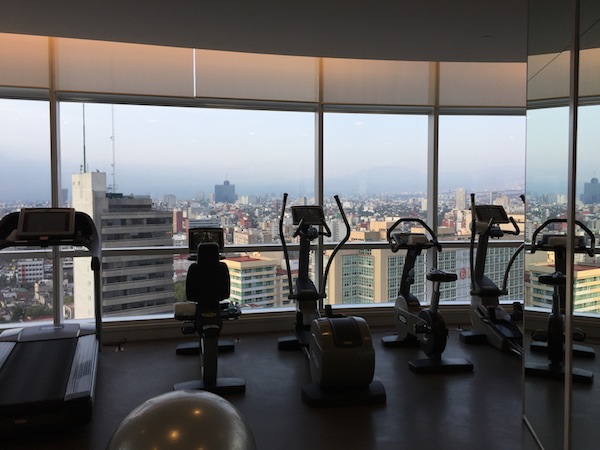 We toured a number of other hotels in the area, including the JW Marriott and St Regis.  I recommend any of these for an enjoyable and comfortable Mexico City getaway.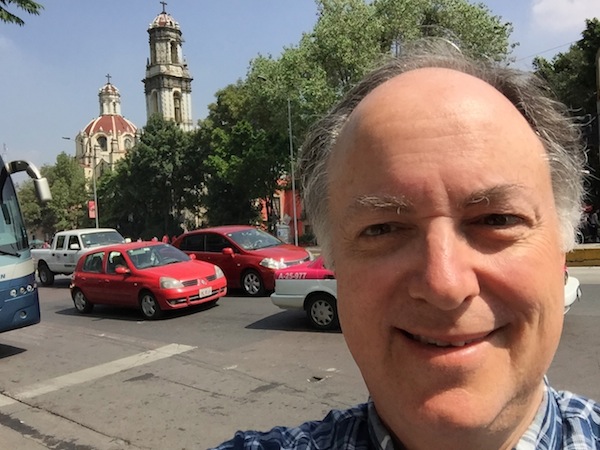 The young bride I talked to at the airport was right – Mexico City is a wonderful place to visit.  So many people when they consider traveling to Mexico think only of the beach destinations (which are delightful places to visit in their own right).  Mexico City is equally marvelous with a plethora of activities, restaurants, and more to explore.  I hope to return to Mexico City for a longer stay next time.
If you are interested in your own Mexico City getaway we can help!  We can give you suggestions on the best resorts, the best restaurants, and more.  Contact us for a no obligation price quote.