Tim's Mexico City Hot Air Balloon Adventure (July 2015)
Tim's Mexico City Hot Air Balloon Adventure (July 2015)

by Tim Larison, CLIA Certified Master Cruise Counselor (MCC)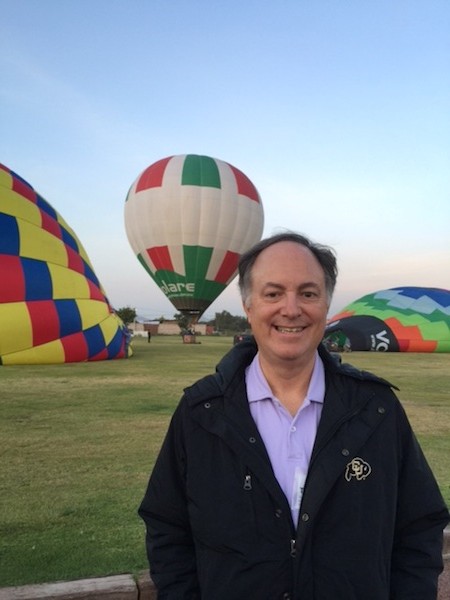 "Me??? In a hot air balloon???"  I'm not sure about this!" I said to myself when I was given the opportunity to experience my first hot air balloon ride ever above the Teotihuacán Pyramids just north of Mexico City.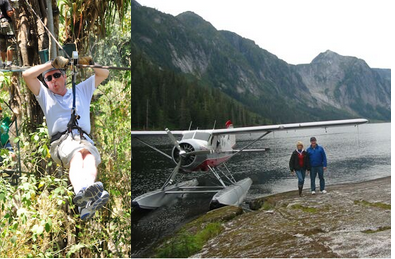 As a child I always had a fear of heights.  In my years as a travel agent I had pretty much conquered those jitters, in doing high flying activities such as ziplining on a cruise shore excursion or soaring over the Misty Fjords, Alaska in a small plane.  "You were nervous before at great heights and you survived," I told myself.  "Hot air ballooning?  No sweat!"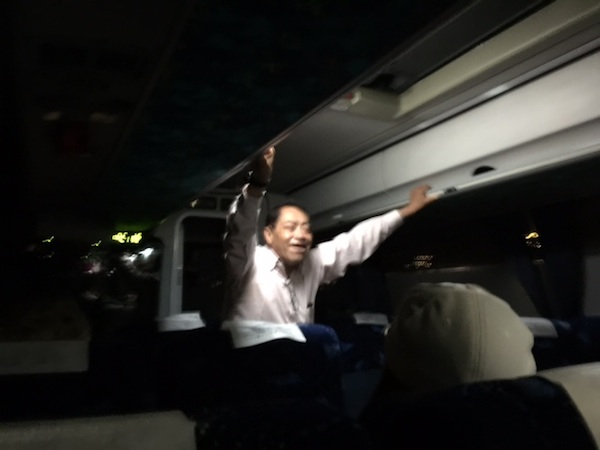 Our bus picked us up at 5:30 am for the hour long ride to the balloon launching field.  It was eerily quiet as we rode through the streets of Mexico City in what seemed like the middle of the night.  I could sense a tension among the other travel agents with me.  "Don't do it, Mom!" said the woman next to me in relaying a conversation she had with her daughter the night before.   It was to be her first hot air balloon ride, too.  Our guide Jacob filled us in on what we were about to experience at the Teotihuacán Pyramids.  Suddenly the bus stopped.  The air conditioning had stopped working.  "I hope the bus company isn't maintaining the balloons, too," I thought.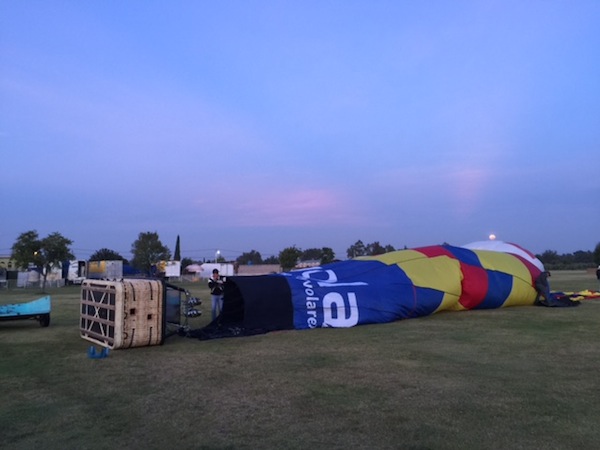 After a short delay to fix the air conditioning, we were on our way.  Soon we arrived at the open field where the balloons would be launched.  We were all given release forms to sign.  "Surely this is safe," I told myself, putting out of my mind the hot air ballooning accident I had read about two weeks earlier.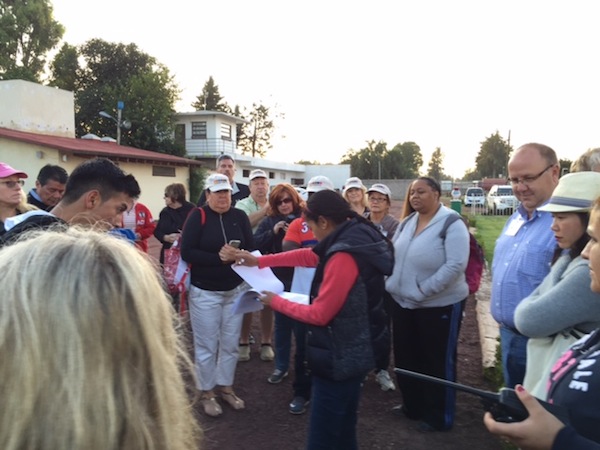 "Tim Larison!  Tim Larison!" yelled the woman in a heavy Spanish accent.  "That's me!  I'm first.  I hope I'm not on the test balloon!"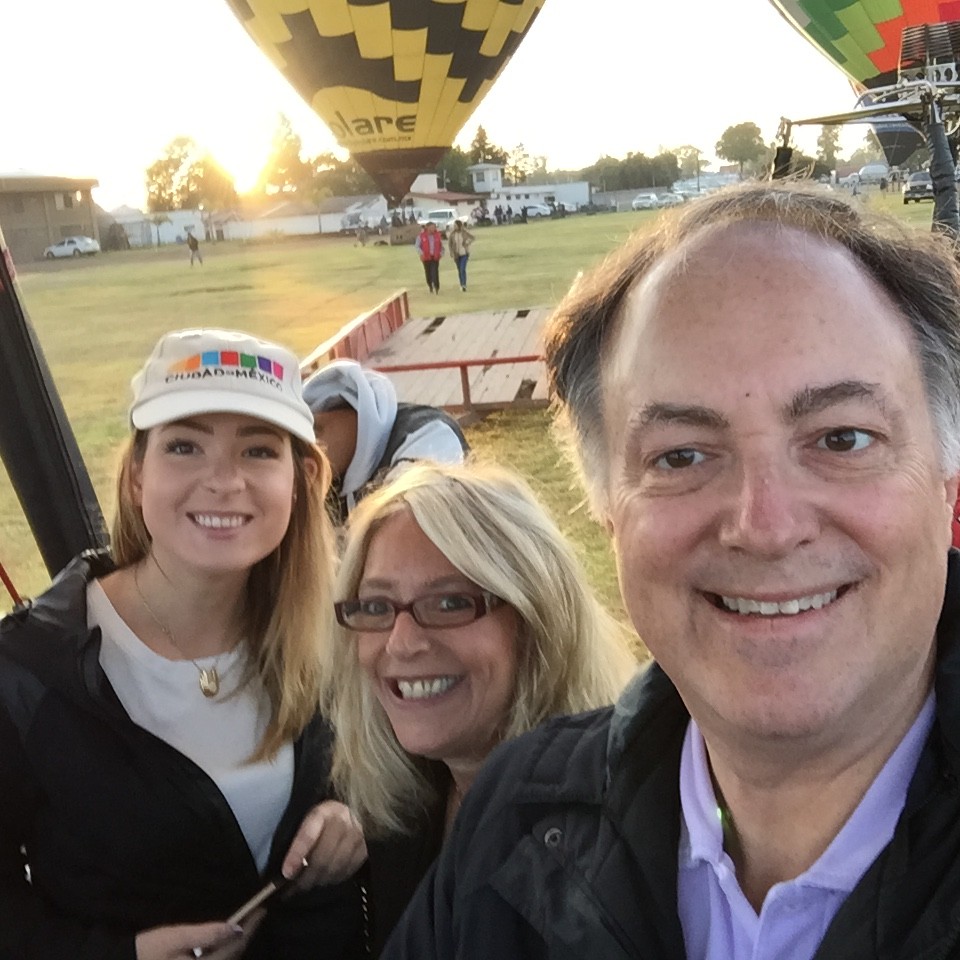 Tensions eased as we saw the brilliantly colored balloons unfurl before our eyes.  "We can do this!"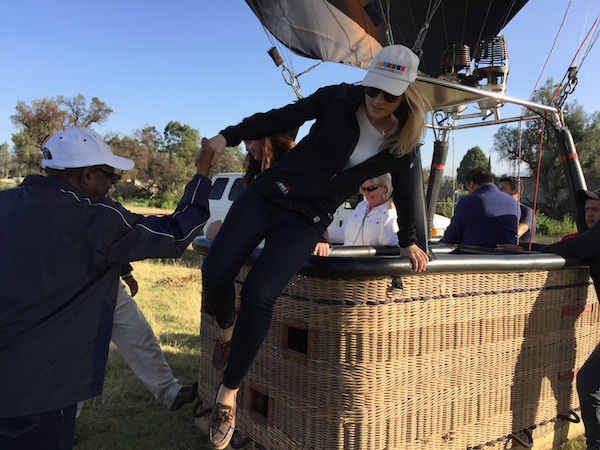 Eight of us were instructed to climb into the balloon basket.  The hardest part was getting in and getting out!  But we helped each other and no one was left behind – soon we were standing up, all snug 4 to a side in our balloon basket.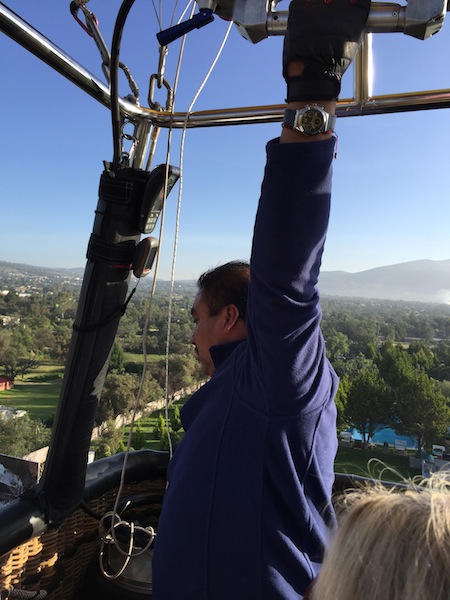 Our pilot Roman expertly filled our balloon with hot air as we slowly rose off the ground.  Roman didn't say much but we were ok with that – we preferred he concentrate on his job!  We could feel the heat as Roman turned up the gas to fill up the balloon.  The warmth of the flame felt good on this cool, crisp Mexico morning.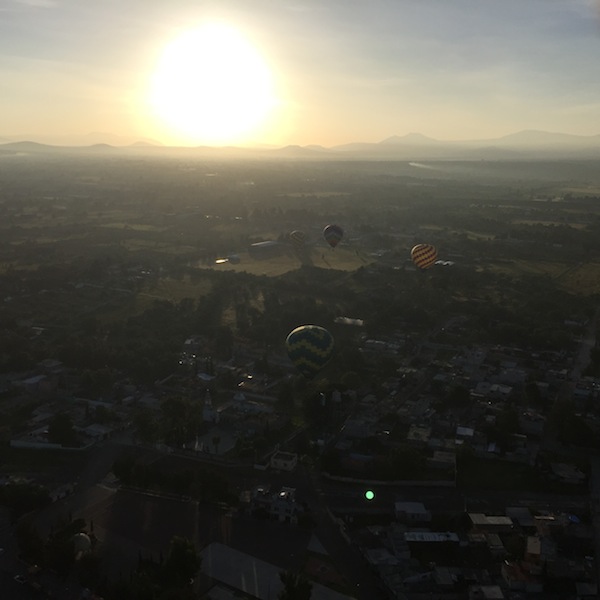 Any worries I had quickly melted away as I was awestruck with the beauty of the sunrise, the landscape below, and the colorful balloons all around.  It was an amazing sight!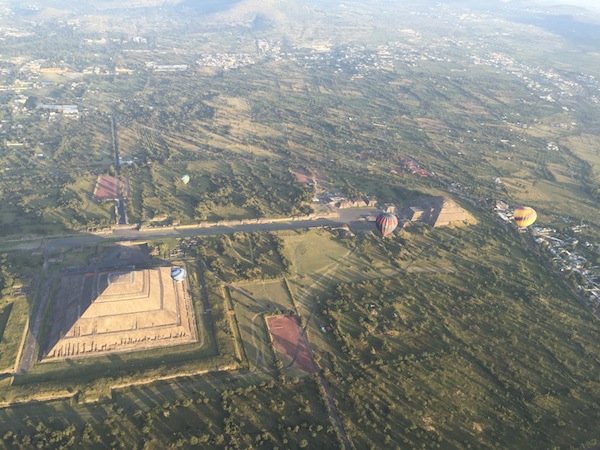 We flew over the ancient Mayan Pyramid of the Moon and Pyramid of the Sun.  I marveled at the ancient technology (around 100 AD) that built these behemoth structures.  We were to get a closeup view of the Pyramids in a hike later in the day – the most impressive views, though, were from the air.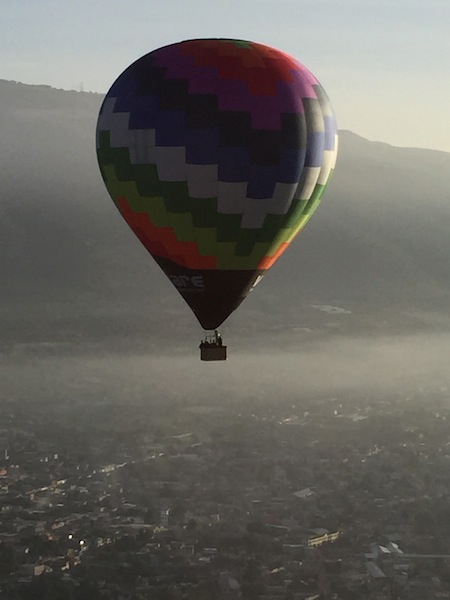 We flew close, but never too close, to the other balloons around us.  We could hear roosters crowing below welcoming the morning sun.  It was a very peaceful and beautiful setting as we stayed in the air for almost an hour.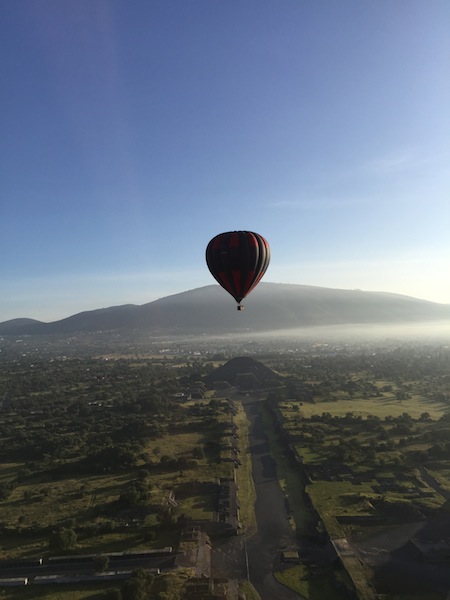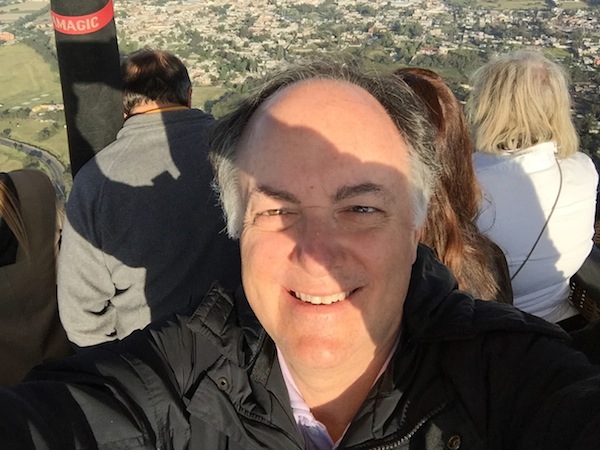 By now I was feeling relaxed and confident, enough to take this mid-air selfie!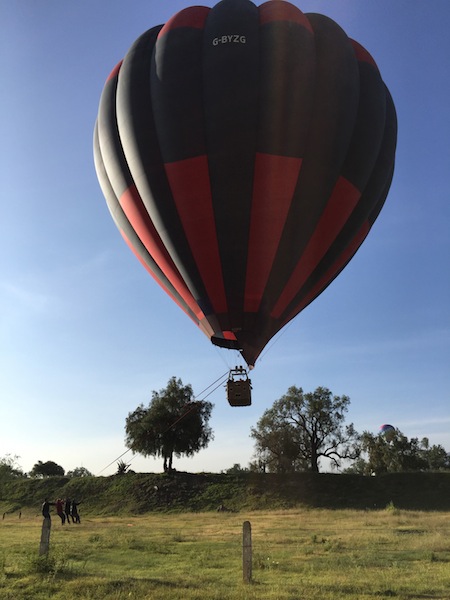 At the end of our exhilarating hour ride we touched down softly in an open field.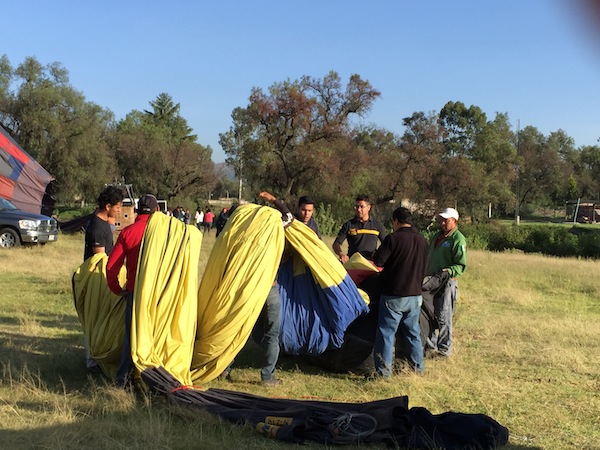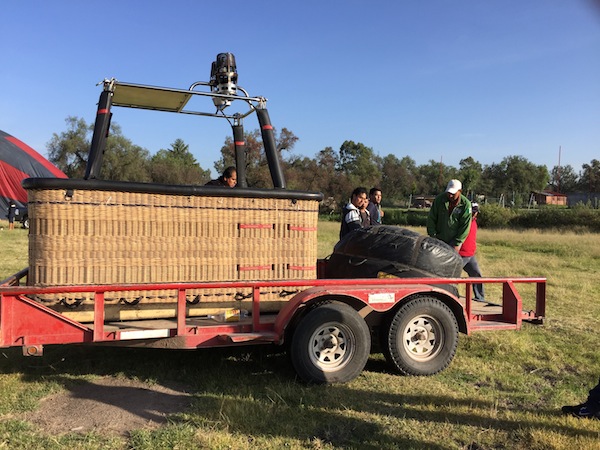 The crew quickly deflated our big balloon, stuffed it into a bag, loaded it along with our basket on a trailer and off they went.  Ballooning is a very portable business!
We were each given a certificate to commemorate our memorable ballooning adventure.  Thanks to the staff of Travel Weekly and the Mexican Tourism Board for giving me and my travel agent group an experience I will long remember.  Like with my past aerial adventures the hesitant anticipation of the event made the outcome even more satisfying when it was all done.  I had conquered my fear!  That's one reason I like my work.  Whether it be a physical challenge, like high flying over ancient pyramids in a small basket, or an emotional one, like immersing yourself in a foreign culture for the first time, travel has a way of stretching you beyond your limits.
If you would like a life expanding travel experience, whether it be hot air ballooning over the Teotihuacán Pyramids or something else, contact us.  We can make it happen.
Read more from my weekend in Mexico City here – it was an amazing place to visit.