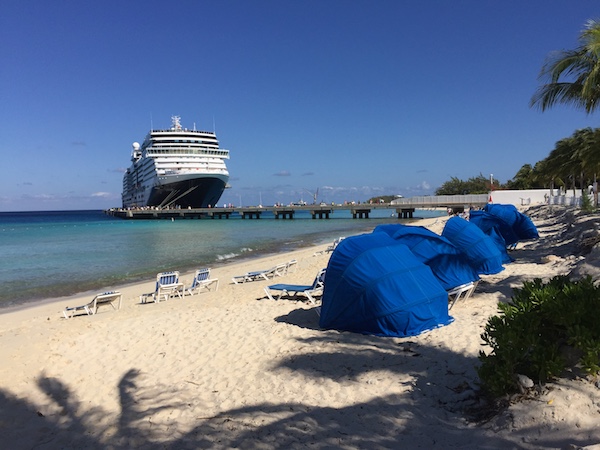 by Tim Larison, CLIA Certified Master Cruise Counselor
with comments by Anne Larison, Family Travel Gurus Travel Consultant
On our many Caribbean cruises over the years we had never visited the island of Grand Turk in the Turks and Caicos island chain.  In this report we'll tell you about our wonderful day at this little island paradise.
The Beach
"We are going to visit two of the best beaches in the Caribbean," our captain said as we started our 7 night cruise on the Holland America Eurodam in April 2017.  The first beach was at Half Moon Cay, which we described in a previous blog post.  The second was the Grand Turk beach within easy walking distance of our cruise ship, as you can see from the picture above.
Many of our fellow passengers did nothing at Grand Turk except relax on the beach for a few hours.  The beach is free to enjoy.
John Glenn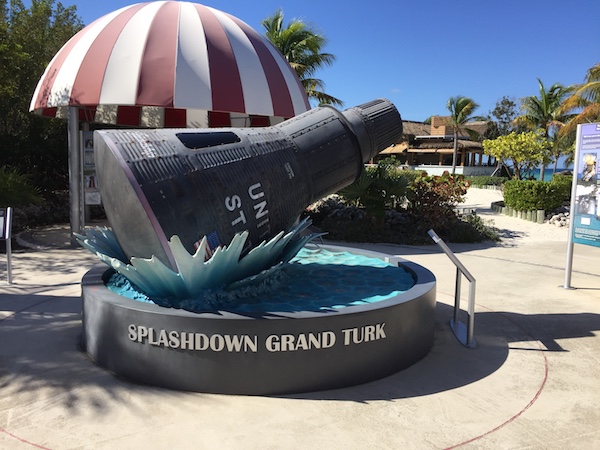 Grand Turk has a place in American history, as the US Government used to have an Air Force base here in the 1960's.  John Glenn was transported to Grand Turk after his historic space flight – Glenn was the first American to orbit the earth.  You can see John Glenn history around the island.  Within a short walking distance of the pier is a complementary NASA display area showing pictures and a replica of Glenn's Friendship 7 Mercury capsule.  I found the informative displays very interesting as I have been a long time follower of the US space program.
Island Tour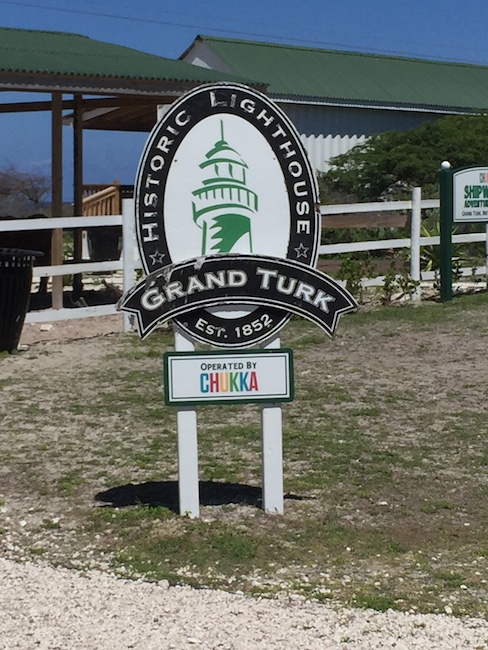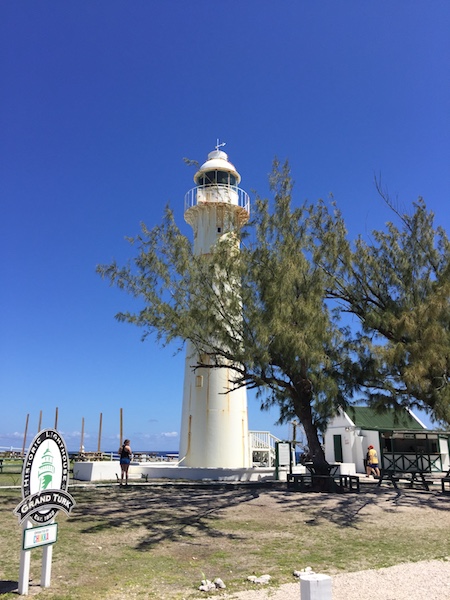 We chose to take a tour around the island rather than have a "beach day".  The most scenic spot we stopped at was the historic light house area, with wonderful views of the surrounding Atlantic ocean.
Our biggest surprise on our tour of the island was the sight of wild donkeys roaming everywhere!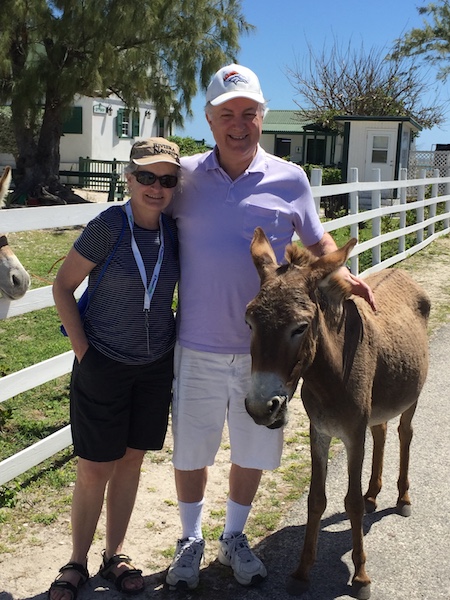 Here at the light house the donkeys came right up to us, and even posed for pictures.  They obviously were not afraid of people!

As we sailed away from Grand Turk we had good memories of our day here, and we put it on our list of Caribbean islands that we want to return to some day.
Anne says:
In some ways Grand Turk reminded me more of a private island than a typical Caribbean island stop.  As Tim indicated above, there is a beautiful beach just off the pier.  Not only are there plenty of beach chairs available at no charge, we did not see a large number of local vendors.  There were plenty of local bars within walking distance and many of our fellow cruisers enjoyed this beautiful island from a bar stool with a cold drink in the warm Caribbean breeze.
It was a treat to visit an island that was new to us.  I enjoyed seeing the many wild donkeys and hope we return to Grand Turk in the future.
Grand Turk is an island visited by Holland America, Carnival, and some other cruise lines.  If you would enjoy a cruise to Grand Turk we can help!  Contact us for more details.