More Buffet Bargains in Las Vegas (May 2017)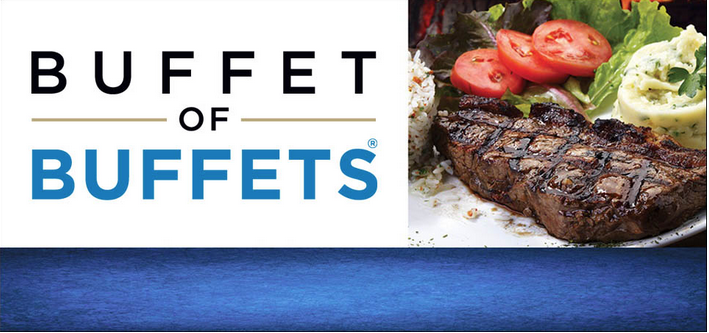 More Buffet Bargains in Las Vegas (May 2017)
by Tim and Anne Larison, co-owners FamilyTravelGurus.com
Earlier this year we told you about an all day pass at the Excalibur and Luxor buffets where you can visit these two buffets as much as you want during a day. We found even a better buffet deal on our May 2017 trip – Caesars Resorts Buffet of Buffets Pass.
The Buffet of Buffets deal features a 24 hour pass to four buffets:
Paradise Garden Buffet at the Flamingo (pictured above)
Flavors, The Buffet at Harrahs
Spice Market Buffet at Planet Hollywood
Le Village Buffet at Paris Resort
and for an additional cost these two buffets are also included:
Carnival World Buffet at the Rio
Bacchanal Buffet at Caesars Palace
We stayed with the basic Buffet of Buffets package – the four buffets gave us plenty of variety at a good price.   Tip: get a Total Rewards card for each person in your party at one of these resort's casino first, and then you get a discount.
As of May 2017 the price was $49.99 per person with the Total Rewards card, and $59.99 without the card.  Your dining pass is loaded onto your total rewards card, and in a 24 hour period you show the card at the buffet of your choice of the above to get entry.
Unlike the Excalibur/Luxor deal, the Buffet of Buffets pass is good for 24 hours – meaning you can use the pass over two days.  We ate a late dinner the first night with the pass, and then breakfast, lunch, and an early dinner the next day to get four full meals out of our passes.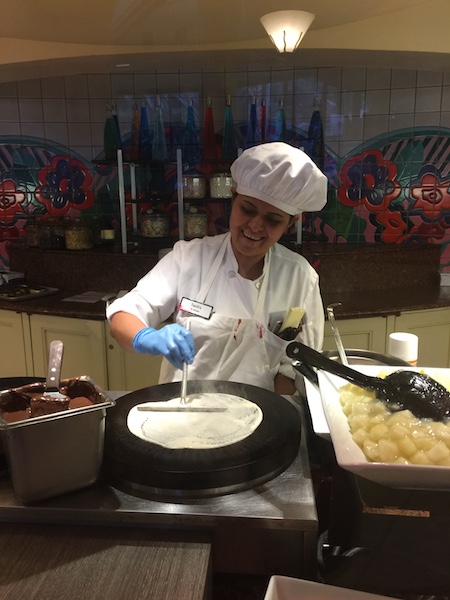 While we enjoyed all the buffets we visited, Flamingo's Paradise Garden buffet was my favorite, especially the made to order crepe station pictured above.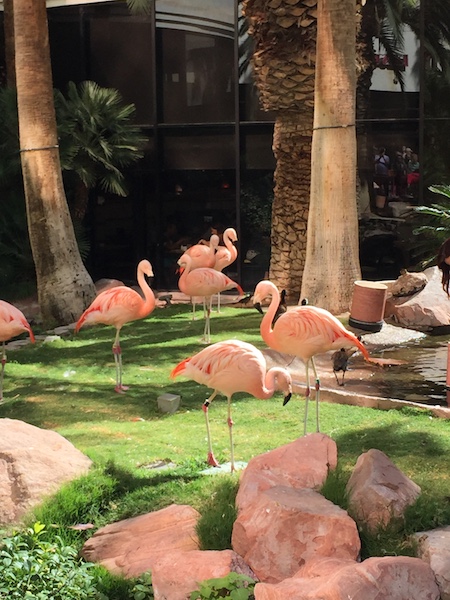 A nature scene in the middle of the Las Vegas Strip?  The Flamingo buffet features that, with a beautiful nature area that you can gaze at while you dine.  We took a walk through the nature area afterwards where I took this picture of these flamingos.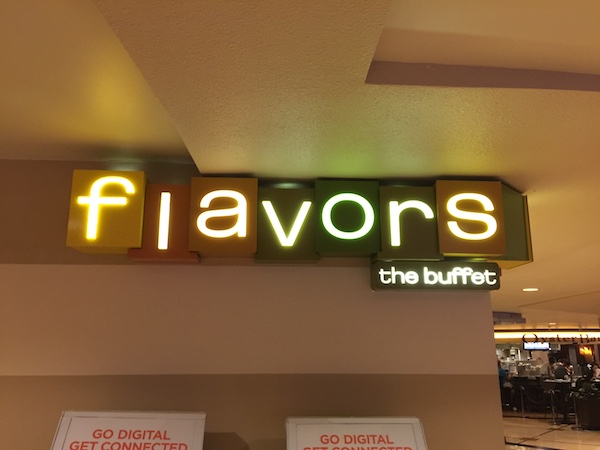 For variety we visited the Flavors buffet at Harrahs, Spice Market at Planet Hollywood, and Le Village at Paris too.  Going into the trip I expected the Paris buffet to be my favorite; while it was still good I liked Flavors and Spice Market buffets better.  We found the longest wait at the Paris buffet with a smaller seating area compared to the others.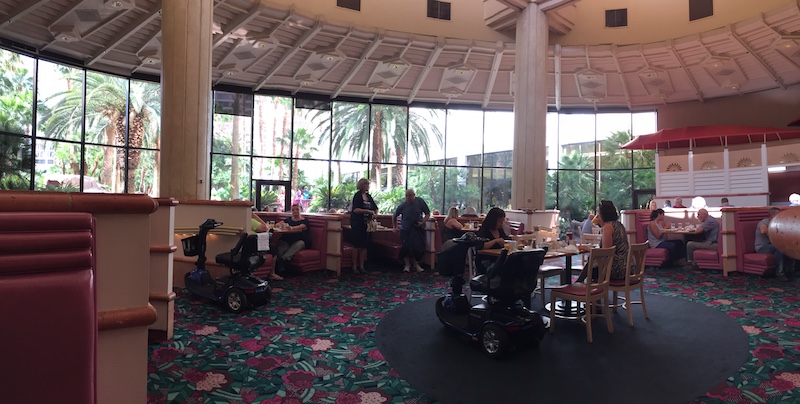 We dined at other Las Vegas restaurants during our four day trip, too, but for a 24 hour period the Buffet of Buffets pass gave us the best bang for the buck with excellent food at each stop!
Anne says:
There are also options for including alcohol with some of the meals – 
Paradise Garden buffet in the Flamingo hotel has brunch and dinner.  Brunch includes unlimited mimosas and Bloody Marys.  Dinner includes unlimited beer, wine & sangria.  When we were at this buffet for dinner the only beer available was Coors.
Le Village Buffet in the Paris hotel has an all-you-care-to-drink special (draft Blue Moon or Miller Lite beer, house red and white wine or Bloody Marys for $12.99).  
Spice Market Buffet includes unlimited champagne cocktails and mimosas during Sunday brunch.
If seafood is your thing, Flavors Buffet at Harrahs includes all-you-can-eat crab legs!
I enjoyed each buffet meal.  We also didn't skip the dessert.  Every buffet had a wide variety of desserts included.  Yum!
If you would like to experience these buffets yourself on a Las Vegas trip, we can help!  We can price for you different resorts to help you get the most out of your vacation.  Contact us for details.