Anne's Swim With The Dolphins Experience (October 2015)
Anne's Swim With The Dolphins Experience
October, 2015
    by Anne Larison, Family Travel Gurus Travel Consultant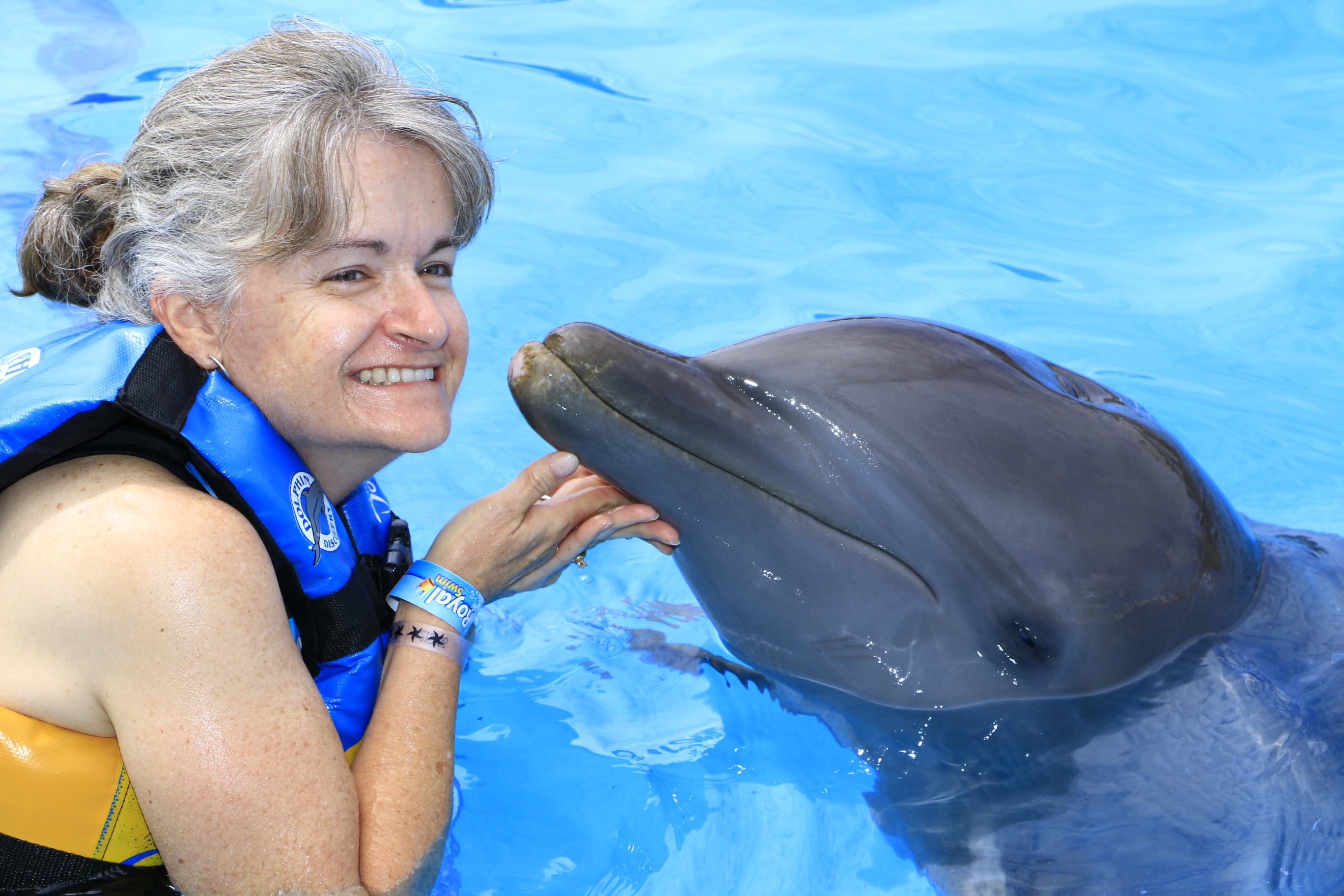 WOW!
These were the first words that came to me when I found out that I would be swimming with the dolphins on my trip to Mexico.
I was one of a select group of travel agents chosen to visit the Iberostar resorts in Cancun, Riviera Maya and Cozumel Mexico.  I will share more on the resorts in a separate report.  One of the highlights of our trip was a visit to Dolphin Discovery.
INCLUSIVE –
There are a number of Dolphin Discovery sites throughout Mexico and the Caribbean.
Our experience took place at the Riviera Maya location.
There are different levels of activities available to book at Dolphin Discovery.  From the basic – Dolphin Encounter, with a handshake, kiss and hug – to the most inclusive option, the Dolphin Royal Swim.  Our Dolphin Royal Swim encounter included the Dorsal Tow and the Foot Push.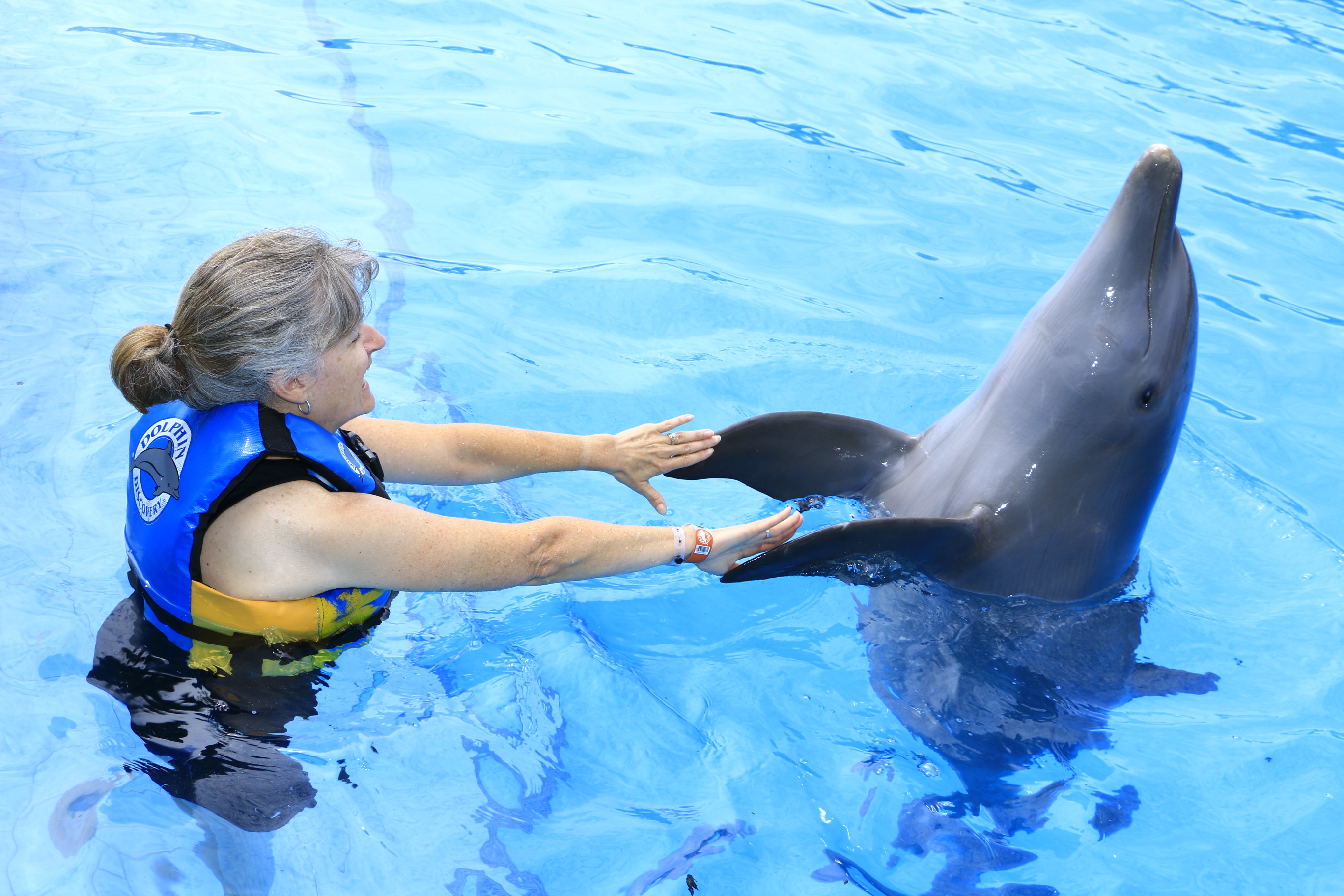 SAFE –
The use of a life jacket is required, so everyone is safe in the pool.  Guests are divided up into small groups and each group is guided by a professional trainer and one or two dolphins.  We had a member of our group that was not a swimmer but was able to be in the water and experience the dolphins.  As you enter the water there is a wide step used to travel from the entrance to your area in the pool.  This member of our group enjoyed interacting with the dolphins from the step without having to step off into the pool.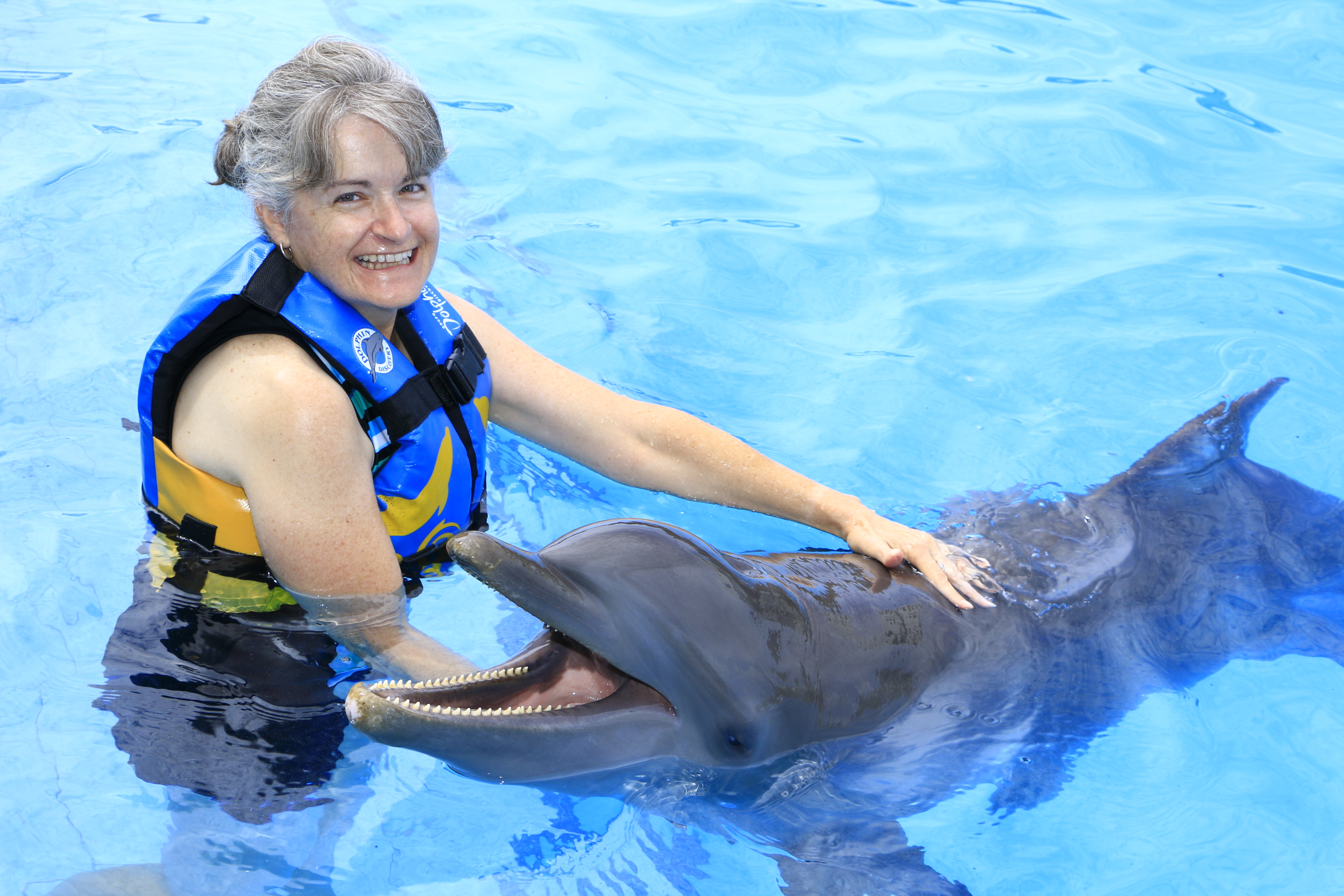 MEMORIES –
It is a business so there is opportunity to spend money in addition to the cost of the encounter.  There is a professional photographer taking photos of your personal interactions with the dolphins.  Since this may be a once-in-a-lifetime opportunity for me I did pay for the compact disc that included all of the photos taken of me during my session.  Just looking at the pictures brings back the excitement I felt interacting with my new dolphin friends.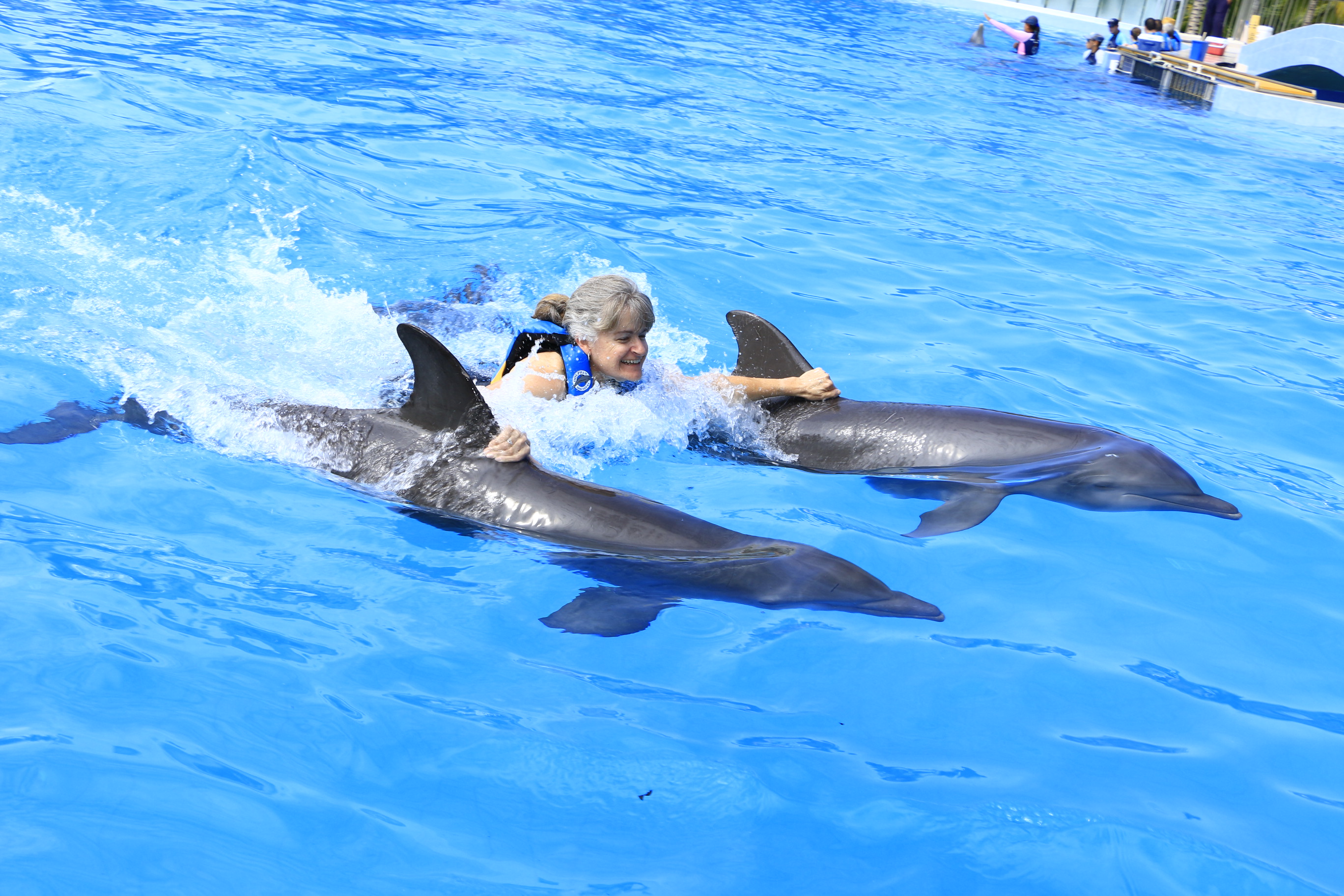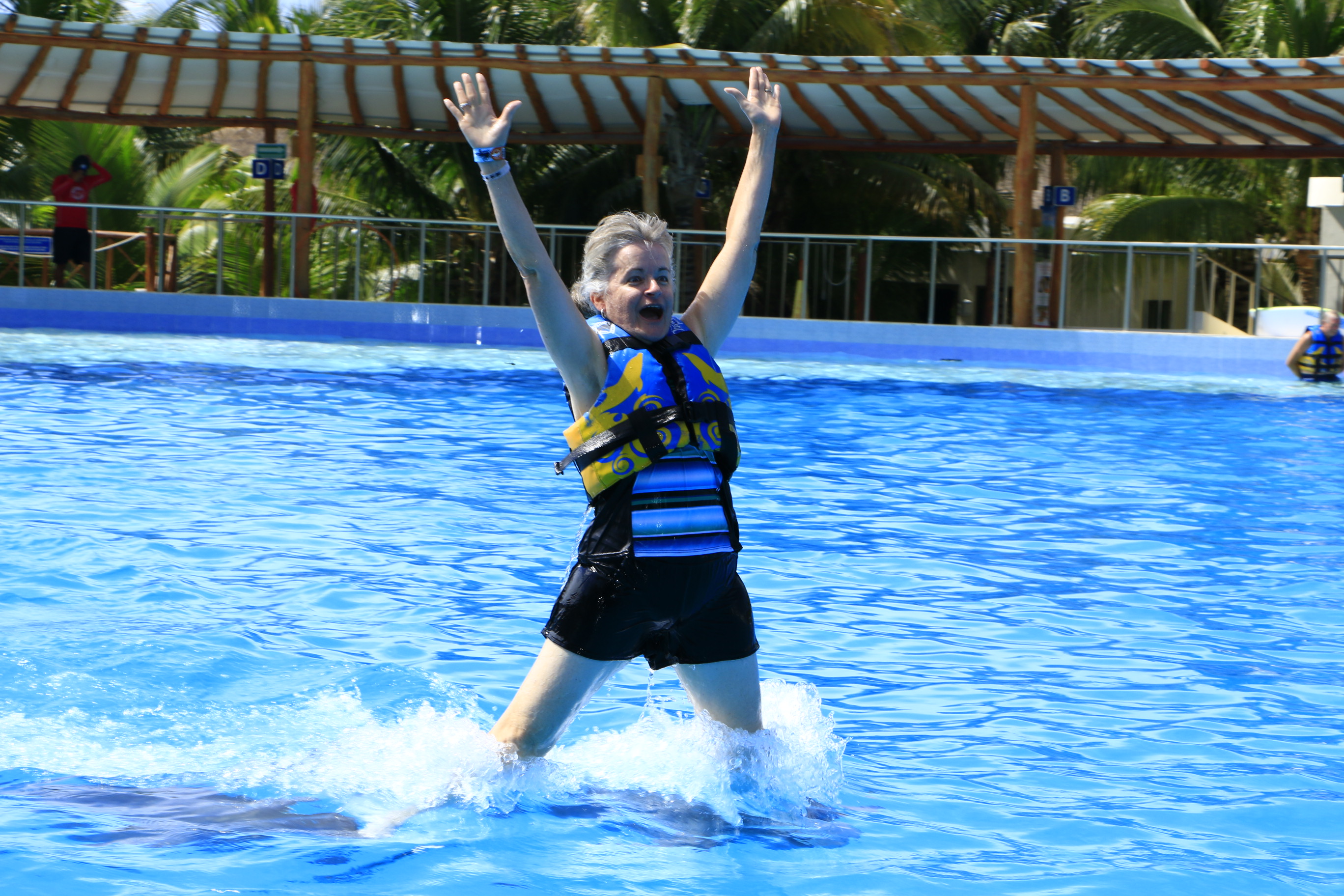 AMAZING!
As you can see from the pictures, I loved this experience.  I do recommend Dolphin Discovery and am very grateful for the opportunity to interact with these highly intelligent marine mammals.
Contact us to help arrange your next adventure to Mexico or the Caribbean and perhaps your own chance to swim with the dolphins!