Teresa and Mike's Oasis of the Seas Western Caribbean Cruise (July 2017)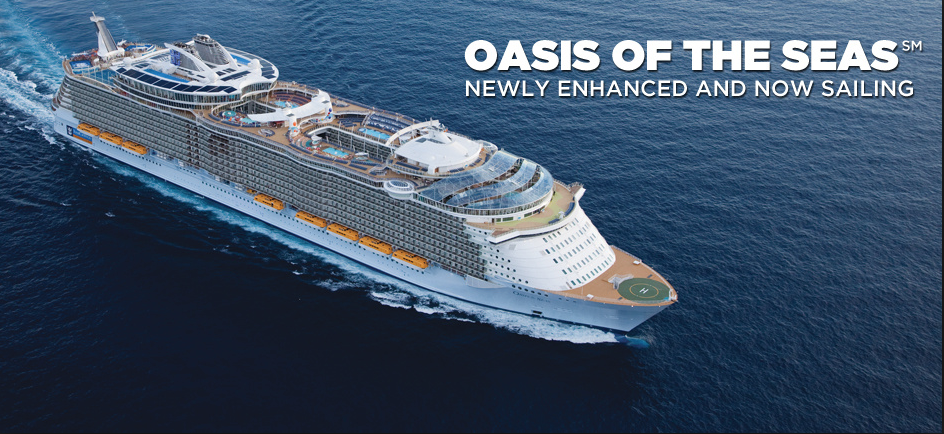 Thanks to our client Teresa from Missouri for sharing her family's experiences on Royal Caribbean's Oasis of the Seas.
You have done it again!  Thanks for arranging a wonderful cruise for us!
This cruise was fantastic!  We all had a great time.  Our stateroom arrangements worked out really well for our family since we could open the joining door.  It gave our grandson a little more room to move around during those rare times we were in our room! Mike and I missed the balcony a little bit because we enjoy watching sunrises and sunsets; however, for this cruise we felt an interior room was more practical. It worked out really well for us!
Thank you for the chocolate fudge brownies.  They were a huge hit!
We took an excursion in Cozumel to Playa Mia (Deluxe Beach Break) and had a lot of fun.  We swam at the beach as well as the pools.  Carter enjoyed the kid's pool and play area.  Jessica and I tried the water slide and liked that a lot.  Also, we used the paddle boats.  It was a perfect day!  The food and drinks were equally as nice.  Mike and I have visited this resort three times and are so amazed at how much it has grown over the years. We feel it is a great value and do recommend it.
The updates at the Cozumel Port were really nice.  We were glad they added the Tiki huts, so that we could wait for our excursion in the cool shade.
We wasted away in Margaritaville in Jamaica. We ate a delicious lunch then swam in the pool. We learned that you should be sure to wear your Jimmy Buffet shirt, so that you can get a free Margarita! We did some shopping at the port, too.  Another great day!
We explored new areas on Labadee.  Maybe they were there last time and we didn't notice, but it seemed like it had expanded since our last visit.  We always enjoy that port of call sunning and swimming at the beach!
We took the All Access Ship Tour and liked learning about all it takes to navigate and run a ship of that size.
This was a great cruise.  We have enjoyed all of our cruising experiences and this one was no exception.  We are always happy with the services and dining experiences.  Royal Caribbean does a great job of letting you be on vacation!
Thank you as always for your help in booking this cruise!  You are always very helpful and punctual in answering any questions we have.  We appreciate you and your excellent travel agent service!
Like we did for Teresa's family, we can help with your next cruise adventure!  Contact us for details.