The Experts Weigh In: Favorite Attractions at Disney's Animal Kingdom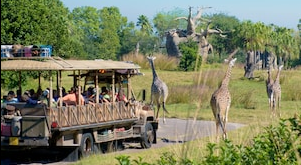 by Tim Larison
co-owner, Family Travel Gurus/Larison Travel LLP
Here's another of our "question of the week" recaps on our yahoo group discussion list, dvctalk, for people to share tips about ownership in the Disney Vacation Club.  You can find out more about dvctalk and subscribe here
In a recent week I asked:
"What are your top three favorite rides or attractions in Animal Kingdom?  What about these attractions make them especially appealing to you?  Are there any rides you avoid in Animal Kingdom?"
The experts on the dvctalk list weighed in!  These are some of the most knowledgeable and loyal fans of Disney World anywhere.  A sample of their responses:
"We like the Safari and Festival of the Lion King as well as Finding Nemo!   We avoid Dinasaur due to the intensity of the scenes for our son who likes intense thrill rides but is afraid of the roaring Dinosaurs!"
"Easy! Expedition Everest, Expedition Everest, and Expedition Everest!!"
"Kilimanjaro Safari, the Lion King show and Expedition Everest. I suspect Flight of Passage will take over the #1 or #2 spot when I get to experience it, and knock EE off. We rode Kali River Rapids last time and I think it'll be a good long time before I do that again—I got absolutely soaked, from my hair to my shoes, same as if I'd jumped in a pool."
"My new favorite is the Pandora area.   Day or night, it is something to see !!  Flight of Passage was really fun (we rode it twice and although the ride is the same, it goes so fast there was still new stuff to see the second time, things I had missed the first time).  My favorite show is Nemo, the rest of my family likes Lion King better.  We avoid Dinosaur – there is way too much skreeching in there,  The rest of the park we can "take it or leave it" ….  Exp Everest, Safari, Kali."
"1. Flight of Passage 2. Kali (on hot days we don't mind getting wet) 3. Safari (especially now that they have evening ones)
We don't avoid anything, but we definitely will have tiers:
Tier 1: We will do these more than once per trip:
Flight of Passage, Kali, Safari, Dinosaur
Tier 2: ONE of the group will do this repeatedly, so we have to negotiate to all get what we want

:
Expedition Everest, Dinosaur, Lion King, Nemo, Tiger Trek, Gorilla Trek, Navi River, River of Light
Tier 3: We get to these when we have time, but we usually end up riding one of the higher priority items an extra time:
Tough to be a bug, Dino playground,
Tier 4: Primeval Twirl-if I am going to do this one, I like the theming of the Aladdin or Dumbo one better!"
Our favorite?  We like the Kilimanjaro Safari ride – a must do every trip!  The Lion King show is excellent, too.
We can help with your next Disney World trip! Contact us for details and a no obligation price quote.