The Experts Weigh in on Disney's Old Key West Resort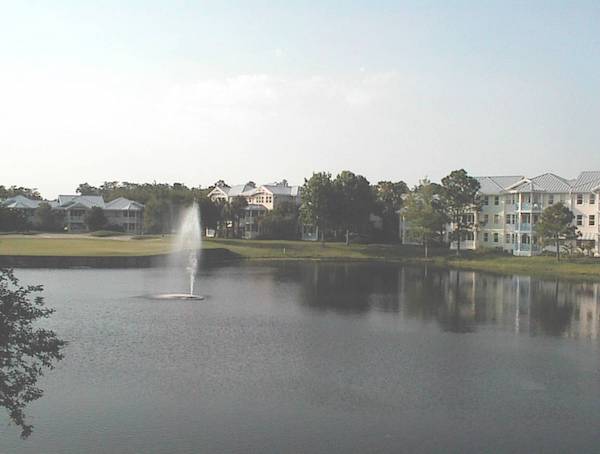 by Tim Larison
co-owner, Family Travel Gurus/Larison Travel LLP
I started a yahoo group discussion list, called dvctalk, back in 1998 for people to share tips about ownership in the Disney Vacation Club.  At the time my family had an ownership at Disney World's Old Key West resort, the original DVC resort (pictured above).  Much to my surprise, the membership of dvctalk grew and grew.  Today there are over 4,500 subscribers who share DVC tips on the list.  You can find out more about dvctalk and subscribe here
One feature of the list is a "question of the week" – a question for list subscribers to respond to which I post on most weeks.  Last week I asked:
"If you have stayed at Disney's Old Key West (OKW) resort in the past, how have you enjoyed your stay(s) there? What are the strengths of this resort compared to the other DVC resorts? What (if any) are the downsides of staying there? What about OKW do you think can be improved?"
The experts on the dvctalk list weighed in!  These are some of the most knowledgable and loyal fans of Disney World anywhere.  A sample of their responses:
"OKW is our home and our favorite. The size of the units is its greatest strength, but we enjoy everything about it–the layout of the resort, the atmosphere, even the location. We appreciate being able to retreat to quiet serenity after the chaos of the parks. After almost 20 years it truly feels like our home-away-from-home."
"We joined the DVC back in the beginning, when all they had was OKW, and it was not even finished yet when we became members. Having said that, the best thing about OKW is that it has the largest square footage of any of the other resorts room-wise, as well as the easiest parking so that you can stay right by your room if you have a car, which is also great for us, since we live 83 miles away and it is very convenient for us to get around if we are in a hurry to make it to a reservation somewhere.  Olivia's is a great restaurant, and we eat there every time we go to Disney, whether we are staying at OKW or not. I would have to say, the only real problem there is if you stay in one of the buildings without an elevator, is that you have to climb 3 flights of stairs if your room is on the top floor. How they did not figure that would be a problem is beyong me. THAT is the biggest mistake they made there, although they did finally realize it and they made all the new buildings WITH elevators."
"Just to chime in on the elevator issue: I actually like the fact that OKW doesn't have elevators throughout most of the resort although my reason is not very PC. It means less scooters and wheelchairs, thus faster bus loading. We're all able-bodied and don't mind the stairs; when that changes I'm sure my opinion will too!"
"We completed our first stay at OKW in late October / early November. We loved the size of our room and the grounds were very well kept. Plus, of course it was convenient to dine at Olivia's, one of our family's favorite Disney restaurants. Since we were near the hospitality house, we had to sit through five (I think) bus stops each time we returned to the resort. It was about an extra 15 minutes just through the resort. We learned after a couple days to get off at the Peninsular Road stop (the first stop upon returning) and then walk back to our room near the hospitality house. The five minute walk was much preferable to the 15 minute bus ride unless, of course, it was inclement weather.
The only other thing I wish I knew when I made reservations was that the rooms near the hospitality house were stairs only. We requested an upper floor room as we usually do, not even considering the fact that there might not be any elevators. Hiking up those three flights of steps at the end of each day didn't do my knees any favors.

We had a fine stay and I wouldn't mind staying there again—after all, it's Disney!—but honestly, there are other resorts I would give preference to."
"We have been OKW members since 1997. The one bedroom villas are so large compared to other options at the WDW resort. The studios are a little small, but with point values as they are, the 1 bedroom is very economical. We have stayed at many of the other DVC properties, but we love to come back to OKW. "
"I really love Old Key West. It is probably my favorite non-home resort. I have stayed there many times. I like that the studio has 2 beds, but I really think that they can throw in a sofa somewhere in the room. Creative design. I like the bathroom having the sink inside the same room as the tub and toilet. I really love the 1 and 2 bedrooms. With the full-sized washer and dryer in their own laundry room, it makes me laugh when I think of my son, college aged at the time, showed up at the resort with his full weeks laundry to wash just like if he was coming home!! haha! The layout and design of the buildings are EXTREMELY appealing to me. In fact, in thinking about looking for a retirement condo in Florida some day, Old Key West Resort is our benchmark for what we're looking for. We love the causal walkability, we love the pool, we love Olivia's. I love the golf course views. The one thing that I think could use improving is I'd like to see a quick service with some inside dining tables. Goodies To Go only has a few tables and there always seem to be bees hanging out at the drink refill station. At Animal Kingdom Kidani Village (and the water parks) the drink refill station has water spray clouds surrounding it to chase away bees. Don't know why all resorts can't do that to their outdoor drink refill stations. I also wish they'd bring back the water taxi service between SSR and OKW and POR. AT this time you can only go between one resort and Disney Springs, so if you're at Saratoga and want to eat at Olivias, you have to walk along the golf course or take a boat to DS and return boat to OKW which is less than convenient. I can see why they took away the watercraft rentals from OKW because the water taxi and floating car traffic in the DS boat basin is pretty heavy and not suitable for amateur mariners. "
"We have stayed several times at OKW and really like it!
The PROS: Size of villas, layout (tons of resorts with ponds), separate buildings with convenient parking right out front, OKW is JUST DVC so we don't feel like "step children" like we have a couple times at resorts with deluxe and DVC rooms, great CMS that greet you before you can go to them (at Olivias, Community Hall, bell services, front desk,…), balloon animals at check in!
The CONS: No elevators, no second bathroom in 1 BR, no more boat transportation so all buses and a ton of stops!"
(one followup to the "no boat" comment: "there are still boats that go to Disney Springs (from OKW) . You just can't rent them any more . ")
After the success of dvctalk we also started other Disney discussion lists.  Click on the links below to find out more information about those lists:
We have stayed in many of the Disney World and Disneyland resorts, ourselves, in addition to sailing on the Disney Cruise Line multiple times.  We can help with your next Disney trip.  Contact us for more details.